WWE SummerSlam 2011: Christian Has a Plan, but What Could It Be?
August 13, 2011
Hey Bleachers! My name is PS Singh and this article is pretty much speculation as to what the World Heavyweight Champion Christian could have planned for this Sunday when he faces Randy Orton for the title in a No Holds Barred match.
In case you missed the end of this week's Friday Night Smackdown, let me fill you in: In the show's main event, Randy Orton managed to defeat the Great Khali after a great-looking RKO. After the match Christian came out and proclaimed, "At SummerSlam it's gonna change everything. And as of this moment, Randy, I am looking forward to our No Holds Barred match because anything goes. And Trust me when I tell you Randy, I've got the best thing going."
Most people here can probably guess what Christian means by all that, but for those of you who don't, let me give you a translation as to what Christian meant: "Since there are no disqualifications, I just hired a guy to beat the **** out of you at SummerSlam so I can win the match."
Honestly, that much is fairly obvious. After all, The Miz had a similar plan a few months ago in his I Quit Match with John Cena at Over the Limit, the only difference being that we don't know for sure who Christian has gotten to help him. Also, Christian is a major heel now, and history has taught us that in WWE most major heels have opted to get themselves either enforcers or stables in order to give themselves a better chance against the faces.
There has been much speculation as to who Christian's mystery helper could be. The three most popular names that have been tossed up are: Edge, Chris Jericho and Christian's old bodyguard Tyson Tomko.
Of these three, Edge seems to be the most likely to assist Christian since he has stated that he will be appearing at SummerSlam and the two have a lot of history. However, Edge has also stated that he doesn't want to be on the road again, so having him make a one-time appearance just to spear Randy Orton and cost him the title seems kind of pointless to me. Also, at this point in his career I don't see Edge getting booed by the crowd, no matter what he does.
As for Jericho, while it would make sense for him to screw Orton out of the title as revenge for Orton punting him last year, I don't see him making his WWE return just yet. He's busy with his band Fozzy, and until their UK tour in November is over, I doubt he'll be returning to wrestling.
I'm not exactly sure where people got the idea that Tyson Tomko would be returning at SummerSlam. Although I would love if it happened, I haven't heard anything about WWE wanting to re-sign him, so I think we can all take those rumors for what they are, rumors.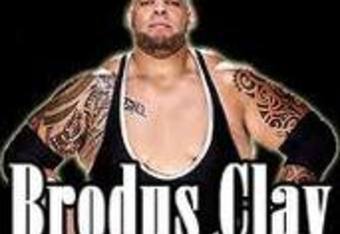 So, since I eliminated those three, then that still leaves several possibilities. One man who I can easily see becoming Christian's new enforcer at SummerSlam is the man who was feuding with Christian just a few months ago. This man was once a real-life bodyguard for Snoop Dogg, as well as the former (kayfabe) bodyguard of one of WWE's biggest heels. This man, in my opinion, would be a perfect enforcer and his name...is Brodus Clay.
It really is a perfect fit in my opinion. Christian was feuding with Clay and his boss Alberto Del Rio just a few months ago, so he can play the "I know firsthand how good he is" card. Brodus recently returned to in-ring competition after filming WWE Studios' movie "No One Lives." He currently wrestles on WWE Superstars but has yet to return to television.
I personally would love for this to happen, seeing as I've been a fan of Clay since his television debut. (I don't watch NXT). Apparently Creative loves him too, and it's not hard to see why. Brodus has the size that Vince McMahon loves, his mic skills are actually above average and he's quite agile for a guy as big as he is. There's really nothing for him to do on Raw other than participate in squash matches on Superstars and Dark matches, so it makes sense for WWE to send him to Smackdown and associate him with the World Champion.
Other than Brodus there are a few men who I can see assisting Christian in his match on Sunday. One is former Nexus powerhouse Skip Sheffield, who was rumored to be in line for a push and has been out of action due to injury for almost a year now. It's possible that he returns at Summerslam and allies himself with Christian.
Mark Henry is another possibility, although I doubt he would become Christian's full time bodyguard. I can see a scenario where Henry costs Orton the match, so Christian repays him by giving him a title shot, which Orton and Sheamus can protest against.
Ultimately, if I had to pick one man as my prediction to cost Orton the match this Sunday, it'd have to be Brodus Clay; I just have a feeling.....
One thing's for sure though, at SummerSlam Randy Orton is gonna get GOT.
Well, that's it for this article. Remember to like it if you did, leave a comment expressing your own opinion and what you think will happen in the World title match at SummerSlam. Also, don't forget to become a fan if you want to see more of my work.