Is A.J. Burnett the Worst Pitcher in the New York Yankees Rotation?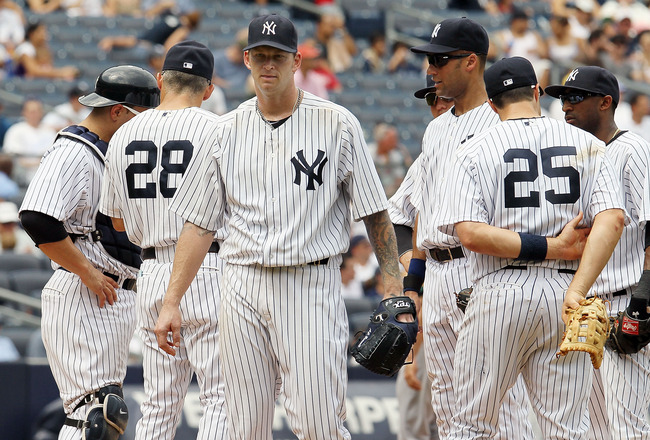 Jim McIsaac/Getty Images
It's no secret that A.J. Burnett isn't the best pitcher on the Yankees.
He is 8-9 this season with a 4.60 ERA.
He hasn't won a game for the Yankees since June 29th (that's seven starts without a win). He's given up at least three runs in his last seven starts, and in four of those he was pulled before the sixth inning. Not to mention AJ has not had one start this season where he has not given up a run.
But is he the worst on the Yankees rotation and not even good enough for the five spot? Or is AJ just not the pitcher he was two years ago?
Is AJ Better Than CC Sabathia?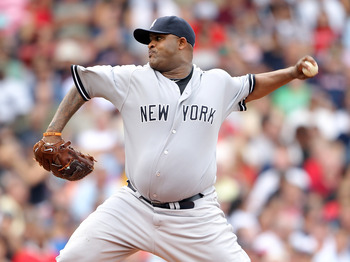 Elsa/Getty Images
Let's not waste too much time here.
No.
CC Sabathia is a CY Young candidate with 16 wins and a 2.93 ERA and a much better pitcher than Burnett, deserving of the number one spot on the Yankees rotation.
Is AJ Better Than Freddy Garcia?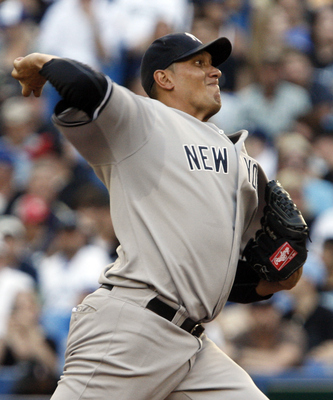 Abelimages/Getty Images
Freddy Garcia was a good offseason addition for the Yankees this year and has filled his role nicely.
He is 10-7 with a 3.16 ERA and Burnett is 8-9 with a 4.54 ERA. The stats speak for themselves. So far, Garcia has given up 37 walks this season, while Burnett has given up 66.
Garcia is much more stable than Burnett and has consistently gone much further into games than Burnett has. Simply pitching much better than Burnett this season, he deserves the two spot in the rotation more than Burnett.
Is AJ Better Than Bartolo Colon?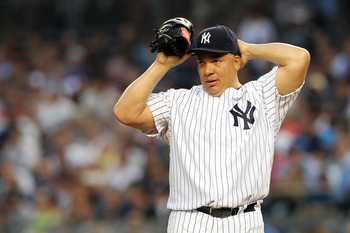 Michael Heiman/Getty Images
Bartolo Colon has been great this year for the Yankees.
Colon is 8-6 with a 3.31 ERA and has some great pitches that keep hitters off balance alongside a unique ability strike batters out as they look at strike three.
The one knock to Colon is that he tends to get a high pitch count early in the game. This would be expected with a strikeout pitcher (Colon has 103 k's), but you still want Colon to go deeper into games. In three of his last seven games, Colon has pitched less than six innings.
But Colon is still a better pitcher than Burnett.
Colon is more consistent and gives up fewer runs. Even though Colon does not have as many strikeouts as Burnett has, Colon does not give up the walks Burnett does. Colon has 103 strikeouts to 32 walks, while Burnett has managed 129 strikeouts to 66 walks.
Simply, Bartolo Colon has pitched much better than AJ Burnett.
Is AJ Burnett Better Than Ivan Nova?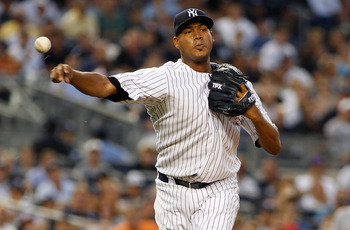 Mike Stobe/Getty Images
Ivan Nova has been great for the Yankees this season.
He is 11-4 with a 3.85 ERA in his rookie season.
In the last eight games Nova has started, the Yankees have not lost, with Nova been dominant as he's gone 7-0 in that stretch. In his second to last start, Nova went 7.2 innings; notching 10 strikeouts and allowing one run while leading the Yankees to a 7-2 victory.
The way Nova has been pitching, its easy to say that Nova is better than Burnett. Nova has won seven in a row and has been an important part of the Yankees success.
Is AJ Better Than Phil Hughes?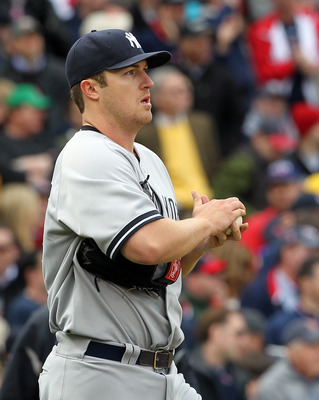 Jim Rogash/Getty Images
This is where things starts to get tough.
Phil Hughes has spent most of this season on the DL due to a dead arm injury. His first three starts before the injury were just awful, as Hughes gave up 16 earned runs with a 13.94 ERA over three games.
This slow start was a direct result of the dead arm injury that kept Hughes out for all of May and June.
However, Hughes didn't exactly come back to his normal self right away either. In his first four starts back from the injury, he was 1-2 with a 5.48 ERA.
But in his last start, Hughes reminded everyone what he can do.
Hughes struck out four, allowing just three hits in six innings of no-run ball. The game was shortened due to rain, but Hughes (who had 65 pitches at the end of the sixth) looked like he would finish the game.
Being honest, Phil Hughes only has one game where you could say, "Hughes is a better pitcher than Burnett". Hughes needs to repeat his performance before anyone can say truly that he's better.
But as of now, Phil Hughes has lots of potential to turn his season around and be a good pitcher for the Yankees. Meanwhile, Burnett hasn't show any signs that would make you believe that he will turn his season around. Burnett hasn't given anyone the reason to believe that he's better than Hughes. Hughes has given reason for the opposite.
Right now, I would say Hughes is better than Burnett.
Conclusion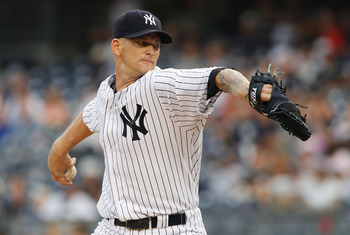 Mike Stobe/Getty Images
AJ Burnett still can be a good pitcher.
You have to remember that when AJ is on, he can be electric. But AJ can let little missed calls here and there really get to him, and he tends to blow up.
As of now, he may be the worst pitcher of the Yankees starters, but don't expect him to be going anywhere soon. The trade deadline has passed, and AJ is being paid too much to be sent down to the minors. The only place I could see Burnett going is to the bullpen.
But as of now, AJ Burnett is the Yankees worst starter.
Keep Reading

New York Yankees: Like this team?