Tiger Woods: World's Best Golfer Nothing But Ordinary at PGA Championship
August 13, 2011
Stuart Franklin/Getty Images
On Friday Tiger Woods was angry about his golf game and the way he played at the PGA Championship. Yesterday, the 14-time major winner as disappointed and frustrated that he would not be around for the week at the last major of the year on the PGA Tour.
For Woods, who finished the two rounds in Johns Creek, GA, the 10-over par play was indicative of a season that started out with some promise and steadily coasted downhill. As he stated again for the media after his round, he is still a man in transition.
Woods started Thursday with three birdies on his first five hours of the tournament. The leg and Achilles tendon that had plagued him most of the year were healed and the smile was back. The game, however, was another story.
Woods looked like rust and time away from the tour had affected him most of the 36 holes he played. He sent errant drives in bunkers on at least 20 holes. His putter looked to have let him down and the confidence in the man that a few years back was the most consistent athlete in the states was a mere mortal. He was one of us.
When asked by the media, Woods spoke of his emotions on the course as he finished what was arguably his worst two rounds of his career. But in the moment, he was also able to put a positive spin on what he had accomplished.
"Well, I think obviously frustration, disappointment, that I didn't—I'm not contending in the tournament," Woods said in his Q&A session following Friday's round.
"But it's a giant leap forward in the fact that I played two straight weeks, healthy. That's great for our practice sessions coming up. We are going to be now able to work and get after it. So something, unfortunately, I haven't been able to do, and I thought I could come in here and play the last couple of weeks and get it done somehow, but I need some work." 
Woods has had leg issues for more than two years now, requiring surgery and has taken time from the tour to rehab and get back into playing shape. The last time he appeared on tour before the Firestone Event was the first nine holes of The Players Championship in May. 
As part of his preparation for the past two weeks, Woods said he had been working on hitting the ball further, which is something he has had to adjust his play for.
The week for Woods started with controversy that was not related to his game, rather his past. Longtime caddie Stevie Williams fired off comments toward Woods and the end of a relationship that last over 12 years. Williams, who now caddies for contender Adam Scott, has been the center of controversy since he made the statements after Scott won the Firestone tournament.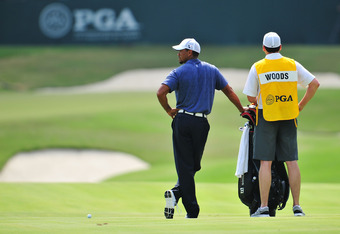 Stuart Franklin/Getty Images
Williams has since apologized for the remarks on his website.
Woods ducked comments this week about the incident and focused more on what he had planned to do once he made it to the Thursday. He had hoped his play would talk for him.
"I showed signs that I can hit the ball exactly how I know I can. And unfortunately I just didn't do it enough times," Woods explained. "The changes I'm making, I'm hitting the ball farther, and that's something I have to adjust for. I have way more compression now than I ever have, so the ball is now coming off cleaner, faster, and I've got to get used to that."
Now comes the long wait for Woods to resume his play on the Tour. By not completing the event, he did not earn enough points to qualify for the Fed Ex Cup and will spend his time in Florida continuing to work on his game and rehabbing. The next time Woods will play will be in November.
In terms of the year for Woods, he said his game is something he still needs to concentrate on.
"This year has been frustrating, because I was feeling somewhat healthy going into the Masters, and put it together there and was leading the tournament with a few holes to go," he said. "And then obviously I got hurt. So it's been frustrating from that standpoint, that I have not been able to practice and work, and obviously compete. I've missed two major championships, and missed the cut in the other one. So I just need to go out and do my work."