Joseph Agbeko vs Abner Mares: Live Blog from Hard Rock in Las Vegas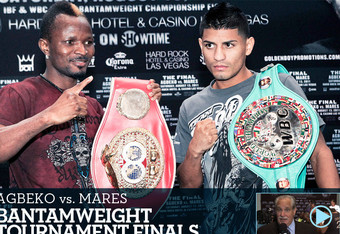 It is fight weekend once again with the highly anticipated Winner Takes All Showtime Bantamweight Championship fight of Joseph Agbeko vs. Abner Mares taking place this Saturday August 13th in Las Vegas at the Hard Rock Casino.
Today at the weigh-in, undefeated challenger Abner Mares weighed in at 117.5 lbs.
The IBF bantamweight champion Joseph Agbeko came in overweight at 118.2 lbs. Agbeko now has two hours to make the 118-pound limit in order to not lose the title automatically at the scales.
If you have not yet checked out our exclusive interview with Abner Mares that took place just a few days ago definitely check it out here.
It all goes down Saturday on Showtime will broadcast Joseph Agbeko vs. Abner Mares live on SHOWTIME (10:00 p.m. ET/PT, delayed on the West Coast).
Tickets, priced at $200, $100, $75, $50 and $25, along with a limited number of VIP suite seats priced at $150, are on sale now and may be purchased at the Hard Rock Hotel Box Office, all Ticketmaster locations, online at www.Ticketmaster.com or by phone at (800) 745-3000.
We will be live in person ringside at the Hard Rock Casino for all the Winner Takes All: Showtime Bantamweight Tournament action. We will also be checking in with Abner Mares and his team through out the weekend with real time updates as the fight weekend progresses.
For real time updates and live photos follow on Twitter: http://twitter.com/KingJ323
Crowd boos and cheers a lot of excitement and drama with this decision. Security is trying to calm down the furious Agbeko crowd.
Judges scores: Majority Decision 113-113, 115-111, 115-111 and NEW IBF champion of the world! Abner Mares!!!!!
12th and final round: Close round again. Agbeko seemed to want it more. Mares got in his chest and fired away but not that accurate. Close round we'll give it to the champion Agbeko.
Round 11: Both trade vicious shots toe to toe. Abner lands a bodyshot on the line and another one low and the referee counts it as a knock down. Crowd goes wild and boos.
10-8 Mares for the knockdown.
Round 10: Abner lands a low blow and crowd is upset. Referee warns both. Tells Agbeko to stop pushing his head down and Abner not to hit low. Agbeko crowd screams in disgust.
Close round both had their moments. Agbeko seems to be more fresh and crisp.
Round 9: Another close round. Agbeko seems to be landing the harder shots to Abner's keep busy shots.
Close round to the champion
Round 8: For the first time Agbeko stalking Mares and making him back up. Agbeko opening more and landing more. Abner seems bothered by the cut and bit fatigued.
Agbeko's round
Round 7: Close round. I saw the champion Mares very disciplined and setting it all up with the jab and following it up. Good counter shots. Abner may be bothered by the cut.
Agbeko round.
Round 6: Agbeko lands a left to the side of Abner's hand. Abner needs to keep his right hand up or that punch will continue to land.
There's a headbutt Abner's bleeding.
Abner flurries at the end of the round and lands on Agbeko pressed against the ropes.
Very close round. So we'll give it to the champion Agbeko
Round 5: Big exchanges in the center of the ring. Abner seemed to get the best of the exchange landed. Big right hand for Abner. These exchanges are sloppy but Abner's hands seem to land before Agbekos does.
Close round but based on aggression and being still a bit more active Mares round.
Round 4: When Agbeko throws a jab straight down the middle it lands on Abners face. Problem is thats all hes really throwing 1 punch at a time. Mares lands two big shots in exchange. Agbeko lands big right on Mares face and his knees buckle.
Agbeko round.
Round 3: Agbeko jabs to the body of Mares. Agbeko lands a few more jabs but Abner is throwing more and by volume landing more.
Better round for Agbeko but I give this round to Mares.
Round 2: Crowd cheers KING KONG from the Ghana fans to pump him up.
Abner pressing the action and stalking. Agbeko trying to counter. Abner firing more and landing more. Agbeko setting up with the jab but not following up.
Mares round for pressing the action and throwing and landing more.
It's a PRO Mares crowd with the Majority Mexican crowd chanting : MARES MARES MARES and some chanting MEXICO.
Agbeko getting booed by the same crowd.
Round 1: Agbeko goes down in an exchange. Big round for Abner pinned him against ropes. BIg round for Abner 10-8
So we had three national anthems played. The Mexican national anthem sung by a singer name Jose. The Ghana national anthem was a prerecorded instrumental and Haley from season 6 of American Idol performed the USA national anthem.
I'm sitting next to a judge who did two fights tonight. One was the the Morel fight which he won by knock out and the Santana fight who also won by KO. He tells me he made $650 tonight for judging 2 fights that ended up by knock out LOL.
I talked with legendary referee Kenny Bayless and we will be doing an exclusive interview with him soon. So send in your questions for him.
Alright fight fans the champion Joseph Agbeko was weighed this morning unofficially at 122lbs.
Challenger Abner Mares is aiming to come in about 126lbs by the time of the fight. Abner ate an omelet and a muffin for breakfast he will also eat a lunch soon but no dinner before the fight.
Abner is the favorite at -200. Agbeko at +175.
Abner by KO +575. Agbeko by KO +500
Abner decision -120. Agbeko decision +260.
Will go 10.5 rounds -420. Won't go 10.5 rounds +350.
Joseph Agbeko re-weighs in and makes the 118 lbs limit. He gets to keep his IBF title for the fight.
I'm getting word from Abner Mares team he feels good and he just ate salmon right after the weigh in.
This article is
What is the duplicate article?
Why is this article offensive?
Where is this article plagiarized from?
Why is this article poorly edited?