Ryan Mallett vs. Tyrod Taylor: Which Rookie QB Looked Best in Preseason Week 1?
August 12, 2011
Jim Rogash/Getty Images
Ryan Mallett and Tyrod Taylor have been dynamic college football quarterbacks for the past couple years.
But, now they both take their shows to the NFL, where they will be sitting behind starters who are entrenched in their starting roles.
Mallett was selected by the New England Patriots, who of course have Tom Brady running the show.
Then there's Taylor, who was drafted by Joe Flacco's Baltimore Ravens.
Neither Brady nor Flacco are in danger of losing their jobs any time in the near future, so it appears fans will have to wait a while to see either Mallett or Taylor in regular season game action.
Instead, we'll have to settle for watching them play during the preseason.
Both Taylor and Mallett were in action on Thursday night, so let's take a look at who looked better in their limited playing time.
Ryan Mallett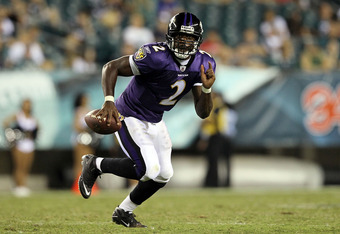 Jim McIsaac/Getty Images
Mallett played a significant portion of the Patriots' 47-12 victory over the Jacksonville Jaguars on Thursday night.
Mallett went 12-for-19 for 164 yards and a touchdown.
He also avoided throwing any interceptions.
Mallett probably would have moved up the depth chart if not for an equally strong performance by Brian Hoyer, who went 15-for-21 for 171 yards and a touchdown.
Therefore, Mallett will have to continue performing at a high level and hope Hoyer struggles if he is going to earn the second-string quarterback job in New England.
Tyrod Taylor
Taylor, on the other hand, doesn't have quite as much competition for the right to be Flacco's backup.
He only has to beat out Hunter Cantwell for the job, something he may have already done.
Thursday night, Taylor had 28 pass attempts, compared to only one for Cantwell.
Of Taylor's 28 passes, he completed 19 of them for 179 yards.
And he showcased his speed on the ground, rushing six times for 59 yards.
If he keeps running like that, the Ravens will have to create some packages to get Taylor on the field in 2011.
The only downside to Taylor's performance was that he threw two interceptions.
That's a problem Taylor's going to have to fix if he wants to make it as a QB in the NFL. Otherwise, he'll probably have to try his hand at receiver or tight end.
Conclusion
Clearly, Mallett had the better night on Thursday.
He threw a touchdown and avoided interceptions.
But, there were plenty of good signs from Taylor, too.
It will be interesting to see how they perform for the rest of the preseason.