Arsenal FC: Previewing the Gunners' Premier League Match Against Newcastle
August 12, 2011
Richard Heathcote/Getty Images
It's here. The Premier League season is officially here, and it's kicking off with some mouthwatering fixtures, including the clash between Arsenal and Newcastle at St. James' Park.
Last time around, this fixture brought an eight goal thriller, with Newcastle overcoming a four goal deficit to draw 4-4. Dubbed as the match of the season, as well as the greatest comeback ever, tomorrow's match should have a lot of expectation.
But lightning doesn't strike twice, and I don't think we'll be in for anything above a three goal thriller. However, Arsenal vs Newcastle does usually bring some good competition, so expect a close match between these two sides.
Arsenal have been quite unlucky injury wise, and in their last preseason friendly, a number of key players picked up some knocks. Jack Wilshere is a huge doubt for tomorrow, and it's also not looking good for Theo Walcott and Kieran Gibbs. However, Robin van Persie and Thomas Vermaelen should be fit to start tomorrow, which is great news for the Gunners.
Samir Nasri and Cesc Fabregas will not be in tomorrow's squad for unknown reasons. Fabregas is not match fit (and will be on a plane to Barcelona), while Samir Nasri is "ill." Both of these players have been heavily linked with moves away from the Emirates, which is really the main reason why they won't be playing against Newcastle tomorrow.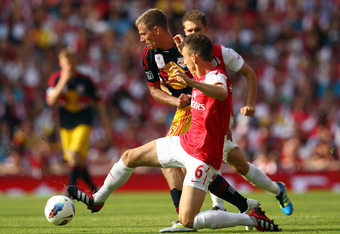 Richard Heathcote/Getty Images
Wojciech Szczesny can be expected to start in goal, with Lukasz Fabianski as his replacement on the bench. Because Gibbs is a doubt, Armand Traore should be starting at left back, with Bacary Sagna starting on the other side as right back. Unless there's any surprises with his injury, Thomas Vermaelen will be playing at centreback, but the real question is, who will accompany him?
While Johan Djourou was more impressive last season, Laurent Koscielny has clearly played better in this preseason, doing an excellent job anticipating through balls and intercepting a number of dangerous passes. I think it'll be Koscielny starting alongside Vermaelen tomorrow, with Djourou being his backup on the bench.
In the three central midfield spots, we can expect Alex Song, Aaron Ramsey and Tomas Rosicky to start because of the injuries to other key players mentioned before. But each of these three players have had impressive preseasons, with Ramsey picking up where he left off before his injury and Rosicky actually looking like the playmaker he used to be.
Ramsey has a lot of pressure on his shoulders to fill up the void Fabregas' departure will create, but he has a lot of promise and could be his successor as Arsenal's main playmaker. On the other hand, Rosicky could be a useful player to have on the bench this season, but for tomorrow, the Czech international should be starting.
With Arsene Wenger recently adding plenty of depth to his wings, there should be no problem with the injury of Theo Walcott. Gervinho is certain to start on one side, while Arshavin will probably be starting on the other, but either Miyaichi or new signing Oxlade-Chamberlain could make a surprise appearance tomorrow.
Arsenal's central striker tomorrow will almost definitely be Robin van Persie, unless his minor injury is worse than we thought. He'll be hoping to continue his prolific goalscoring form, and in another article, I predicted that he'll net two goals tomorrow.
On the other hand, Newcastle's lineup is very much up in the air, and I won't go into nearly as much detail about it. They've lost a number of key players this summer, including Kevin Nolan, Jose Enrique and probably Joey Barton (as well as Andy Carroll in January). Demba Ba has been brought in as Carroll's replacement on a free transfer, which was a shrewd move by Alan Pardew, as Ba's sure to keep the Arsenal defense busy for the full 90 minutes. However, Newcastle's squad isn't nearly as impressive as Arsenal's.
Overall, tomorrow will be a tough season opener for the Gunners. The first match of the season usually sets the tone for the next nine months of football, so Arsenal will be hoping to grab three points tomorrow to get their campaign off to a good start.
Final Prediction: Arsenal 2-0 Newcastle