Liverpool FC: José Enrique Finally Fills the Troubled Left-Back Slot
August 12, 2011
Jamie Sabau/Getty Images
Friday Aug. 12th will forever be known as the day the skies opened and the almighty lord himself looked down upon the world of humanity.
Men, women and children cowered in fear and Christian doomsayer Harold Camping looked as smug as Cristiano Ronaldo at Euro 2004. But alas, this was not to be the delayed "End of the World" as was supposed to come on May 21st, 2011.
God cast his beady, sleepless eye over Scousers around the world and bellowed, "You've finally got your left-back, now you can quit bloody bothering me about it?!"
Yes, that's right, Liverpool have at long last snatched José Enrique from under the nose of Newcastle manager Alan Pardew.
A paltry £6 million was all it took to give the hulky Spaniard "one of the happiest days of (his) life."
He'll be earning an estimated £60,000 per week (that's £30,000 less than Joe Cole), a fee John W Henry will no doubt not mind spending as he will finally hear the end of Liverpool fans' endless moaning for a new left-back.
Since the departure of John Arne Riise to Roma in 2008, the left side of Liverpool's defence has seen almost as many faces as Manchester City's front line.
Fabio Aurelio has been there more than anyone, but his tendency to collapse from injury saw Rafa Benitez bring in Emiliano Insúa, Roy Hodgson move for Paul Konchesky and Kenny Dalglish drop Daniel Agger, Glen Johnson and finally Danny Wilson into the cursed spot.
I'll be the first to admit that I haven't a great deal of Enrique but from the "exhausting" research done prior to writing this article he looks like he'll be a great asset to his new club.
Strong, fast, confident on the ball and able to fire in crosses when he gets forward, this should work out fine. Behind all this I'm sure Dalglish and Liverpool's medical staff made absolutely sure that he's fit and not susceptible to injury.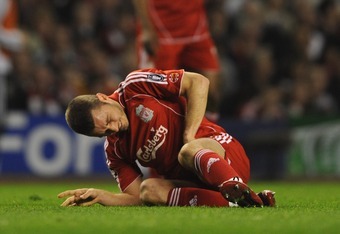 Shaun Botterill/Getty Images
It's highly unlikely that he'll be in the starting XI against Sunderland tomorrow (but then again, there's every chance Aurelio will pull up with an injury before kickoff).
Taking a look at our squad, he'll certainly be in contention for first-choice, as this will let Dalglish field Johnson in his natural position. Another piece of the puzzle falls into place.
All players take an indeterminate amount of time to settle in, but I think Enrique should be able to quickly prove his worth to Dalglish and Liverpool fans. Central to this will be Reds goalie Pepe Reina.
The Spaniard was not quiet with his disappointment at the departure of countrymen Xabi Alonso and Fernando Torres and rightly so. He'll be able to quickly instruct Enrique on the ins and outs of Liverpool's defensive mechanics.
Finally, how will the arrival of Enrique affect Liverpool's tactical makeup?
Aside from finally having a left-back to play at left-back, Enrique's skill set is why Dalglish picked him over other targets. His pace and crossing ability is central to this, giving him the ability to overlap and exchange with Stewart Downing to provide Andy Carroll with ammunition.
Additionally, possessing the engine that he does will make that 3-5-2 formation that took everyone by surprise last season that much more potent.
The only negative I see coming from this bit of business could manifest itself in a lack of playing time for young Martin Kelly. The young right-back was a revelation last season until his unfortunate injury against West Ham.
He has a full preseason under his belt and with Johnson's injury he will without a doubt be Liverpool's first choice on the right flank. Once Johnson is back in contention, it will be an almighty battle, which is good for the squad but would be unfortunate if it caused Kelly to look elsewhere for employment.
So, welcome José, I'm looking forward to seeing you bomb up and down the left and bring us that much closer to the top.