Dallas Cowboys Preseason Week 1: Postgame Observations
August 12, 2011
Ronald Martinez/Getty Images
The Cowboys won their first preseason game of the 2011 NFL season by defeating the Denver Broncos 23-22. The Cowboys played a good game overall and some unexpected players shined, but they also showed they need a lot of improvement. Here are some observations from the last night's game.
The first-team offense got off to a great start moving the ball into Broncos territory before being stalled and settling for a 42-yard field goal by David Buehler. Felix Jones had an 18-yard run and a 16-yard screen pass that showed off his speed.
Tyron Smith had a solid debut but missed a blitz pickup when tight end John Phillips released into a route, which led to a sack. David Arkin also had a solid game starting in place of Andre Gurode. 
The first-team defense struggled but clamped down in the red zone, holding the Broncos to a field goal. DeMarcus Ware tipped Kyle Orton's first pass and Sean Lee had a few good tackles, but Gerald Sensabaugh lost track of Broncos tight end Eric Decker and gave up a 29-yard pass on a third-and-six. Jason Hatcher forced Orton to throw a pass away on third and goal, forcing the field goal.
The Cowboys' second- and third-team secondaries had a night to forget against Tim Tebow and Brady Quinn as they combined to go 14-21 for 211 yards and one touchdown. Brian McCann had a 12-yard pass interference call on a third-and-seven and the secondary looked confused at times. Since the team is learning a new defense, you couldn't expect them to have a perfect game so the mistakes can be forgiven...for now.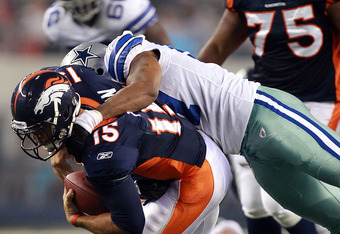 Ronald Martinez/Getty Images
Wide receiver Raymond Radway had a 10-yard touchdown reception for his only catch and a 40-yard kick return that set up the game-winning touchdown. Wide receiver Dwayne Harris had a night to remember, catching five balls for 127 yards and two touchdowns, including a 76-yard touchdown pass from Stephen McGee. Kevin Ogletree, the Cowboys' third receiver on the depth chart, had two catches for 22 yards in limited action.
Lonyae Miller had a tough game, getting just 11 yards on nine carries.
Buehler was perfect on the night, connecting on his one field goal attempt and four extra points. Dan Bailey had all of his kickoffs reach the end zone, but his one point-after-touchdown attempt was botched when long snapper Corey Adams unleashed a bad snap and Mat McBriar couldn't get hold of the ball.
Danny McCray was injured in the first half when he was hit hard during a Tebow scramble in which the Broncos were flagged for three different penalties. McCray injured his ribs and left shoulder but they're not considered serious and he is expected to be back in a few days.
The Cowboys also showed good discipline with just six penalties for 59 yards, compared to the Broncos' 10 for 85 yards.