What We Learned in Jurgen Klinsmann's Debut with US Soccer
August 11, 2011
Drew Hallowell/Getty Images
As much as things change, they stay the same.
The old saying held true last night for the US men's national soccer team.  A new head coach, Jürgen Klinsmann, was making his debut appearance as the head of the US side. Klinsmann is expected to revolutionize the US soccer system and breathe new life into the program with new attacking tactics and added creativity.  
The US came out in a 4-2-3-1 formation as opposed to Bob Bradley's constant 4-4-2. However, he could do nothing but watch as his side was dominated the first 45 minutes of play by the newly 10th ranked team in the world, Mexico.
Once again a US team came out flat and had to play behind through most of the game failing to get a single shot off in the first half. Also, once again the US had a frantic flurry to equalize the game and pull out a decent result. 
So what can US fans take away from the 1-1 draw last night against Mexico? For starters, there is no silver bullet for the US woes.  Many people on ESPN were quick to cite Klinsmann's subs for the reason as to why the US finally came alive in the final 30 minutes of the game. I think Mexico's captain and central defender Rafael Marquez being subbed off had just as much to do with it as the energy the US subs brought to the table.
That being said the US subs were impressive. MLS products all: Juan Agudelo, Brek Shea and Robbie Rogers all had immediate impacts on the game and combined for the US's lone goal.  Rogers pace was an immediate problem for a tiring Mexican defense. It was especially evident when Rogers on an apparent breakaway was pulled down from behind by his jersey by Mexico defenders.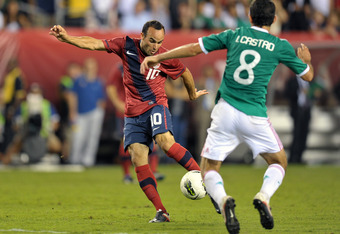 Drew Hallowell/Getty Images
For US fans it was good to see some young players impact the game as US stalwarts Landon Donovan and Clint Dempsey will be on the wrong side of 30 at World Cup Brazil in 2014.
Combine those three with Timmy Chandler, 21, who is currently plying his trade in Germany for FC Nuremberg plus New York Red Bull's Tim Ream and the US has a promising young nucleolus going forward.
It was disappointing that Freddy Adu wasn't able to capitalize and build on his Gold Cup revelation. But hopefully his return to the MLS with the Philadelphia Union and thus more playing time at the club level will allow him to continue to be part of the national team picture.
In the end, this was just a friendly that came about less than two weeks into Klinsmann's tenure. If US fans want a better picture of how quickly Klinsmann will have on the team they should point towards the US's friendly with Belgium on September 6th.
The US team has often struggled on the road and a good result in Brussels will be much more telling than a draw in a half empty Lincoln Financial Field was.