Pittsburgh Steelers' Culture of Cooperation Essential in 2011
August 11, 2011
Gregory Shamus/Getty Images
The Steelers are often viewed as an illustration of "nature red in tooth and claw." Hines Ward is frequently voted as one of the top 10 dirtiest players in the NFL. James Harrison is described as a thug whose only desire is to damage his opponents.
Dejan Kovacevic opines that the Steelers must retain this "fear factor," even in the face of an NFL mandate for a kinder, gentler game. He quoted Cameron Heyward, the 2011 first-round draft pick: "If you want to play for this team, you've got to be aggressive. It's almost like a rite of passage: Show no mercy." Darwin would be proud.
At least until he encountered the flip side of the Steelers—their amazing spirit of cooperation. Veterans routinely mentor new players, knowing full well that the guys they help may replace them, long before they are ready to hang up their cleats.
Right tackle Willie Colon injured his Achilles tendon prior to the 2010 season, and could have chosen to rehab elsewhere. Instead, he remained in Pittsburgh, stumping around training camp under the blazing sun on a walking cast and offering his advice.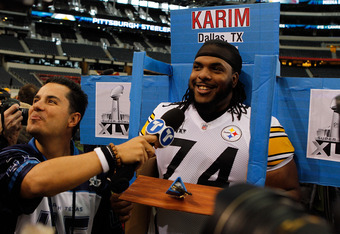 Scott Halleran/Getty Images
Offensive line coach Sean Kugler asked Colon to give a weekly scouting report on each opponent for the season.  Guard Ramon Foster noted "[He] never slacked off on it. He gave us a lot of insight." 
Rookie Center Maurkice Pouncey gave a great deal of credit to Justin Hartwig's mentoring last summer for his rapid assimilation of the playbook. Hartwig's generosity was rewarded by Pouncey becoming the starter, making Hartwig expendable.
Given the unusual situation this season, the rookies are at an even greater disadvantage than usual. Rather than viewing this as a break from having the young players breathing down their necks, the veterans have gone out of their way to assist them. 
As Scott Brown said, "one advantage the Steelers might have [in the accelerated timetable for developing rookies] is a prevailing culture in which veterans help younger players... That explains why outside linebacker LaMarr Woodley was more than happy to spend parts of the first two nights of camp going over the playbook with rookie Chris Carter... 'I'm starting to understand it more, so I try not to bug him too much,' Carter said. 'But he told me he's going to be there for me.'"
Aaron Smith and Ziggy Hood perfectly demonstrate this "team first" attitude. Smith's injury last season gave Hood a starting slot. It would be understandable if he hoped to retain it. Yet Brown reports: "Hood said he has no problem accepting a lesser role if Smith is healthy. 'Splitting time or [Smith] starting would not upset me at all because we're trying to make this team better.'"
Smith said "My ego's not so big that I feel like I have to play every snap. Whatever they think is best for this team, I'm willing to do." 
It is common for veterans who are not practicing to assist their teammates. At last Thursday's practice veterans Troy Polamalu and Hines Ward were on the field, despite Polamalu having the day off to rest and Ward being on the PUP list. Ward spent a considerable amount of time coaching third-year receiver Mike Wallace. Polamalu spent the hot, muggy afternoon with the defense.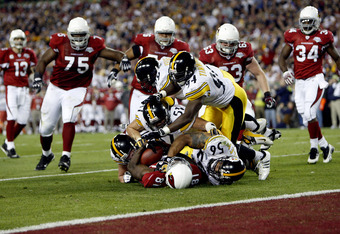 Streeter Lecka/Getty Images
This culture of cooperation doesn't stop with practices. Defensive line coach John Mitchell said of his players, "A lot of guys in this league want to make the Pro Bowl and worry about sacks...My guys would rather get to the Super Bowl than make the Pro Bowl—that's the difference."
Linebacker James Harrison concurs: "It all starts up front with our defense... The defensive linemen have to be unselfish and sacrifice their numbers—something they've been doing for a long time."
Thoughtful gestures can even transcend the offense/defense divide. Ryan Clark had plenty to think about in the locker room prior to Super Bowl XLV. But Scott Brown reports that "when he noticed wide receiver Limas Sweed cutting a lonely figure in front of his stall...Clark handed Sweed a pair of headphones. The veteran free safety had queued his iPod to his favorite gospel song, 'Your Tears,' and he left it with Sweed.
Clark said, "I know it's hard to feel alone, so I just wanted to reach out to him the best I could."
"It was awesome," Sweed said of Clark's gesture. He spoke feelingly of "the organization-wide support he has received..."
Players routinely attribute the culture of the Steelers' locker room to the Rooney family, and say that the pervasive attitude in the club comes from the top down. This includes head coach Mike Tomlin's "Servant Leadership" style of management, one he assimilated from mentor Tony Dungy.
The Steelers organization is scarcely perfect. It is, after all, composed of all-too-fallible humans. But it speaks volumes that players are willing to take a $3 million "home-town discount," as Willie Colon did this season, or to restructure their contracts to help with the salary cap issues, as Ben Roethlisberger, James Harrison, and other veterans did this summer.
The Steelers organization is a group of men who have sublimated their own goals to the greater good. This should give them a leg up in a season that looks to be anything but ordinary.