Delonte West Should Be Back in Green Next Season for the Boston Celtics
August 10, 2011
Mike Ehrmann/Getty Images
Delonte West made many mistakes over the last few years, but his ongoing relationship with Doc Rivers may have saved his career. He has become an important part of this team and has become a symbol of how playing for the Boston Celtics can change not only your career but your life. Delonte should be the easiest free-agency decision that Danny Ainge and the Celtics make after the lockout ends.
Once LeBron James left the Cavaliers, a flurry of trades began, including a deal that sent Delonte to Minnesota. Soon after this deal went through the Timberwolves waived Delonte, leaving his next destination and even his career in question.

Not many teams were willing to take a chance on him after the arrest in 2009 for carrying weapons illegally and the state of his mental health that could create further problems (West has bipolar disorder). Boston, who had drafted him, decided it was time to bring a player back home to regain the success he had in years past.
Danny Ainge and the Boston Celtics knew about all of West's issues and even accepted the 10-game suspension that he would face at the beginning of the season. It seemed that everyone in the association—including Doc Rivers, who had continued his support for him after he left Boston—wanted to see Delonte West return to the team he had started on.

Ainge even said that the team spent a lot of time figuring out the best way to help a player with bipolar disorder like him to thrive and be in the best mental state possible.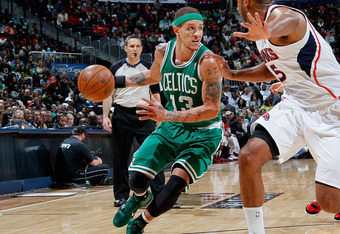 Kevin C. Cox/Getty Images
Everything worked out well for the Celtics except a setback that occurred when West broke his wrist shortly after serving out his suspension. However, he recovered quickly and worked his way back into the rotation and up to speed to help contribute to the team once again.

He was an excellent backup for Rajon Rondo, providing great ballhandling, an impressive shot, solid defense and a strong three-point shot. He plays a very aggressive style of basketball that leads him to get open shots and have an extremely effective defensive game with a lot of steals.
As well as West played during the regular season, he really showed he could provide the style of play off the bench needed during the Miami series. West scored 10.2 points per game while not only carrying and leading the reserve offense, but also by providing impressive defense on the other side of the court. Athletically and performance-wise, West is the answer for the Celtics' needs off the bench for next season.
The question that comes to mind though is whether West is okay with his reserve role and interested in possibly accepting less money than he might command in the open market.

West has strongly stated his desire to return to Boston and with Rivers and Ainge raving over him it seems a real possibility that he may be willing to stay at a slightly lower salary. Not to mention the fact that Delonte seemed to be in the best state of mind he has been in for a long time, as well as found a supporting group of teammates to help him thrive.
Seeing Delonte's emotion and hearing the way he talks about the Celtics in the media' and even on ESPN's "The Association" last year, leads me to believe that his loyalty and gratitude towards the team that gave him a second chance will out weigh any offer he may get from another team. Delonte West should be in green at the start of next season and could end up being the key reserve player in the Big Three's final real championship run.