Minnesota Vikings: Offensive Line Remains Last Glaring Hole To Address
August 11, 2011
Ezra Shaw/Getty Images
The offensive line! This is a key area of huge concern in Minnesota right now, but in more ways than many may initially think.
Last year, the line dealt with some injuries, poor play straight across the board and an inability to defend their helmsman, which was a key element in the season collapse.
Now, in 2011, the same issues face the team once again, but with added rudiments that still need to be addressed.
If you skim the surface, this is what you come up with:
Bryant McKinnie is gone
Anthony Herrera is out after recovering from ACL surgery and triceps surgery
John Sullivan is injury prone, and was pushed around last season
Hutch may have reached his peak a year or two ago
Phil Loadholt has yet to ramp things up.
That leaves Chris Degeare, DeMarcus Love and Ryan Cook as the immediate "other" players to consider.
But the problem here isn't just the idiosyncrasies each player faces, but rather what the coaching staff is going to do with the available lot.
It isn't a problem that is too complex for the Vikings, either; in fact, Occam's razor applies here: a simple answer to a seemingly unnecessary complex situation.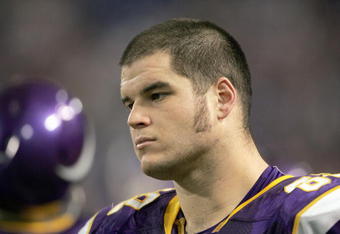 Elsa/Getty Images
Last year during preseason, the Vikings toyed around with some different looks like Herrera at center, but that wasn't a wise idea.
During the regular season, the Vikings moved some players around in an effort to find that right fit, but again, not a good idea since it didn't allow the players to truly get comfortable.
With McKinnie gone, the Vikings have a golden opportunity not only to find that proper combination of run blocking and pass protection, but also to put some other talented players to good use, and even feature their sixth-round rookie selection DeMarcus Love.  
The Vikings could conceivably start by sending Cook to play center.
Cook's 6'6", 325-pound frame is a better presence than Herrera—not to mention a healthier one—that could afford the Vikings what they didn't have last year in Herrera.
That would also allow the Vikings to keep Hutch at guard and feature DeGeare as the other guard; he—might I add—is having a great camp.
The tackles could be slightly modified to feature Loadholt obviously on the one end, provided he does finally come into his own this season.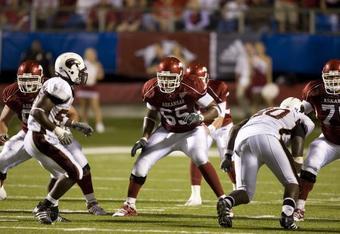 But the last remaining tackle position is still up in the air.
Herrera could fill in at tackle since he does have professional and collegiate experience, but his health is a huge roadblock right now.
That leaves DeMarcus Love.
Love is a guy who I could see filling in the tackle spot very easily, since he was not only the lead blocker at tackle in Arkansas, but he was also part of an offensive line that allowed the passing game to finish fourth overall in the NCAA.
He was part of the reason why the Razorbacks ended the season on a streak of nine consecutive 100-yard rushing games, despite not featuring a ground game.
Love's massive 6'5", 315-pound frame would be a huge addition to a lackluster O-line that had trouble defending the pass, and blocking up front for the ground game.
But this has yet to become a reality.
I think in time, the Vikings will sort of "solve for X," but I also worry that it may take more time than  what is available before opening day.
The bottom line is, the O-line is the last true glaring hole to be addressed completely in Minnesota, but thankfully, the Vikings have plenty of pieces to work with.
All they have to do now is figure out where to put them all.