UFC Live Hardy vs Lytle: Can Dan Hardy Right His Ship?
August 10, 2011
After three consecutive losses in the UFC, it's more than likely that Dan Hardy is fighting for his job on Saturday night at UFC Live: Hardy vs Lytle.
It's pretty unusual to see a participant in a main event in this kind of situation—just one loss away from getting his walking papers.
Dan Hardy entered the UFC on an 8-1 run in various promotions in England and Japan, losing the single fight by disqualification. "The Outlaw" then added wins over Akihiro Gono, Rory Markham, Marcus Davis, and Mike Swick under the UFC banner, earning himself a title shot with welterweight champion Georges St. Pierre. Many clamored that Hardy wasn't deserving or qualified, but a gutsy performance at UFC 111 won over a lot of those critics.
In his next bout, Hardy took on "The Natural Born Killer" Carlos Condit, who managed to knock him out at 4:27 of the first round. It was the first time in 32 fights that Hardy had been knocked out and the first time in over five years he lost in front of an English crowd.
Hardy's most recent fight was billed as a slug-fest with Anthony Johnson. Instead, "Rumble" took Hardy to the ground, effectively controlling him but doing very little in the way of attempting to end the fight. Hardy threatened with kimuras nearly every time he was put on his back, but was never able to secure the submission. Johnson was able to expose the same hole in Hardy's game that GSP was able to—his lack of wrestling.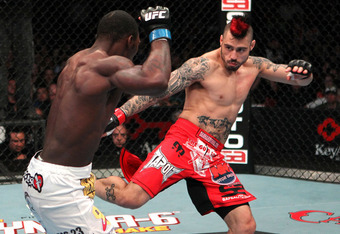 Just like that, Hardy went from being the No. 1 contender in the welterweight division to a fighter with three consecutive losses fighting for his job.
Much like the Anthony Johnson fight, his bout with Chris Lytle is being billed as a stand-up war with no chance of hitting the ground unless someone gets dropped. Still, it appears that Hardy isn't taking that for granted, deciding to make the move to Las Vegas to train with world-class grappler and top heavyweight, Roy Nelson.
Hardy is certainly a high-level striker. A fighter can't spend time with Team Rough House and guys like Paul Daley and Andre Winner without sharpening his striking. However, the move to train with Nelson is a hopeful one. It shows that Hardy isn't resigning to taking these "slugfest" type of bouts for the rest of his career.
Still, in these kinds of bouts, Hardy tends to do well. His performances against Mike Swick and Marcus Davis show that his combination of technical striking and heavy hands are hard to deal with.
Chris Lytle, on the other hand, may have the edge on the ground, but his striking is significantly less technical. "Lights Out" often head-hunts, throwing wild overhand punches in search of the knockout.
Even if Lytle is the more well-rounded fighter, his willingness to stand and trade in order to put on exciting fights may very well cost him this one. Although Hardy has 33 fights under his belt, he is still just 29 years old and seems very motivated to get back on track and add the necessary tools to move up the welterweight ladder. If Paul Daley's recent grappling improvements are any indication, Hardy may surprise us.
In a recent interview with ESPN, Hardy mentioned, "I'm really comfortable wherever the fight goes. Obviously, everyone knows what I like to do, and everyone knows what Chris likes to do, as well. So I don't think there are any surprises there.
"But regardless of wherever the fight goes, I'm ready for it. I want to show people what I can do. I feel this is a turning point in my career. I've got to get things back on track, and I'm the right place to do it."
In all fairness to Hardy, his losses have been against some of the best welterweights in the world. While Lytle is a very game fighter, he is the perfect caliber of opponent for Hardy to get back in the win column.