Pittsburgh Pirates: Jerry Meals' Call and a Catalyst Behind Their Collapse
August 10, 2011
Mike Zarrilli/Getty Images
Every good conspiracy story is wrapped around a nugget of plausibility. The grassy knoll in Dallas on Nov. 22, 1963. The federal employees who called off work at the Murrah Building in Oklahoma City on April 19, 1995. The U.S. dollar will be replaced by currency called the "Amero." Secret Societies employ occult rituals that control current events. These are but a few of the more juicy tales making the rounds. 
The recent collapse of the Pittsburgh Pirates have had local fans reaching for their own conspiracy stories. After all, it's true that teams go through bad stretches, but not this drastic and not this late in the season.
Oh yeah?
Tell that to Phillies fans who saw their team collapse in September 1964 after leading the National League by 6.5 games. They lost 10 straight out of their last 12 and the St. Louis Cardinals overtook them and went on to beat the New York Yankees.
Turnabout was fair play for the Phillies in 2007 as they overtook the slumping New York Mets, who dropped six of their final seven to tumble out of first place. The 2009 Detroit Tigers blew a three-game lead with four left to play.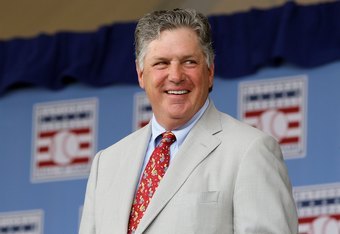 Jim McIsaac/Getty Images
The 1969 Chicago Cubs lost 14 of their final 20 games and were overtaken by the now famous "Amazin' Mets," who then shocked Baltimore in the World Series (after besting Atlanta in the NLCS, of course).
There can be no doubt the Pirates had their spirits crushed in Atlanta during the final play of an 18-inning contest by home plate umpire Jerry Meals. The ump called Atlanta's Julio Lugo safe on one of the all-time worst calls in baseball history. Replays from every conceivable angle showed quite clearly that the base runner had been tagged out at least three feet before hitting the plate.
Meals eventually admitted his mistake, but the damage was done.
However, the ensuing loss of 10 straight was due to what can be boiled down to a single word: execution. The Bucs have simply not given a major league effort during the bad spell—not at the plate, not in the field, not on the mound or on the bases.
Let's take a look
Charlie Morton had been a tough competitor most of the first half of the season and was a great candidate for "Comeback of the Year." Against the Phillies on the July 29, "Ground Chuck" (manager Clint Hurdle's pet name for his sinker ball) surrendered six runs on nine hits in four frames.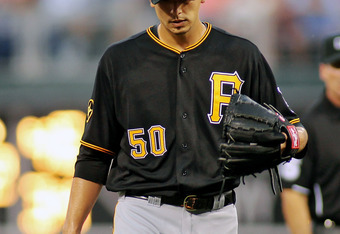 Len Redkoles/Getty Images
The Pirates had a chance to steal one away from the surging Phillies a couple days later, but rookie lefty Tony Watson surrendered a walk off double to veteran Raul Ibanez.
Veteran Kevin Correia was a sensation right out of the box this spring, becoming the third National League pitcher with double figures in the win column on June 28. However, he, too, fell apart at the end of July, helping to allow the meek Chicago Cubs to sweep four games in Pittsburgh for the first time since 1952.
Jeff Karstens sported a 2.27 ERA as July became August. On Aug. 5, Karstens had his world rocked by the San Diego Padres, who roughed him up for nine runs in 3.1 innings and jacked his ERA up to 3.05.
How does a thing like this happen?
Hurdle, John Wehner, Bob Walk, Steve Blass and Kent Tekulve—former players, all—spoke on a reoccurring post-game theme: "leaving pitches up in the [hitting] zone." Pitches were elevated and hitters were teeing off on the sloppy execution.
Padres veteran Chase Headley hammered a grandslam off Karstens while Chris Resop surrendered a grandslam to rookie Kyle Blanks the following night. Both pitches were belt high, the last place any hurler wants to leave one.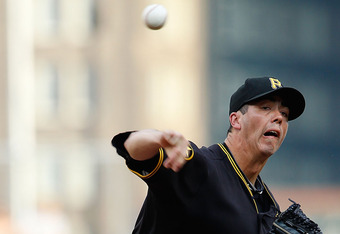 Jared Wickerham/Getty Images
There were plenty of fielding miscues, too. The night after Karstens' debacle, outfielder Xavier Paul missed a shoestring catch that wound up rolling to the wall. The following afternoon, Matt Diaz missed a catch at the base of the right field wall that was ruled a double. It was a play that must be made at the major league level—no excuses.
Later that same game, catcher Ryan Doumit attempted to throw out a runner stealing second. The ball sailed and wound up squirting away from Neil Walker, who was covering the bag. In defense of Doumit, he has just come off the disabled list after an ankle fracture during a play at the plate in May.
To add insult to injury, reliever Daniel McCutchen threw a sixth-inning wild pitch that led to a run. Pirate fans, who had become accustomed to seeing Michael McKenry stopping anything short of a small riot during Doumit's absence, displayed their discontent..
No bats
The doldrums on offense continued through the winless streak as Chicago shut them out on Aug. 3. San Diego limited them to a pair of runs on Aug. 6. And, on Aug. 7, the Bucs were held to just two hits by Mat Latos through seven.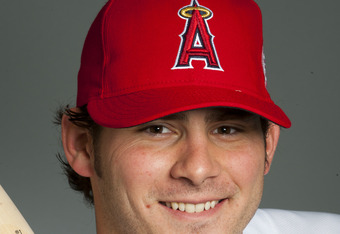 Rob Tringali/Getty Images
They managed two more in the eighth to chase Latos from the game before shortstop Brandon Wood lit up reliever Chad Qualls for a three-run shot. It was too little and too late.
Key bats have been cold as ice. Over the last seven games, Andrew McCutchen is batting just .250. Neil Walker has been hitting a buck sixty-seven and Pedro Alvarez has yet to show much improvement since his return. He's mired at a most disappointing .227 with seven strikeouts. Unlike Carlos Pena (who also fans a lot and has a dismal batting average), Alvarez hasn't flashed any power. Strikeouts loom large when you're not producing.
Hitting the road
The Pirates were able to slip out of town and finally get on track against the San Francisco Giants, with a 5-0 shutout as Charlie Morton looked positively filthy through eight. The bats seem to wake up as well. Garrett Jones enjoyed a 3-4 night to raise his average for the last seven games to an even .400 and an OPS (on-base plus slugging) of 1.184 over the same time period.
With the monkey off their backs, there are other signs ahead that suggest writing the Pirates off for the year is a bit premature. Outfielders Jose Tabata and Alex Presley are about to return from the disabled list, along with starting pitcher Ross Ohlendorf.
Rookie shortstop-third baseman Chase D'Arnaud is also due back soon, but there may not be room for him in the lineup. Brandon Wood is hitting .283 over the last month and has been far more sure-handed at short than the rookie. If Alvarez continues to struggle, expect to see Josh Harrison called back up to handle to the hot corner.
Cooler heads prevail
Clint Hurdle is a far more effervescent leader than the cadaver-like John Russell, but Hurdle didn't get bent out of shape during the 10-game skid. Pirate fans remembering how Jim Leyland wore his emotions on his sleeve may have been expecting fire-and-brimstone speeches, locker rooms being turned upside down and on-camera temper tantrums.
Well, Hurdle remained a picture of passivity—a remarkable feat, considering the frustrating nature of a losing string. What Hurdle has built with this team will most definitely return.