Myra Kraft Will Be Honored by the New England Patriots for the 2011 Season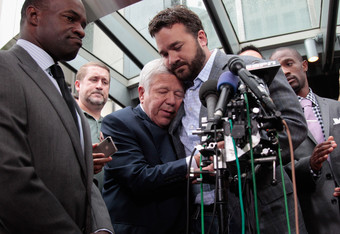 Robert Kraft will have the support of the New England Patriots in honoring his late wife, Myra
Rob Carr/Getty Images
Myra Kraft was an amazing woman who not only changed the New England Patriots franchise, but changed the lives of everyone she met. It is extremely fitting that the Patriots dedicate the entire season to owner Robert Kraft's late wife and show her the respect she deserves in memory of her amazing life. Every member of the team will wear a patch on their uniform embroidered with the initials "MHK" and I would not be surprised to see players and fans presenting their own ways to honor her life.
For the few that don't know about what Myra Kraft devoted her life to, she was a philanthropist who spent every day of her life helping others. To start, Myra was on the board of the Boys & Girls Clubs of America, helping to provide a safe and accepting place for a diverse group of young people to come together and grow. In 1995 she became the first woman to ever be the chair of the board in the club's long history. She also served on the board for the American Repertory Theatre, the United Way of Massachusetts Bay and Brandeis University.
Myra took her charitable ideas one step further and decided to use the far reach and influence of the NFL to help even more people than the many she could help herself. She became the president of the New England Patriots Charitable Foundation that helps to contribute millions of dollars to charities throughout the world. She is probably responsible for all of the contributions she and Robert personally made during her lifetime to many various charities as well.
Her biggest mark on the team can be seen in every player's contract that wears a New England Patriots jersey. There exists in the contracts a little known clause that states that all players must take part in 10 charitable events per year, a small price to pay in her opinion for the millions of dollars they make playing football. I personally got to see Myra's effect on the entire franchise by experiencing the team's willingness to help others.
Every year I attend the Audi Best Buddies Charity Flag Football game to help support the great program, and every year it seems more and more of the Patriots found their way to that field. It could be that Tom Brady was the headlining celebrity that endorsed the program and played in the game but you could see that Myra had a strong effect as players like Wes Welker, Julian Edelman, Tully Banta-Cain and even the retired Tedy Bruschi participated in last year's game. Star players who don't need the publicity and role players who hardly get recognized continue to provide their support for these charities that Myra herself so greatly supports and it is this reason that I believe the Patriots Franchise has been changed forever.
Myra Kraft was an amazing woman who changed the world every day by helping people in need and I am proud to see that the New England Patriots are taking the chance to honor her, not because it's Robert's wife, but because of everything that she has done for the game and the world. Perhaps we can all learn from her life what every Patriots player is forced to learn when they put on that uniform, that it takes a small effort for us to change the world.
Rest in Peace Myra Kraft. Thank you for everything you did. And thank you New England Patriots for respectfully honoring the life of this amazing woman.
This article is
What is the duplicate article?
Why is this article offensive?
Where is this article plagiarized from?
Why is this article poorly edited?

New England Patriots: Like this team?