San Francisco Giants' Bruce Bochy Will Have to Trust Rookies to Win
August 9, 2011
Greg Fiume/Getty Images

The San Francisco Giants have done everything they can to stick with the veterans who have been there before and done it all.  If Bruce Bochy wants to win again this year he is going to have to give up the philosophy of playing veterans and trust in two rookies.
Last season the Giants handed the reigns over to Buster Posey and the result was a World Series title.  It could not have been easy for the Giants to replace grizzled veteran Benji Molina with unproven rookie Buster Posey, regardless of how supremely talented Posey is.  Bochy is well known as a veteran first manager, yet when the writing was on the wall, he could read it just like the rest of us.
The case of Posey and Molina was special in that Posey really forced the issue and allowed the team to make a pretty easy call on trading Molina.  This year, the situation is a bit different in a couple of ways.  There are two rookies who would make the team better right now who have seen some playing time this year already; Brandon Crawford and Brandon Belt.
Brandon Crawford saw significant playing time because of his glove at short while his offensive production was weak at best, but still was not too far off from the production of Miguel Tejada who is far inferior defensively to Crawford.  When Brian Sabean traded for veteran shortstop Orlando Cabrera, Crawford was sent back to Triple-A.  Cabrera would hit a little bit better than Crawford and his defense would fall somewhere in between that of Crawford and Tejada; not spectacular but also not atrocious.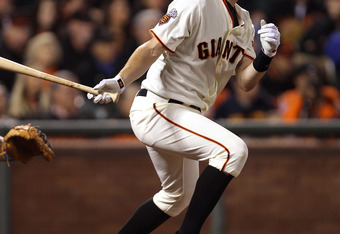 Jed Jacobsohn/Getty Images
Cabrera has proven that he is indeed better defensively than Tejada and his batting average is better than Crawford's but he is getting on-base significantly less frequently than Crawford was.  Crawford's range and big play ability coupled with his ability to get on-base give the Giants the best chance to win out of the other shortstop options.  The fact that he is inexperienced could become a factor, he did look overmatched over the final weeks of his time on the parent squad but unless he had a complete fundamental break down, he would be a better option than anyone else for the rest of the season.
Brandon Belt is in another realm than Brandon Crawford.  Belt has the glove to play in the big leagues right now and he has the bat.  When he first made the team this year he looked a bit like a deer in the headlights, unsure if he actually belonged on the Giants and it showed in his consistently poor at-bats.  When he returned from his wrist injury, he looked like a completely different man, not to mention a different hitter.  He exuded confidence and it showed in the few at-bats he actually got.
Aubrey Huff was going to be given every opportunity to be the Aubrey Huff of 2010 and probably still will be.  Huff led the Giants to the title last year almost as much as Posey did, but he is completely absent this year.  He has shown signs of late that he has figured out he needs to stay back and take pitches the opposite way but no one knows if that will last.  I do not advocate for replacing Huff with Belt, Bochy simply will not do that.  I do think that Belt is one of their 25 best players and he gives them a significantly better chance of winning if he is consistently being worked into the lineup.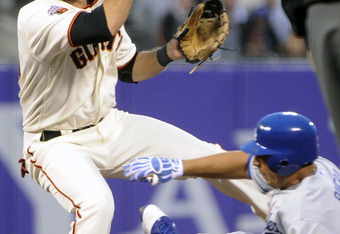 Thearon W. Henderson/Getty Images
Monday night the Giants faced a right handed-pitcher in Charlie Morton against whom left-handed hitters are batting over .300.  Because Carlos Beltran is listed day-to-day with a hand injury, the Giants were forced to play Aaron Rowand in left field.  Not surprisingly, Nate Schierholtz and Aubrey Huff set the table twice and had very good at-bats against Morton hitting from the left side.  Rowand killed two rallies hitting from the right side.
Belt doesn't have to play first base in order to be in the lineup, he has learned the outfield this year and is a good enough athlete that he can play left field adequately enough.  I have a hard time understanding Mark DeRosa's current role on the team, other than they see him as a veteran who bats right-handed.  Adding him while subtracting Brandon Belt significantly weakened this team in my opinion.
There is still time for the Giants to explore all avenues of veteran involvement, but if they want to take off now and leave Arizona behind in the division, they should consider making these changes sooner than later.