2011 PGA Championship Predictions: Why Martin Kaymer Won't Repeat as Champion
August 9, 2011
Andrew Redington/Getty Images
Repeating as a regular tournament champion is hard and repeating in a major championship in the modern era is practically impossible—unless you're Tiger Woods, Nick Faldo and Jack Nicklaus.
Since WWII, the US Open has had only two back-to-back winners: Ben Hogan and Curtis Strange. 
This phenomenon has been more common in the British Open with Arnold Palmer, Bobby Locke, Peter Thomson, Lee Trevino, Tom Watson and Tiger Woods all with consecutive wins. Thomson even had a three-peat.
In the early days of the tournament the PGA had one dominant figure—Walter Hagen, who won it four times in a row. That was in the 1920s when the tournament was still match play. Only Tiger Woods has managed to win the tournament back-to-back since then—and he has done it twice. 
It is hard to have good form every year at any event, never mind one of the most important ones.  The courses for three of the big five tournaments change each year, making repeating even less likely.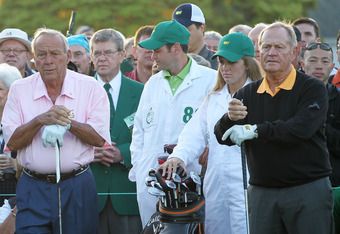 Jamie Squire/Getty Images
In the PGA Tour record books, three years running is the best anyone has been able to do.  Three-peaters include:  Gene Littler, Tournament of Champions; Billy Casper, Portland Open; Arnold Palmer, Texas Open and Phoenix Open; Jack Nicklaus, Disney Classic; Johnny Miller, Tucson Open; Tom Watson, Byron Nelson Classic; Steve Stricker, John Deere; and Tiger Woods, Memorial, WGC-Bridgestone,  WGC- NEC, and WGC- CA.  
Woods has four three-peats—12 tournaments in that total. Martin Kaymer has nine professional victories total since emerging from the Challenge Tour where he had two. While Kaymer is a wonderful player and who finally achieved the No. 1 ranking last winter, he has not been on form since winning the HSBC in Abu Dhabi. 
The likelihood of him finding enough game to repeat at the PGA Championship on a completely different golf course is highly unlikely. That's not to say that it is totally out of the question, but it falls into the extremely improbable category. However, no one picked Martin Kaymer headed into the PGA Championship last year, but he still won. 
What this year's final major at the Atlanta Country Club demands for the PGA Championship is reasonable accuracy and good putting. Unlike Whistling Straits, which demanded accuracy and decent putting. David Toms, who never saw a green he couldn't putt and who seldom sees a fairway he can't hit, was the PGA Champion the last time the tournament was played at Atlanta CC. Phil Mickelson came in second.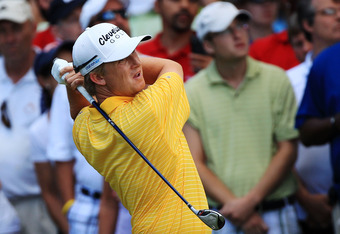 Streeter Lecka/Getty Images
New grasses have been planted on the course.  Tifton 10 bermudagrass for the rough, Diamond zoysia for tees and fairways and the greens are Champion ultradwarf bermudagrass.  That means there will be penalty for hitting in the rough and that those who can putt on and read Bermuda greens will have an advantage over those who favor bent and poa annua. 
According to the GCSAA, the greens are being mowed at .105 of an inch—barely above dirt. 
If you are looking for a winner, run down the list of champions at Doral for those who have shown success on bermudagrass greens.
Doral's green height is typically .100" which makes it shorter than the PGA Championship this year. Regardless of the tournament name, one player keeps coming up: Tiger Woods, with eight victories. 
Others to watch? Geoff Ogilvy,  Ernie Els and the most recent winner there, Nick Watney.