Notre Dame Football: 2011 Quarterback Competition a Different Flavor Than 2007
August 9, 2011
Jonathan Daniel/Getty Images
At his first of many regular grillings over the next few months, Notre Dame football head coach Brian Kelly addressed und.com and other members of the media on Friday to open the Irish fall practice.
Unsurprisingly, the first question went directly to the meat of fall camp fodder: the quarterback competition. As a subject that is sure to be parsed, analyzed, dissected, sliced and possibly skewered to death, Kelly did lay out some iron-clad certainties that will serve his team well in preparation for its Sept. 3 opener against South Florida.
The most important of these is that Kelly will announce the quarterback starter no later than two weeks before the opener. "We're going to know going into the last 10 days who the starting quarterback is because we're going to rep that out for South Florida," Kelly told und.com.
At that point, there will be no hiding, no question dodging, no double-speak. There will be only one name as the Notre Dame starting quarterback.
Contrast this approach with the circus that was the fall practice before the 2007 season. Then-coach Charlie Weis elected to keep the chosen starter under wraps until the actual game day so as not to tip his hand and give Georgia Tech any kind of advantage.
What actually transpired was a complete distraction for the entire team as players faced the same questions day after day as journalists tried to weasel out a scoop any way they could. The opening game itself could not have been a greater debacle as actual starter Demetrius Jones was summarily yanked in favor of true freshman Jimmy Clausen, fresh off elbow surgery. Neither was remotely effective, and by the end of the third week the Irish were down to two quarterbacks instead of their initial four.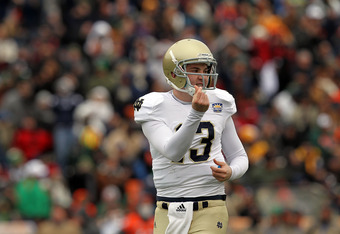 Ronald Martinez/Getty Images
Although there are again four quarterbacks this year, it appears that the starting position is essentially a two-player race. Kelly is clearly seeking to ensure that injuries will not be a factor for either Dayne Crist or Tommy Rees, noting, "Dayne and Tommy won't be in a contact situation...we'll have a cylinder around those guys."
It seems the other two quarterbacks, Andrew Hendrix and Everett Golson, will be used only in specific situations (if at all) during 2011. The Irish can afford such a luxury that was not available in 2007 as both of the two 2011 front-runners, Crist and Rees, have actually started and won games for Notre Dame.
But the big question in any quarterback competition is just how much flexibility is a good thing. A college football maxim states that having more than one starting quarterback is the same as having none. The Florida Gators effectively used a hybrid model during their championship run in 2006 with Chris Leak and Tim Tebow, although Tebow was never the starter. But many other teams have not had similar success. 
"I don't have a great answer...other than you got four guys vying for one position," Kelly said. "It's very difficult. But you got to try to utilize the strengths that all those guys have in some fashion."
If that statement is any indication, the true fireworks will start on game day when wins and losses are on the line, and fall practice will be just the opening act for a season of quarterback drama.