Tiger Woods: Desperately Searching for the Most Important Victory of His Life
August 8, 2011
Andy Lyons/Getty Images
I'm sure Tiger Woods would tell you if he ever had a moment where he actually laid his cards on the table, that if he could win any one tournament right now, it would be the most important win of his life.
Simply because it would start to give him his life back by ending a victory drought that has gone on for more than two years. 
Actually, the only thing Tiger Woods can do to bring his whole life back into focus is win a golf tournament. 
He doesn't need any more shaky PR moves, a new coach, a new caddie or a new girlfriend. 
He just needs to win a golf tournament.
But as odd as it may seem, the man who was once able to win almost at will, and by enormous margins with unparalleled excellence of play, now cannot win, or even come close to doing so in the most important tournament of his life.
The first comeback win still eludes him and so does his reconnection with anything even remotely resembling his once astronomical levels of fame and fortune.
He has the look not of a champion but of a beaten man on the run. 
And what's chasing him?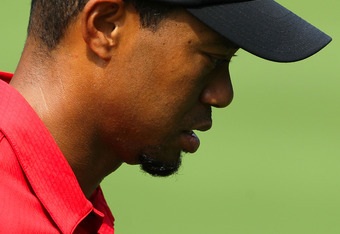 Andy Lyons/Getty Images
What's hunting Tiger Woods down?
It's his old image. 
He's being haunted now by the legend he created, destroyed and now cannot get back. 
He's being stalked by the Tiger Woods who was going to stand triumphantly in the sun one day with the trophy from his 19th major.  
He's being followed now, up and down every fairway and into the rough and trees by the Tiger Woods that could have been.
And he just can't shake him off.