UFC 133 Analysis: Should Tito Ortiz Call It a Career?
August 8, 2011
One devastating knee strike to a soon-to-be lifeless Tito Ortiz left "The Huntington Beach Bad Boy" protecting himself in the fetal position against the onslaught of strikes executed by "Suga" Rashad Evans.
This lone epitomizes Ortiz's involvement inside the Octagon this past Saturday against Evans. Attacking with limited offense, the aging Ortiz was manhandled by the younger, quicker, more explosive No. 1 contender for the UFC Light Heavyweight Championship.
In his heyday, Ortiz successfully defended that very same championship from 2000-02 with a record five title defenses.
But he is 1-5-1 in his last seven matchups within the famed Octagon, and Ortiz's decline as a competitor and subsequent decline in performance has forced many experts to question whether "The Huntington Beach Bad Boy" can remain relevant within the UFC Light Heavyweight division.
Stacked with tremendous athletes including current champion Jon "Bones" Jones at the precipice of this division, Ortiz's eroding athletic ability was proven incapable of competing against the next generation of mixed martial artists.
Ortiz will not defeat Jones, Evans, Phil Davis or Lyoto Machida. These fighters possess skills that Ortiz does not possess, nor that will he ever develop.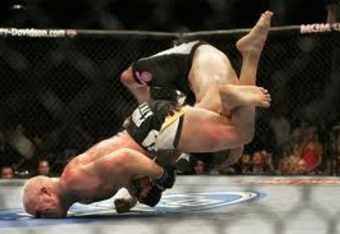 With respect to competing for a title, Ortiz should call it a career. He will never again claim championship gold within the UFC Light Heavyweight division.
However, with that reality in place, Ortiz is still a dangerous fighter who is a tremendous draw for the fans. He is never short on opinions and creates a media storm in each event he competes in.
Additionally, The Huntington Beach Bad Boy enters the Octagon in shape, successfully prepared for a victory and as a gamer for each matchup.
Therefore, even though Ortiz will never again have his name etched into championship gold, he is still a very relevant fighter who can battle against top-tier talent.
Matchups with other seasoned veterans including Vladimir Matyushenko, Rich Franklin and Antonio Rogerio Nogueira would provide exciting fights for both the fans and the UFC.
Should Ortiz call it a career? No, I believe he should not. His value to the sport and to the UFC itself is too great. He is still a wonderful competitor who is an asset to mixed martial arts.
I welcome your comments.