San Jose Sharks: Updating the Projected Starting Lines for the 2011-12 Season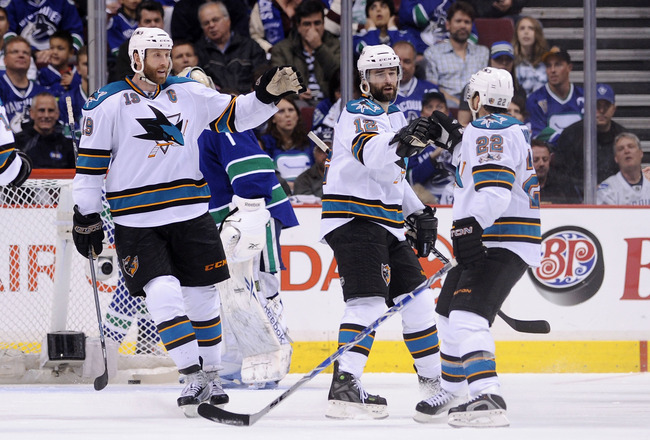 Harry How/Getty Images
The San Jose Sharks will be playing a whole new brand of hockey when they take the ice in October. GM Doug Wilson has completely turned this team around from a Stanley Cup contender to, well, a Stanley Cup contender, just in a different sense.
To recap, the Sharks traded Devin Setoguchi and Dany Heatley for Martin Havlat and Brent Burns in two separate deals with the Minnesota Wild this offseason.
San Jose is now a faster, more defensive-minded team, and Minnesota can now score the puck. It seems like a win-win for both teams.
However, depth may be the biggest problem for the Sharks next season (if we are going to be picky).
Wilson seemed to figure that out this last week with the signings of defenseman Colin White and forward/center James Sheppard.
White will be battling for a spot on the third line of the defense, and Sheppard will most likely find his way onto the fourth line of the offense.
It is unclear if the Sharks are done dealing or signing players, but things have done a complete 180 degree turn in San Jose, as the team is now a complete force to be reckoned with in the Western Conference.
If you like this article, check out my Bay Area Sports Talk blog
Patrick Marleau, Joe Thornton and Joe Pavelski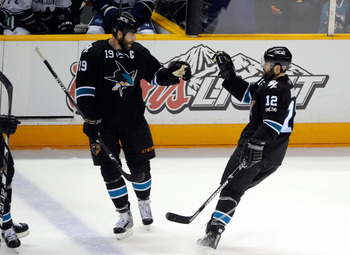 Thearon W. Henderson/Getty Images
David Pollack of the San Jose Mercury News was the first to ignite the discussion of the first and second line order to start the season.
He feels, after talking to some of his sources, that the starting lines could be completely different than the natural immediate first thought.
Marleau, Thornton and Havlat?
Pollack says the Sharks are most likely leaning towards a first line of Marleau, Thornton and Pavelski.
The reason for that would be to split up the two speedsters, Marleau and Havlat, and have them play on different lines in order to spread the wealth around a little bit.
It would make the Sharks a tough team to keep up with on the ice.
Ryane Clowe, Logan Couture and Martin Havlat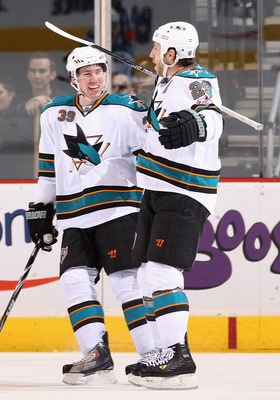 Christian Petersen/Getty Images
Logan Couture is as crafty on the ice as they come, Ryane Clowe is a physical presence, and adding Martin Havlat's speed could make this line the most dangerous the Sharks have.
Again, splitting up Marleau and Havlat would make the Sharks a faster all-around team, and Havlat should enjoy playing with playmakers like Clowe and Couture.
The main goal of this line is to get more out of Havlat than what he would bring to the first line. On the second line, Havlat is the go-to guy with speed, while on the first line he is would play a secondary role to both Thornton and Marleau.
Playing Havlat on the second line would allow him to showcase his skills with Couture and Clowe.
Jamie McGinn, Michael Handzus and Torrey Mitchell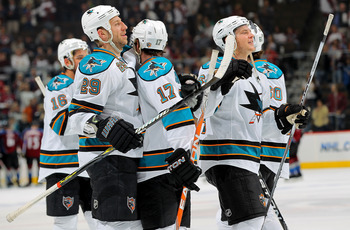 Doug Pensinger/Getty Images
This may finally be the year for the young players Sharks fans have grown up watching. Jamie McGinn and Torrey Mitchell are due to break out this season.
Adding Handzus into the young mix could be just what needed to be ordered for this young pair, as he brings a veteran presence with experience on the ice.
This becomes one of the Sharks' better defensive forward lines, as well.
Andrew Desjardins, James Sheppard and Benn Ferriero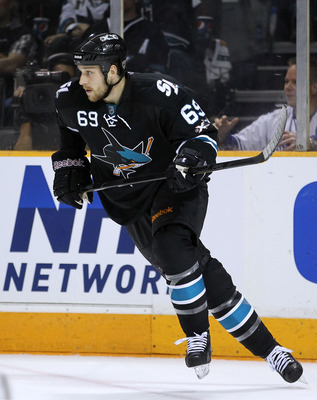 Ezra Shaw/Getty Images
For now, it is unclear as to how the Sharks will be using recent acquisition James Sheppard. The 23-year-old plays both wing and center positions, but it is his recent battle with injuries that has derailed the ninth overall selection in the 2006 NHL Draft.
Desjardins can also play center on this line, but the fact of the matter comes down to how the Sharks handle free agent Kyle Wellwood.
If signed, Wellwood could play the center position on either the third or fourth lines, which would send Sheppard down to Worcester for a little seasoning after taking last season entirely off.
We will find out sooner or later how the lines will shake out, but pencil in Sheppard at the center position for now.
Dan Boyle and Douglas Murray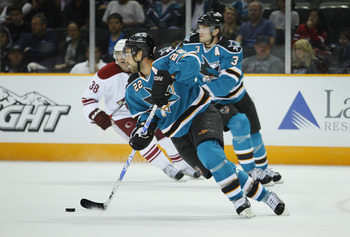 Brian Bahr/Getty Images
There is nothing to divide up the defensive duo of Boyle and Murray. Not even the acquisition of a young stud like Brent Burns.
Boyle's crafty offense and timely defense, mixed with Murray's physical presence, is what makes this line great.
Expect the same old first line on defense to stay exactly the same.
Marc-Edouard Vlasic and Brent Burns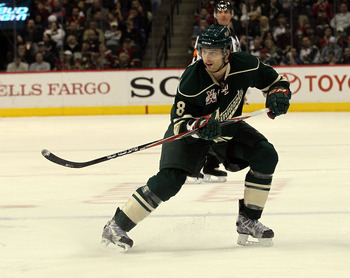 Bruce Bennett/Getty Images
This could easily be a first line on any other team, but the Sharks have chosen to pair these two up in what could be a lock down line in the NHL.
Vlasic's all-around game should play well with Burns' physical presence and rocket shot from the point.
It is the addition of Burns that has the Sharks looking like a defensively stable team, and Vlasic should benefit from that.
Jason Demers and Jim Vandermeer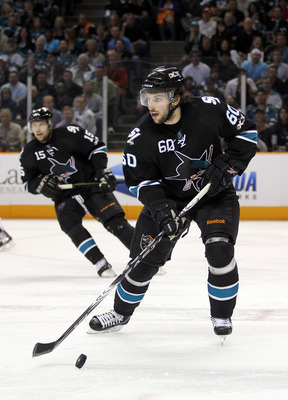 Ezra Shaw/Getty Images
The third line on defense just got a whole lot more interesting this past week with the addition of Colin White.
The Sharks add another key player on the penalty kill, but where does he fit in the starting lineups?
It is not certain if he does at all.
White is a big man at 6'4" and adds another physical presence on the ice, but the Vandermeer/Demers line could be just what the doctor ordered for the Sharks.
Vandermeer plays more of an all-around game than what White brings. White had just six assists last season in 69 games.
Going forward, it would seem like White and Vandermeer may switch off time at that final spot on the defense, with Todd McLellan carrying seven defensemen to start the year.
Also, Justin Braun will be making occasional appearances on the third line, given injuries or faulty play.
Keep Reading

San Jose Sharks: Like this team?