Fantasy Football 2011: Kevin Kolb and Vince Young Change Teams, Roles and Values
August 8, 2011
Christian Petersen/Getty Images
This is a tale of two quarterbacks and their fantasy values. 
Kevin Kolb was not happy being a backup for the Philadelphia Eagles.  Vince Young was not happy being a starter for the Tennessee Titans. 
Well, both got their wishes.  Kolb is a starter and not with the Eagles, and Young is a reserve and not with the Titans. 
So what are the fantasy football futures for both of these uniform-changing quarterbacks?  Here is a look at what could happen for them and what their fantasy values project to be.

Kevin Kolb, Arizona Cardinals
Even Larry Fitzgerald, with his LeBron-like leaping ability and Ozzie Smith-like hands, could not help Derek Anderson look like a decent NFL quarterback. 
Luckily, Kolb should not need as much assistance, as he proved in limited action with Philadelphia that he is not the automatic interception Anderson was.
There are two major knocks against Kolb. 
One is that he cannot throw the long ball. In fact, the intermediate ball is questionable for him, too. Kolb has the short slants, screens and safety valves down, but when he has to air it out, it appears that Chad Pennington takes control of his right arm. 
Kolb only averaged 6.33 yards per pass attempt last season, which was worse than Chad Henne, Alex Smith, Shaun Hill and some other quarterbacks never confused with All-Pros. 
Oh, Anderson's average was 6.32.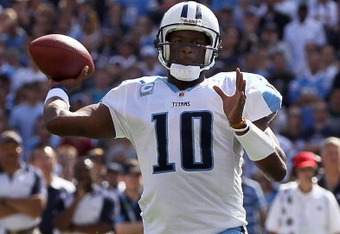 Jeff Gross/Getty Images
The other is that Kolb has not exactly set the world ablaze during the first 19 games of his NFL career. Eleven touchdowns, 14 interceptions, 64 rushing yards, several fumbles. 
He threw for 326 yards and three touchdowns while subbing for Michael Vick against Atlanta last season. Other than that, the back of his football card does not have a lot on it that makes Kolb out to be someone worthy of multi-millions.
Yet Kolb HAS to be better than Anderson and the other scrubs who threw to Fitzgerald in 2010, which is why Fitzy's stock is rising higher than Henry Hill's temper when his wife Karin flushed all his drugs down the toilet near the end of Goodfellas. 
Fitzgerald had 1,137 yards and six touchdowns in spite of his horrendous quarterbacks last year. If Kolb can just be somewhat average than Fitzgerald should be able to put up 1,300 yards and 10 TD and return to being a top-10 fantasy WR.       
Arizona has shunned pass-catching tight ends over the years more than Antonio Cromartie has shunned birth control, yet the Cards went out and signed veteran Todd Heap, who should be a wonderful option over the middle and on third downs for Kolb. 
But Arizona has never replaced Anquan Boldin and lost Steve Breaston to free agency, so Kolb is looking at Andre Roberts and Early Doucet as his No. 2 and No. 3 wide receivers. Makes your mouth water as much as a liver sandwich, right?      
Prediction: Kolb is not a No. 1 fantasy quarterback, at least not yet. 
He has the potential to be on, though. Maybe head coach Ken Whisenhunt can groom him into one. The coach's results have been severely mixed in recent years. 
While Whisenhunt helped revive Kurt Warner's flailing career and turn him back into a surefire Hall of Famer, he could do nothing with the woeful Anderson last season.
      
Arizona will throw a ball a lot, so Kolb will get plenty of chances to stack up fantasy points. I can see a 21-TD, 16-INT, 3,700-yard campaign out of him.  But he would have been better off if he were traded somewhere else. 

Vince Young, Philadelphia Eagles
Michael Vick will never be confused with Brett Favre in the durability department, so Young is one tragic Vick scramble away from becoming the starting quarterback for one of the highest-scoring offenses in the NFL. 
This is a tremendous step up from the Tennessee Titans offense he quarterbacked, which revolved around toss plays to Chris Johnson, five-yard passes to tight ends and the occasional heave to the oft-injured and oft-arrested Kenny Britt. 
But unlike Kolb, who fantasy owners know will be a starting quarterback unless a broken bone or a three-game super slump sticks him on the sidelines, Young's fantasy value totally hinges upon Vick's health. 
Young cannot put up any fantasy stats from a seat next to the Gatorade cooler.  So Young should not be drafted in the upper or even middle rounds of fantasy drafts.  He has to either be an insurance pick made by a Vick owner or a late-round sleeper. 
Does Young have the accuracy and arm to throw downfield consistently to DeSean Jackson and Jeremy Maclin if he does get to start some games? 
His first five NFL seasons suggest he could have some difficulty.  His career completion percentage of 57.9 and his 42-to-42 touchdown-to-interception ratio is circumstantial evidence against him.    
 
The most perplexing problem with Young, at least to fantasy owners, is not his throwing, though.  It is running or lack thereof. 
Young came out of college with Vick-like scrambling ability, so we all assumed he would rack up rushing yards.  But after galloping for 552 yards and seven scores in his rookie season, Young has shifted into a lower gear. 
He has only managed 433 yards over his last 24 games, not even 20 yards per contest. 
Maybe Vick can help Young reclaim his greyhound legs, and maybe Andy Reid and Philly's fine coaching staff can turn Young into a much better passer the same way they did with Vick. 
It is too early to label Young as a lost cause, and he has so much natural talent you have to believe the Eagles can bring the best out of him.  
Prediction: Vick does not seem like the torn ACL type, but he is no Cal Ripken Jr., either.  I see him on the wrong end of a safety sandwich and missing a month, meaning Young steps in for four games. 
While Young will keep Philadelphia competitive (lifetime record as a starter is 30-17), his fantasy numbers will not be overwhelming matched against Vick's. 
Young will probably be asked to throw more than he ever has before since no team calls more pass plays than the Eagles, so him averaging 225 passing yards per start would be no surprise. 
And his rushing totals should be more comparable to his rookie numbers and not his recent years.  Out of all the backup quarterbacks in the NFL, he should be one of the first fantasy owners should draft.