Ricky Williams to Ravens: Why Williams Will Excel as Ray Rice's Backup
August 8, 2011
Marc Serota/Getty Images
The interesting saga of Ricky Williams will add another chapter this season, with Williams signing with the Baltimore Ravens.
Williams joins a backfield that features Ray Rice, a super-talented young running back.
The Ravens got rid of Willis McGahee and Le'Ron McClain, so they needed to sign Williams to help out Rice.
It was a good move for the Ravens. They get a running back who has experience in a two-back system and has fresher legs than his age (34-years-old) would seemingly indicate.
He also has the experience of five 1,000-yard rushing seasons.
For these reasons, he'll be an excellent addition to the Ravens backfield.
Two-Back Experience
Williams has been running the two-back system in Miami for the past three seasons.
Ronnie Brown was the main guy, much like Rice will be in Baltimore.
But, Williams made the most of his carries, averaging more than four yards per carry during those three seasons.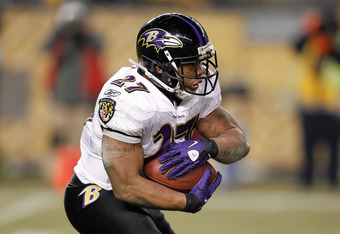 Gregory Shamus/Getty Images
He'll be able to keep Rice fresh, and that means a stronger Rice during the playoffs.
Fresher Legs
Most running backs are washed up by the time they turn 34.
But that's not the case with Williams.
Thanks to a year-long suspension in 2006 and a missed 2004 season due to "retirement," Williams could actually be considered a 32-year-old running back.
Add in a 2007 season during which Williams had only six carries, and that's basically three whole seasons of wear-and-tear that he avoided.
So, the Ravens should benefit from a deceptively young Williams, who still has a lot left in his tank.
Mentoring Rice
Ray Rice still has a lot to learn at the NFL level.
Learning from Williams will be a huge benefit to him (as long as he doesn't take after Ricky off the field).
After all, Williams has five 1,000-yard seasons under his belt, including nearly 1,900 yards in 2002, where also scored 16 touchdowns.
Maybe Rice should talk to Williams about what he did to keep himself healthy during that season (besides smoking pot).
Rice has a ton of potential, and Williams can help him realize that potential fully.
Expectations
Expecting Williams to put up between 500-600 yards isn't out of the question.
I'd also expect him to score four to six touchdowns.
He still has a lot left to offer, and he'll benefit from playing with Rice just as much as Rice will benefit playing with him.