Washington Nationals: 2013 World Series Contender?
August 8, 2011
Greg Fiume/Getty Images
Even the most diehard Nationals fan realizes that the team is currently subpar. The Nationals moved into last place in the division on July 26th and are 19 games back of the division leading Phillies.
The team is hitting an abysmal .241 and only two everyday players are hitting above .250. None of which are the ridiculously overpaid Jayson Werth (he's hitting .223).
The Nats haven't had a winning season yet and were recently rated the hardest team to root for in all of sports by The Business Journals. The Nationals may not be performing well this season, (or any past season for that matter) but the future is looking bright.
When talking about the future of the Nationals two names come to mind: Stephen Strasburg and Bryce Harper.
These two players were both the first pick of the draft (Strasburg in 2009 and Harper in 2010) and are considered by some scouts to be once in a lifetime talents. Both players have Hall of Fame type potential.
Strasburg showed why he is considered the best pitching prospect in years in his first start, striking out 14 batters. He did well his rookie season but has been sidelined this year due to Tommy John surgery.
He is expected to return as a full-time starter at the start of the 2012 season. When Strasburg returns 100 percent healthy look for him to return to form and have an All-Star type season.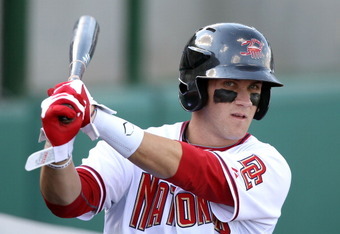 Christian Petersen/Getty Images
Harper, meanwhile, is performing well so far this year in the minors (.302 AVG, 16 HR, 54 RBI, 24 SB). Not too bad for an 18-year-old.
Depending on how Harper does against more challenging AA and AAA pitching, he could get his first chance at the big leagues next season, despite only being 19.  Either way, expect Harper to be an integral part of the Nats lineup come 2013.
In addition to Strasburg and Harper, the Nationals have some other young, promising players who have already made an impact.
Jordan Zimmerman has pitched well this year after coming off Tommy John surgery and has posted an impressive 3.12 ERA and 4:1 strikeout to walk ratio.
Drew Storen has been effective this year as the Nationals closer. The former first-round pick is 6-2 with 29 saves and a 2.75 ERA. Ross Detwiler is finally showing promise as he is boasting a 2.66 ERA this year.
All-Star Tyler Clippard is having a fantastic season. Clippard has been dominant with a 1.56 ERA.
Although the Nationals have been pathetic on offense this year, there are a couple bright spots. Michael Morse has had a terrific year at first base, hitting .324 with 19 home runs.
Also, the Nats have a couple promising rookies in second basemen Danny Espinosa and C Wilson Ramos. Both have fared decently at the plate (Espinosa .228 AVG, 17 HR, 55 RBI, Ramos .248, 9 HR, 34 RBI) and played well defensively.
Look for the Nationals to be a much improved team by 2013. The arrival of Harper and return of Strasburg will help the team immensely. Strasburg will lead an improved pitching staff with rising star Jordan Zimmerman, solid starter John Lannan, veteran starter Livan Hernandez, and hopeful starter Ross Detwiler.
Perhaps the two-time 19-game winner, Chien Ming Wang, will make a comeback and make the rotation. The bullpen should be respectable with All-Star Tyler Clippard, above-average closer in Drew Storen and a few young talents.
Harper will lead the charge on offense as cleanup hitter but will get help from All-Star Ryan Zimmerman and talented Michael Morse. Perhaps Jayson Werth will actually start earning his contract and produce offensively like he is capable of.
Add Espinosa to those names and that is five players who could easily hit over 20 home runs each (Harper might hit 40).
If the Nationals add a speedy CF who can lead off and hit for average or maybe another starting pitcher look for this team to be dangerous.
I am not saying that I think the Nationals will win the World Series or will even win the division.
What I am saying is that it is not a stretch to think that the Nationals will compete for the division title and have a good shot at the wild card in early as 2013.