State of the Franchise: The Carolina Panthers, 2010 Recap and 2011 Outlook
August 7, 2011
It is obvious that last year for the Panthers was a year you certainly want to forget. Ranking dead last in points, passing yards and total yards will never bode well for your team and it resulted in the Carolina Panthers going 2-14. Certainly, the Panthers were a flawed team on both sides of the ball, but really what was the ultimate reason for the collapse of the Panthers in 2010? There are numerous problems, but with the 2011 season rolling around, many wonder, how can the Panthers improve? First the problems, then next, the actions that the Panthers took to remedy said situation. Hope you enjoy reading.
Problem #1: Quarterback Play
Jimmy Clausen, Matt Moore, Tony Pike or Brian St. Pierre. No matter who played quarterback in Carolina, they failed horribly. With the exception of Pike, who only threw 12 passes, the other three quarterbacks embarrassed themselves. Jimmy Clausen got a majority of the snaps as the Panthers starting quarterback and didn't show much promise. Going 1-9 as a starter is bad enough, but when you only throw three touchdowns next to nine interceptions, get sacked 33 times in 10 games, never break 200 yards passing and have a quarterback rating of 58.4, it gets worse.
Matt Moore, at the beginning of last season, was my choice as the ultimate breakout star because in 2009, Moore passed for eight touchdowns and only two picks and a good rating of 98.5, but apparently as a full time starter, it just didn't work. St. Pierre and Pike aren't really even worth mentioning. But those four quarterbacks combined only threw for 2,635 yards, nine touchdowns and 21 interceptions. So that was the number one problem for the Panthers last season.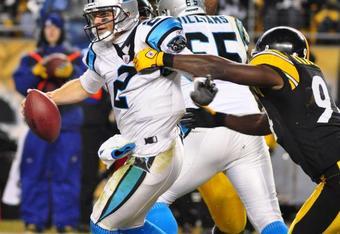 Problem #2: Injuries to Key Players
It seems that most people forget Jeff Otah was on injured reserve the entire 2010 season due to knee surgery that was once believed to be minor. Even though in three seasons Otah has only played/started 25 games, he, in my opinion, is the best offensive lineman on the Panthers roster, even better than Jordan Gross.
With Otah down the entire season, the Panthers were forced to have Garry Williams play 16 games in place of Otah, and no disrespect to Williams, he is by no means a starter in the NFL. With no Otah to seal the edge, DeAngelo Williams got hit a lot and as a result only played six games, rushing for 361 yards and one touchdown before going down with a foot injury end ending the season on injured reserve.
With the two best offensive players out, a rookie quarterback, inexperienced receivers and Johnathan Stewart suffered. Even though Johnathan Stewart is a very good running back, after all, he ran for 770 yards off of 178 carries with two touchdowns, he is a number two at best and needs a number one running back like DeAngelo Williams to soften up the defense. Out of 14 games that Stewart played, he only rushed for over 100 yards twice, against Atlanta and Arizona. Even Steve Smith was injured. Which brings me to problem number three.
Problem #3: Inexperienced Wide Receivers
Outside of Steve Smith's 10 seasons in the NFL, the next three wide outs who played for the Panthers were Brandon LaFell, a rookie (24), David Gettis, a rookie (23) and David Clowney a five-year "veteran" (26) who in four previous seasons with the Jets, only caught 16 passes for 239 yards and reached the end zone only once. That is not a lot of experience in that lineup. Previously mentioned with the star offensive lineman, Jeff Otah, out all season and star running back DeAngelo Williams playing only six games, the Panthers became one dimensional and were forced to pass the ball with an awful quarterback and inexperienced wide outs. A few interceptions thrown by Panther quarterbacks were due to miscommunications on routes. Simply put, the Panthers need experience and skill at wide receiver besides Steve Smith.
Problem #4: Defense Playing Far Too Long
When you rank 32nd in points scored (12.2/game), passing yards (143.1/game) and total offense 258.4/game), one thing is for certain, your defense is going to be on the field a lot. The Carolina Panthers are a much better defensive team than people give them credit for. DE Charles Johnson was a breakout star last year, racking up 11.5 sacks in the 16 games he played, LB Jon Beason is a fast versatile tackler who can drop back into coverage if he needs to, LB James Anderson is a sure tackler who can break through the offensive line and get tackles in the backfield when needed and S Charles Godfrey is an incredibly underrated safety who picked off five passes in 2010.
All in all, the Panthers are a very good defensive team, but when your offense ranks dead last in practically every category and goes three-and-out every single time they touch the ball, the defense is forced to play much longer and will eventually get worn down and exhausted much faster than if the offense could muster up any sort of threat to the opposition.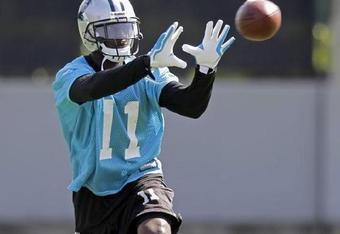 Problem #5: John Fox
To be honest, I always thought John Fox was a very average to mediocre coach. Fox posted a 73-71 record during his nine seasons in Carolina and had one Super Bowl appearance (Super Bowl XXXVIII) but lost. I really felt like Fox started to just give up on the season. I mean injured stars on offense, a rookie quarterback with no weapons, he really had nothing to play for. That being said, you shouldn't ever give up on the season. It really all comes down to this: the Panthers needed to lose John Fox and actually get a coach that could lead his team.
Solution #1: Cam Newton
Before the draft, there was speculation of who the Panthers should select. It was the age old question, do you get the best player available or do you draft the position you need the most? One friend said Patrick Peterson should go No. 1 overall, another said A.J. Green. I stuck with Cam Newton and the Panthers must have listened to everything I told them.
The biggest problem with the Panthers was their offense, not their defense. The cornerbacks for the Panthers are decent. The wide receivers, while inexperienced, can get better and what good would having A.J. Green be if you have no quarterback who can throw him the ball? So Cam Newton was the first pick and I think it will turn out to be a great pick for the Panthers organization.
Newton has the arm strength to throw those deep passes and the speed, mobility and size to escape pass rushers and get into the open field. Cam Newton won't win rookie of the year or go to the playoffs this season, but he will certainly bring the jolt of excitement to the locker room they never had with Delhomme, Clausen or any other Panther quarterback. Cam Newton will surprise many this season and while he may struggle somewhat, he will show flashes of his brilliance and silence his critics.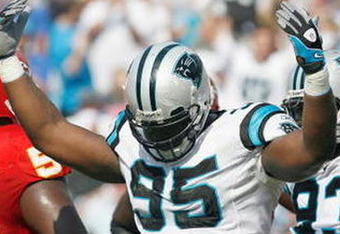 Solution #2: Rehab Time for Otah,Williams and Smith
The only solution to injury is surgery and obviously not getting hurt again. Otah hasn't played since the end of the 2009 season. So he has had practically two full years to recuperate. DeAngelo Williams got injured in the very beginning of the season and Smith has had a full offseason to recover. Smith lost interest in playing in Carolina originally, but now he decided to stay put, probably because of Cam Newton's arrival, so he will play hard for possibly his last season in the NFL. DeAngelo Williams just got a huge pay day, five-year contract for $43 million. He will have a lot to prove and will return to his 2008 form.
Solution #3: Greg Olsen and Shockey
The two tight ends for the Carolina Panthers in Dante Rosario and Jeff King both said adios to the Panther franchise, so that left glaring needs at tight end and already at wide receiver. On March 3, Shockey signed a one-year deal with the Panthers. Say what you like about Shockey, that he is a cancer in the locker room, he's selfish, etc etc. But one thing can't be denied, he is a great receiving tight end who stands 6'5" and outside of Patrick Willis, not many linebackers can cover him one-on-one in the passing game.
Also, Shockey comes to the Panthers with nine seasons under his belt and can help tutor the inexperienced wide outs. Greg Olsen, an underrated blocker and a good receiving tight end, was acquired in a trade from the Chicago Bears. In his four seasons in Chicago, Olsen caught 194 passes for 1,981 yards and 20 touchdowns. These two will certainly help out Cam Newton when he is in a crunch.
Solution #4: Offensive Additions, Returns and Defensive Help
As I stated before, the additions of Olsen and Shockey, the return of Williams, Steve Smith and Jeff Otah will greatly help out the Carolina Panthers defense. Expect the Panthers to get a lot more first downs and many more touchdowns. Charles Johnson, James Anderson and Jon Beason all got new contracts and will be playing like mad men to earn that money. The defense will force more turnovers and three-and-outs. Look for the Panthers to be much better on both sides of the ball.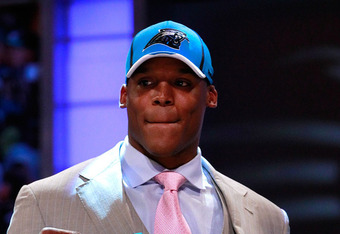 Solution #5: Ron Rivera
On October 28, 2008, Ron Rivera got promoted from linebackers coach to defensive coordinator in San Diego. During his three seasons there, Rivera ranked first in passing defense, fourth in rush defense and first in total defense in 2010. Rivera would end up being named the Panthers head coach on January 11. I personally believe that the Panthers' defensive players are better than the Charger defensive players, and in turn, I believe that the Panthers can end up having a top five defense if all goes well, which I truly believe it will.
All in all, 2010 was a miserable season for Panther players and fans alike, but this season, Panther fans, I swear to you, will be better. Cameron Newton will prove to be a brilliant pick and I believe, given a few years and possibly a great wide receiver down the line (Larry Fitzgerald when he hits free agency?) he could turn into a top five quarterback. With DeAngelo Williams lining up behind him, Steve Smith to the outside, Jeff Otah dominating the right side of the offensive line and Greg Olsen and Jeremy Shockey running out and catching passes as well as assisting the run game, Cam Newton and the Panthers will exceed the expectations of many.
Look for Ron Rivera to bring his defensive brilliance to the Panther franchise and help more breakout stars emerge. While I don't see the Panthers making the playoffs at least for the next two seasons, I see them doing much better than people think they will. I think the Panthers can beat out the Bucs and maybe get third place. Regardless of what happens, know this Panther fans, your young franchise is headed in the right direction. Thank you for reading, I appreciate your time.