Vitor Belfort: Is 'The Phenom' Back on Track for Title Shot?
August 7, 2011
Jon Kopaloff/Getty Images
UFC 133 had a fair share of impressive performances put on by some of the best the sport has to offer. Both Rashad Evans and Rory MacDonald made news after their convincing TKO victories. Those two fighters may still have everyone talking, but neither were the most impressive fighter of the night. That distinction goes undoubtedly to Vitor Belfort.
Vitor faced off against Japanese star Yoshiro Akiyama in a middleweight showdown. This turned out to be not much of a fight but is a giant boost for Vitor's title hopes. He bum-rushed Akiyama and eventually left him unconscious on the mat when he was done with him. Considering Akiyama's ability to take a punch and his durability this is no small feat.
Even though this victory came over a fighter who has struggled mightily in the UFC, this fight has to vault Belfort right into the mix of possible number one contenders. This is probably more because of how he won it more than anything.
Since his memorable showdown with Anderson Silva, in which Belfort was the victim of a highlight reel front kick that knocked him out, there has been a lot of talk about a possible rematch down the road. He has also made it very clear that his goal is to get another shot at the belt. Looking back at the weigh-ins for that event it is clear there are some definite fireworks between the two.
But that begs the question, should he be next in line for a title shot?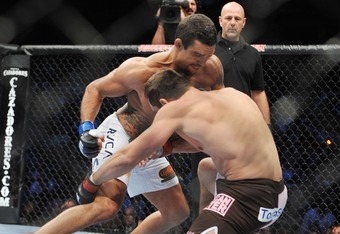 Jon Kopaloff/Getty Images
The answer is no.
So where does that leave him in the middleweight picture then?
The answer is hard to say for sure considering anything can happen in this sport.
It all comes down to what happens in the Brian Stann and Chael Sonnen fight. If Sonnen wins I feel there is absolutely no way to justify giving anyone else a title shot before him. Sonnen is probably management's ideal contender to produce a mega event from the middleweight ranks.  Vitor is clearly the best fighter available if Sonnen were to lose and would not be a bad fall back plan for the promotion. A rematch with his countryman Silva would make for a good storyline and build up to the fight. But perhaps a showdown with the loser of the Stann-Sonnen battle, assuming the winner gets a title shot, might be a better spot for Vitor. Give him the chance to get one more high level fight under his belt while also staying active.
People often forget how impressive Vitor's resume is in the UFC. He is a onetime heavyweight champion and a big-time ambassador of the sport. He is surprisingly young for how long he has been in the game and has the look of a fighter with many more bouts left in the tank.
This fight is a friendly reminder to everyone of exactly how devastating Vitor can be with his hands. But lets hold our horses here a bit about a title rematch, because I am going to speak for everyone when I say the fight we want to see is Sonnen-Silva 2.