6 Candidates for the Rocket Richard Trophy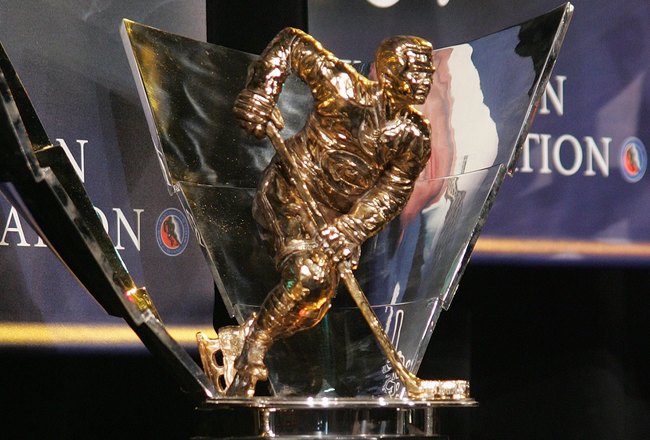 Bruce Bennett/Getty Images
Last year's trophy for most goals scored in the NHL saw a brand new if not surprise recipient. In previous years we have seen more usual suspects win or share the trophy. Speed and youth seems to be the name of the game when it comes to winning the Rocket Richard. The safe money is on a repeat winner from the past few years; however with some offseason changes teams have taken upon themselves it is very possible that we see a new winner crowned for the 2011/12 season. Let the lamp-lighting begin!
Marian Gaborik

Gabby Scores Five

Being paired with top free agent acquisition and elite first line center Brad Richards has its advantages.
Gaborik is only four seasons removed from a pair of 42 goal campaigns, with the New York Rangers and Minnesota Wild. In neither scenario did the talented Slovak have what could be considered a true number one center.
Playing with the likes of Brian Rolston, Mikko Koivu and Vaclav Prospal is nice, but Brad Richards they are not. Should Marian play a 70-plus game season, the speedster will have the former Conn Smythe winner setting him up for success in what is expected to be a renaissance year for the New York Rangers.
Sidney Crosby
Bruce Bennett/Getty Images
Thirty-two. That is the number of goals scored by Crosby last season in his injury reduced season that only amounted to Forty-one games. Much like Gaborik, Crosby's season depends on his health. Before his two concussions last season, Crosby was on the fast track to his second Hart Trophy and would have easily won the Art Ross for most points. With Eric Lindros comparisons already mounting we will have to examine how Crosby adjusts his game in order to prevent serious injury. After scoring at a near goal per game pace the expectations for Crosby are heavy, however if there is one player in the NHL that can live up to and fulfill high and lofty expectations, it is Crosby
Patrick Marleau

Marleau Short Handed

In the past three years, Patrick Marleau has changed from an above-average playmaker to an elite scorer. Moved from center to the wing, usually on Joe Thornton's line, Marleau has scored more goals than set up assists in each of his last three years.
Devin Setoguchi and more importantly Dany Heatley are gone. What does this mean for Marleau? The bulk of the scoring responsibility now rests on his shoulders.
To replace the two former Sharks come Brent Burns and Martin Havlat. The former is an excellent puck moving defensemen with a penchant to set up his forward line mates. The latter is a very good play making winger who thinks to pass before shooting. Should Marleau be fortunate enough to play with either one of these new Sharks, we will see an increase in his goal scoring chances, and thus, his goals scored.
Alex Ovechkin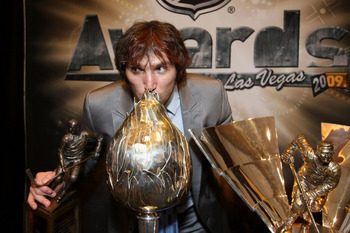 Bruce Bennett/Getty Images
Last season was Ovechkin's worst point total since entering the league. Eighty-five points is good by anyone's standard except The Great Eight. I find is absolutely impossible to believe Ovechkin won't be working on some new moves this summer to get back to scoring his usual fifty-plus goals. Naysayers and pundits will argue Ovechkin is in decline, any hockey fan with a brain can sniff this out as complete and utter nonsense. Look for super Swede Nicklas Backstrom to get back to form and set Ovechkin up nicely for the 2011/12 season.
Steven Stamkos

SPINORAMA

Meet the new elite goal scorer of the NHL. While he didn't capture the honor for a second consecutive year, young Stamkos was as close as they get. Backed by play making superstar Martin St. Louis, Jack Adam's nominee Guy Boucher and a new found sense of accomplishment with having made the Eastern Conference Finals last year, Stamkos is the betting man's choice to win the Rocket Richard next year. With a brand new five-year contract that carries a sizable paycheck, look for Stamkos's confidence as well as his skill level and goal scoring ability to be at an all time high.
Corey Perry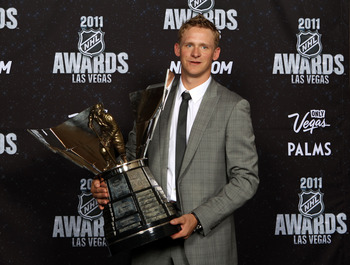 Bruce Bennett/Getty Images
Corey Perry is getting better every single year.
Since Perry entered the league with the Ducks in the 05-06 season, he has consecutively posted more points than the previous year. During Perry's award winning season, he posted an incredible 50 goals which was 23 more than his previous season's total. Last season's Hart and Rocket Richard winner cannot be overlooked as a repeat contender.
The former skilled agitator, Stanley Cup Champion and Olympic Gold Medalist now turned superstar has no shortage of talent playing around him. Perry has the rare opportunity of being placed on lines with Bobby Ryan, Ryan Getzlaf, Saku Koivu and the ageless Teemu Selanne. His defensemen include offensively gifted dynamo Lubomir Visnovsky and rookie stud offensive blue liner Cam Fowler to name only two.
Other than the Penguins, the Ducks have to figure to be the top threat on the power play with the sheer force they can put on one unit.
Keep Reading