Chicago Bulls: Derrick Rose, Review and Predictions
August 7, 2011
Jonathan Daniel/Getty Images
In this series of articles I will provide a review of each player's past season on the Chicago Bulls and provide an insight or prediction for next season. In this particular article I will be discussing Bulls PG, Derrick Rose.
There were expectations that this would be the year Derrick Rose exploded into stardom, coming off his first year as an All-Star. In his 28 games with 30+ points Rose became a dynamic scorer, while still averaging about eight APG. Rose's final season stats were 25.0 PPG and 7.7 APG, while shooting a career low 44.5 percent from the field and a career high 33.2 percent from three-point range.
Derrick Rose ended up becoming the youngest player ever to win the MVP and led his Bulls to the best record in the NBA, while only playing with Noah and Boozer for a few weeks.
Derrick had many high points this season, so I will only name a few.
First, he was selected as a starter for the All-Star game after being chosen as a reserve the year before.
Second, Rose achieved his first career triple-double against the Memphis Grizzlies.
Then in the playoffs he recorded his career high for points against Atlanta, when he scored 44 and shot 59 percent from the field, including 4-7 from three-point range. Notice how when Rose shoots well from long range that he is able to open up many scoring lanes throughout the court.
Finally, he became the only player in the league in the top 10 in both scoring and assists.
I really can't say that Rose had a low point this season. He might have had a few off games where his points, turnovers and shooting percentage were not where he would've liked them to be, but most of the time he did exactly what he had to do to win the game.
A leader is not necessarily defined by how many points he can put up, but rather how he leads his team to victory. Rose did exactly that, leading his team to the most wins in the NBA, as well as leading the NBA in points scored (47.8 points per 48 minutes) in clutch time.
My grades for Rose in his 2010-2011 campaign
Regular Season: A      
Derrick was the leader of the best regular season NBA team. He was featured on the All NBA First Team and was a starter on the All-Star Eastern Conference Team. He improved drastically from the season before and truly positioned himself as one of the top 10 players in the league—in just his third season.
Derrick has a knack for improving every summer. He improved his three-point percentage, defense and free-throw percentage for this last season. The only thing that I could have him improve is his shot selection, which I will talk more about later.
Playoffs: B-       
If you look at the playoffs, Rose actually had an outstanding series against the Atlanta Hawks. In that series he averaged 30 PPG and 10 APG, while shooting his playoff best 45 percent for the series.
Against the Miami Heat, Rose was bothered by nearly constant double-teams, which he wasn't used to at this extent during the regular season. The double-teams and the nagging ankle injury forced Rose to take too many outside shots, which really aren't his strength at this time in his career. I know that his outside shot has improved by 10 percent in the past three seasons, but it still is not a reliable part of his game yet.
Rose will be the first person to tell you that he didn't play his best during the playoffs and will take all of the blame. However, is it right to put all the blame on him? I don't think so. To say that he doesn't have things to improve on for next postseason is not what I'm trying to get at here, but without Rose the Bulls wouldn't have gotten anywhere.
If you have forgotten, Rose was four minutes away from sending his team to a Game Six with the Miami Heat, before the experience and pure raw talent of James and Wade took over, ending the game with an 18-3 run for the win. Next season, I think you can expect a more prepared and better game-plan from both Rose and Thib.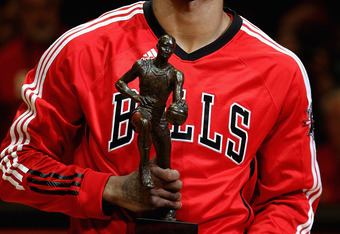 Jonathan Daniel/Getty Images
My predictions for Rose in the upcoming season
First, I predict that Rose will average 24.3 PPG and 9.6 APG. I think that Rose will not score as much as last year because the Bulls will have more offensive threats. Instead he will score more efficiently, shooting better from three-point range and overall from the floor. His assists will then be increased because he will have more options on offense, especially with a reliable shooting guard. Rose will do what it takes to win the game, whether it's passing it off to a teammate on a roll or scoring 40 points.
Second, I predict that Rose will shoot 38 percent from three-point range. Rose knows the effect that a reliable three-pointer would have on his offensive game. Defenders would have to honor his shot by guarding him on the perimeter, allowing Rose to use his speed and strength to blow past them and score—or dish it out to an open player.
Third, I predict that Rose will be better conditioned for next season allowing him to have more minutes every game and be able to go deeper into games in the playoffs, while still going 100 percent. I would love to have him condition with Luol Deng this Summer. Luol was able to lead the team in minutes in the regular season and the playoffs, putting in over 40 MPG.
Finally, I predict that with the combination of all of these, Rose will be able to get past the Miami Heat into the NBA Championship Series. Rose was already close enough this season. Really, the Bulls only needed a reliable SG that could create his own shot to get past the Heat. I could honestly see every starter on the Bulls averaging 10+ PPG next season, forcing opposing teams to not double-team Rose as often as they did in the playoffs this past season.