Flopping Fish: Why Reggie Bush's Career Will Soon Be Over
August 6, 2011
I remember waking up on Saturday mornings and watching Reggie Bush all over the screen on ESPN's College Gameday. He was truly the biggest star in college football, and fans eagerly awaited to see if he would be the No. 1 draft pick after he left USC.
Unfortunately for Reggie, things haven't quite panned out for him, or any of the "star players" in that unforgettable 2006 National Championship game. Teammate Matt Leinart has been a bust so far in the league, and Vince Young has gone from struggling rookie to Alex Smith status, to suicidal and depressed backup quarterback.
While Bush was a great weapon for the New Orleans Saints and helped them win a Super Bowl, he hasn't quite been the star that everyone predicted.
The Saints surprised a lot of people in April's draft when they selected Heisman Trophy-winning running back Mark Ingram out of Alabama. What did this mean for the organization? Bush immediately knew what it meant, as he posted "it's been fun New Orleans" on his Twitter account, shortly after the team selected Ingram.
Although he later retracted his statements, Bush knew that it was likely that he was on the way out if he didn't take a significant pay cut. He decided not to take the cut, and he was sent to Miami. The Dolphins' dual threat tandem of Ronnie Brown and Ricky Williams were free agents, and not expected to return. Brown has already signed with the Eagles, and it doesn't appear that Williams will be coming back either.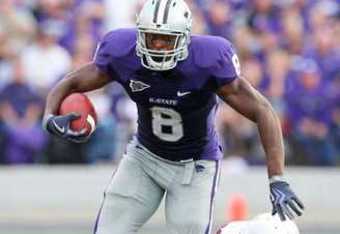 Now Bush has moved on and put his focus on Miami. Normally you would fear that a high-profile athlete like this would get into some trouble at some point in this hot spot, but Bush was an even bigger star at USC, so this is nothing new to him.
Another thing that won't be new to him, is being a backup and situational back in the NFL. Even with Brown and Williams out, the Dolphins are likely to start another running back this season, a rookie from Kansas State named Daniel Thomas.
Thomas is a 6' 1" 238 pound stud that was taken in the second round (30th overall) by the Dolphins. Miami traded up to get him, and they were ecstatic to land him. They are relying on him to be the feature back, and the future of this offense.
The only real weapon they have on offense is Brandon Marshall, so Bush might find some work in a Wildcat formation or possibly in the same role he played in New Orleans. The fact is though, Thomas is going to get the majority of the workload, and Reggie may be fine with it at first, but it is going to eat away at him inside.
The expectations for his career have already gone way down, but Reggie still thinks he should be a starting tailback in the NFL. With the Dolphins not likely to have the same success that the Saints had, Bush could become frustrated, and eventually work his way out of Miami.
I'm not saying his career is over yet, but it seems as though he is on that path right now.