Philadelphia Eagles: 5 Reasons Philly Should Have Not Traded Kevin Kolb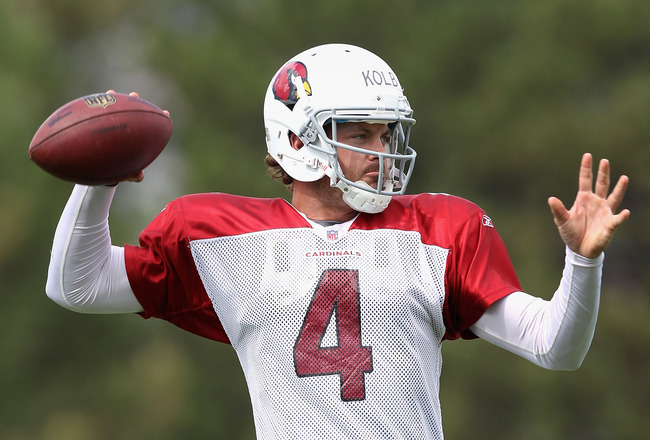 Christian Petersen/Getty Images
Trading Kevin Kolb to Arizona in exchange for Pro-Bowl cornerback Dominique Rodgers-Cromartie and a second-round pick in the 2012 NFL Draft was nothing short of thievery.
But it doesn't mean the Eagles should have pulled the trigger on the deal.
Before you get excited and think I have completely lost mind, take a few minutes to read about the trickle effect of the deal and how it prevented the Eagles from building an even better team.
You read that correctly, and I will restate it a little differently. If the Eagles did not trade Kolb, their team would have put together the best roster in the NFL.
He Was the Perfect Backup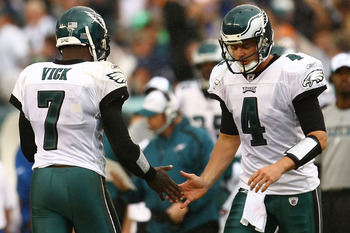 Chris McGrath/Getty Images
Kevin Kolb stood on the sideline and studied head coach Andy Reid's and Marty Mornhinweg's pass-happy version of the West Coast offense throughout his four-year career.
I don't care if you think Kolb was bound to be the next Doug Pederson or Aaron Rodgers, because there is no debating he understood the offense. And when you evaluate your backup, one of the most important things to evaluate is his understanding of the playbook.
Can you imagine Kolb wandering out onto the field having no idea what plays are being called in from the sideline?
The other thing you need to evaluate is the backup's ability to prevent a good season from slipping away or a terrible season from turning into an absolute shipwreck.
Most fans assume Michael Vick is going to miss a game or two this year. And those same fans felt comfortable having Kolb come onto the field and playing well enough to keep the team's momentum going or to jump-start them.
Last year Kolb started three games with the regular starters when Vick was injured, and he won two of them. He went on the road to beat San Francisco and then came back home to beat the Atlanta Falcons. In those two games, he threw four touchdowns with one pick and 597 yards, while completing 44-of-60 pass attempts.
I'm not sure what more you want from a backup, and it's clear Kolb was the perfect backup for this team.
There Wasn't a Legitmate Replacement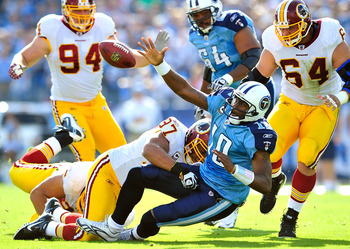 Grant Halverson/Getty Images
I don't understand why you would move your best backup when you know the man to take over is Vince Young.
You may think I'm getting a little carried away with the importance of a backup quarterback.
If that's the case, I want you to think about the following quarterbacks who won a Super Bowl when they started out the year as a backup: Kurt Warner, Tom Brady, Trent Dilfer, Jeff Hostetler, Roger Staubach, Terry Bradshaw, Jim Plunkett and Doug Williams.
This means 17 percent of the 45 Super Bowl winners won with the guy who was holding the clipboard.
I don't know if Kolb was capable of winning a Super Bowl, but I am confident Young couldn't even get to the Super Bowl if you gave him directions and a navigation system.
Young doesn't strike me as the smartest guy, and it makes me wonder if he can learn Andy Reid's and Marty Mornhinweg's offense. It's hard to quantify someone's intelligence on the football field, but do you trust a guy who has 42 career touchdowns to go along with 42 interceptions and 17 lost fumbles.
But I think the perfect example of Young's intelligence came when he call the Eagles a "Dream team."
Not. Smart.
Nnamdi Asomugha Would Have Been Enough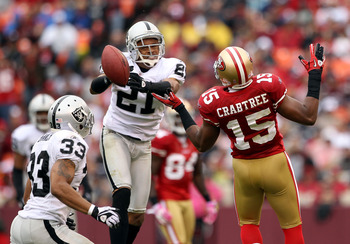 Ezra Shaw/Getty Images
The Eagles clearly made an upgrade at cornerback when Kolb headed West for Rodgers-Cromartie.
Before we had time to comprehend the trade, Eagles signed Nnamdi Asomugha to a five-year $60 million deal, including $25 million in guaranteed money, All of a sudden the Eagles owned the rights to DRC, Asomugha and Asante Samuel through the year 2013, and it wasn't cheap.
Not only is it expensive to keep all three cornerbacks, but you also have a dead weight in Vince Young, who signed a one-year deal worth up to $5.5 according to RotoWorld.com.
I love having three Pro Bowl cornerbacks, but the Kolb deal may have forced the Eagles to spend their money the wrong way.
Wouldn't you be okay if they kept Kolb, signed Asomugha and signed...
Use the Money on a Linebacker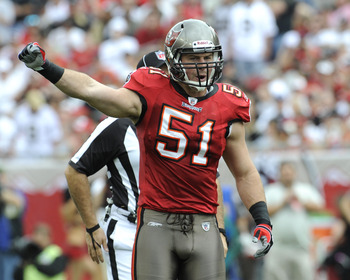 Al Messerschmidt/Getty Images
...a linebacker.
Would you rather have the current roster in place or would you swap out Rodgers-Cromartie for Barrett Ruud, who signed a one-year deal worth $4 million, or Stephen Tulloch who agreed to a one-year deal worth $3.25 million, both of which signed one-year deals?
The Eagles are incredibly young at linebacker and could have benefited from signing someone like Ruud, who is only 28 but has 68 career starts at middle linebacker and two seasons of 100 tackles or more.
Tulloch, who is 26, only has 45 starts at middle linebacker but was able to pick up 111 and 93 tackles over the last two years.
The Eagles are going to be great against the pass, but what's going to happen when teams try to run it right down their throats?
I understand defensive lineman Cullen Jenkins will help, but a strong middle linebacker could have made this defense one of the best in the NFL.
Or what happens if the Eagles don't pull of the trade and don't sign a linebacker?
Spend It on DeSean Jackson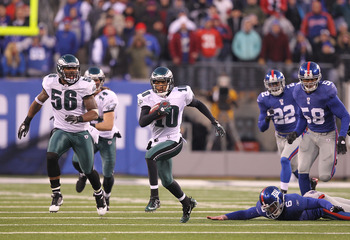 Al Bello/Getty Images
The Eagles need to at least talk to DeSean Jackson and try to keep him on the team this year and years to come.
By not trading Kolb, the Eagles would've had extra money to spend on Jackson who has not revealed how much he is seeking from Philadelphia.
All of the efforts in bringing in defensive help will go to waste if the Eagles do not have a complementary offense.
So would you rather have Option A: The Eagles' roster as it currently stands, or Option B: Kolb instead of Young, Ruud instead of Rodgers-Cromartie, Jackson in camp and one less pick in the pick in the second round?
Keep Reading

Philadelphia Eagles: Like this team?