Story Lines and Subplots to Follow During the 2011 SEC Football Season
August 6, 2011
Mike Ehrmann/Getty Images
This is part seven and the final piece in a series previewing the 2011 SEC College Football Season.
What's a football season without predictions, story lines, and subplots? The 2011 SEC College football season should provide everything needed for a Hollywood movie: drama, action, hope, despair, pain, joy and suffering. And that's just in week one of SEC football. 
The 2011 SEC season will showcase new coaches hoping to make their mark in college football while new players enter the league hoping to make their way to collegiate fame and then NFL glory. Familiar story lines of veteran SEC coaches on the hot seat, coaches expected to make the BCS Championship Game and all the other SEC coaches praying for "just" a SEC Championship Title Game berth will make for high drama. Grizzled SEC players hoping for an impact season bleed over into the 2011 as well; for some this season will be their last chance to prove their NFL worthiness. All the drama, action, hope, and despair one could want in any summer blockbuster movie.
Here are a few story lines that might be worth taking note of over the next five months.
SEC Subplots
Watch these story lines through the season and see what changes.
I am Genius See Me Fail or Succeed?
Can Charlie Weis consistently run a productive/winning offense in college football? In 2005 Weis told the world that Notre Dame would have a "decided schematic advantage" over the teams they play due to his offensive prowess in the NFL. Weis won with Tyrone Willingham's players in 2005 and 2006 (9-2 and 10-3) then faltered his next three years (3-9, 7-6, 6-6). Luckily, Weis has Muschamp and others to recruit for him at Florida. He may sneak in a few new plays during 2011 to help UF earn a victory here or there. If he does well this year, hold the praise until years two and three. SEC defenses will eventually catch up to him, like they did with Urban Meyer's spread option.
One and Done for Weis?
Some of the reasons Mr. Weis took the Florida job centers around his family. On paper Weis seems like a sure thing to stay in Gainesville as the offensive coordinator for a couple of years if not longer due to his family. But, what if the Gators have a better than expected season? His impact in his first two years at Notre Dame had the national media and Notre Dame boosters declaring that they were back. If a head coaching job worth millions were to open up, would Mr. Weis be a "one year and done" offensive coordinator for the Gators?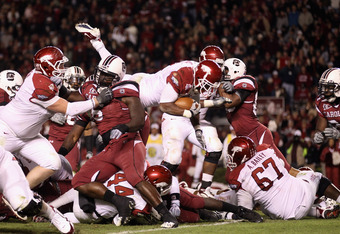 Streeter Lecka/Getty Images
SEC Dark Horses
Mississippi State is more of a dark horse for a SEC Title run than Arkansas, but both teams have programs on the rise and teams that can make some noise. Which team if either can knock off traditional powerhouse schools Alabama and LSU?
A Tiger to Slaughter?
Will Les Miles' sacrificial lamb offering of Gary Crowton last year be enough to keep LSU alumni, boosters, and fans off of him if LSU's offense sputters again this season? Miles' future was in the hands of the offensive head of Steve Kragthorpe; Kragthorpe recently stepped down as offensive coordinator upon learning that he has Parkinson's disease but he will remain on staff. Miles is still responsible for the arm and production of Jordan Jefferson and the expectations of the LSU fans. 
Any good to decent coach will be able to recruit top talent for the Bayou Bengals. Selling hope off of recruiting stars year after year won't keep the passionate and knowledgeable fan base in Baton Rouge happy for long. The mantra in Baton Rouge of "Lose Les, Win More" could put another winning coach on the hot seat.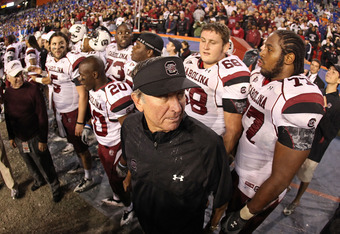 Mike Ehrmann/Getty Images
Gamecock Nation Getting Antsy
Spurrier finally gave USC fans a taste of what they have been waiting for over the past 19 years, a chance to play in the SEC Title Game. Anytime a coach takes a program to the next level, the expectations of the fans in turn raise a level above the last achievement. Winning the SEC Title Game is expected; a BCS Bowl game is demanded.
An Eye on Lattimore
During the early part of the 2010 season true freshman running back Marcus Lattimore got all the opportunities he could handle in order to prove he was an All-SEC type of running back. By the end of his second game against Georgia with 37 rushes, 182 yards and one touchdown, he appeared to be worn out. Lattimore was held to under 100 yards rushing in each of the next four games (Furman 97 yards rushing, at Auburn 33 yards rushing, Alabama 93 yards, and at Kentucky 79 yards rushing). 
He sat out his would-be 7th game versus Vanderbilt and by the end of his eighth game versus Tennessee he was banged up again after a 29 carry effort for 184 yards and one touchdown. Against Arkansas, the ninth game of the Gamecocks season, Lattimore was largely ineffective only rushing for 30 yards; his lowest individual rushing total of the 2010 season. One can argue that Spurrier held Lattimore out once the Razorbacks were ahead so he would be fresh for the Florida Gators showdown the following week, which yielded 40 rushing attempts and 212 yards rushing with three touchdowns.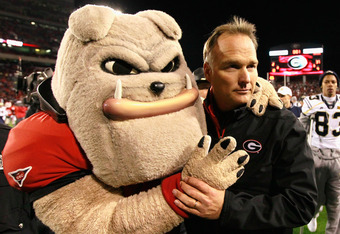 Kevin C. Cox/Getty Images
Lattimore ended up with 1,197 yards rushing and 17 touchdowns. He only crossed the 100 yard mark four times in 2010 with one of those efforts going for 212 yards. Will Lattimore be able to take the pounding game in and game out during his sophomore season?
You're My Alma Mater!
Will Muschamp graduated from University of Georgia and was a captain on their football team his senior season (1994). If the Gators are up by 14 in the 4th quarter does he try to run the clock out or let Weis keep chucking it down field?
On the hot seat: Mark Richt and Houston Nutt; Les Miles' seat is getting warm.
Both coaches will feel the heat after week one if they lose their tough non-conference openers against Boise State and BYU respectively.
Prediction of Coaches on the Hot Seat:
Richt finishes the 2011 season but is asked to resign after failing to take the Bulldogs to the SEC Championship again. The Bulldogs have not been to the SEC Championship Game since 2005 when they beat #3 LSU 34-14. 
Richt is 96-34 as the head coach of the Bulldogs with a bowl record of 7-3. Berths in the Independence Bowl (won 44-20 vs. Texas A&M in 2009) and Liberty Bowl (loss to Central Florida 10-6 in 2010) will not help his argument to the Georgia faithful to keep his job should Georgia fall to the Gator or Music City Bowl (or worse) in 2011.
If Les Miles loses three games it will be hard to see LSU fans staying behind their head coach even though he's averaged 10 wins per season over the past five years and only has one bowl loss (vs. Penn State in 2009, 19-17) since becoming their head coach in 2005. The SEC is tough but maybe LSU Tiger fans are tougher?
Nutt's loss in week three to Vanderbilt begins the collection of buyout money from alumni and boosters. The Egg Bowl loss earns Nutt his walking papers. This will be Nutt's fourth year in Oxford thus this prediction may seem a little premature. But the Ole Miss faithful suffered through three consecutive losing seasons under Ed Orgeron before Houston's hire in 2007. Tough seeing them wait patiently through three straight for Houston Nutt as well.
Payback is… fun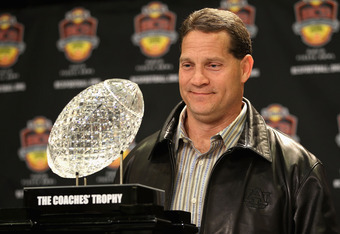 Christian Petersen/Getty Images
Gus Malzahn is considered the hottest head coaching prospect in Division-1 football after leading Auburn to a title last season. With all of the talent depleted from their roster, how competitive can offensive coordinator Malzahn make Auburn? His stock either rises or falls after this season. 
If the Ole Miss job opens up… Auburn can wave goodbye to Gus, unless a better opportunity presents itself. The deeper story is that Houston Nutt gave Malzahn his first shot at college coaching while at Arkansas, and rumors are Nutt was not the nicest guy to Malzahn then. This would be another personal victory for the former Arkansas high school football coach over Nutt, if he wants the job. 
SEC Players Strike a Pose
Three of the past four Heisman Trophy winners have been from a SEC school; Tim Tebow 2007, Mark Ingram 2009, and Cam Newton 2010. Will an SEC player make it four out of five?
SEC Players on the 2011 Preseason Watch Lists
Walter Camp Award
The Walter Camp Award is given each year to the best college football player in the nation. The first Walter Camp Award was given in 1967 (O.J. Simpson). The first SEC player to win the award was former Auburn quarterback Pat Sullivan in 1971. Auburn quarterback Cam Newton won the award last year. 
RB Knile Davis, Arkansas
WR Alshon Jeffery, South Carolina
RB Marcus Lattimore, South Carolina
DB Robert Lester, Alabama
RB Trent Richardson, Alabama
QB Aaron Murray, Georgia
Doak Walker Award
The Doak Walker Award is given to the best college running back. The award was started in 1990 in honor of former Southern Methodist University running back, Doak Walker.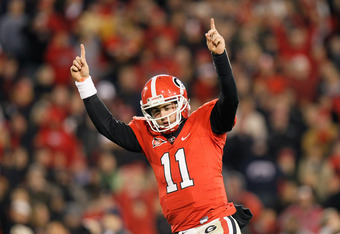 Kevin C. Cox/Getty Images
Knile Davis, Arkansas
Jeff Demps, Florida
Michael Dyer, Auburn
Marcus Lattimore, South Carolina
Tauren Poole, Tennessee
Vick Ballard, MSU
Brandon Bolden, Mississippi
Trent Richardson, Alabama
Outland Trophy Award
The Outland Trophy Award is given to the best interior lineman in college football. The award is named after former player John H. Outland (Penn Quakers 1897 and 1898). 
Alabama offensive tackle Andre Smith was the last SEC player to win the award (2008). Arkansas OG Bud Brooks won the award in 1954 but the Razorbacks were part of the Southwest Conference then. The first current SEC player/school to be awarded the Outland Trophy was Auburn OG Zeke Smith in 1958. 
DT Jaye Howard, Florida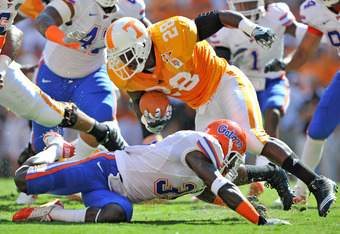 Grant Halverson/Getty Images
DT Malik Johnson, Tennessee
OG Larry Warford, Kentucky
C   T.J. Johnson, South Carolina
OT Rokevious Watkins, South Carolina
OG Barrett Jones, Alabama
C   Ben Jones, Georgia
OT Cordy Glenn, Georgia
OT Xavier Nixon, Florida
OT Bradley Sowell, Mississippi
C   William Vlachos, Alabama
Biletnikoff Award
The Biletnikoff Award has been given to the best wide receiver in the nation since 1994. Josh Reed (LSU) is the only SEC player to win the award. He won the award in 2001. 
Joe Adams, Arkansas
Greg Childs, Arkansas
Cobi Hamilton, Arkansas
Jarius Wright, Arkansas
Ruben Randall, LSU
Emory Blake, Auburn
Chad Bumphis, MSU
Duron Carter, Alabama
Darius Hanks, Alabama
Marquis Maze, Alabama
Alshon Jeffery, South Carolina
Tavarres King, Georgia
The Future is Now
The outcome of several SEC teams will rely heavily on the production of incoming freshman. Here are a few players to watch: 
OT Brey Cook, Arkansas
DE Jadeveon Clowney, South Carolina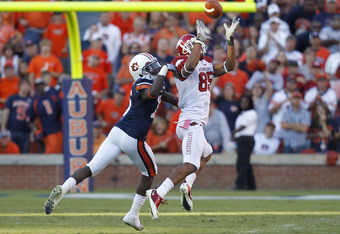 Mike Zarrilli/Getty Images
QB Kiehl Frazier, Auburn (pronounced Kyle)
RB Isaiah Crowell, Georgia
WR Nikolas Brassell, Mississippi
LB C.J. Johnson, Mississippi
RB Marcus Caffey, Kentucky
QB Maxwell Smith, Kentucky
OL La'El Collins, LSU
DT Anthony Johnson, LSU
RB Dee Hart, Alabama
DL Jeoffrey Pagan, Alabama
QB Lafonte Thourgood, Vanderbilt
SS Darion Arrington, Mississippi State
QB Dak Prescott, Mississippi State
Junior College Transfers: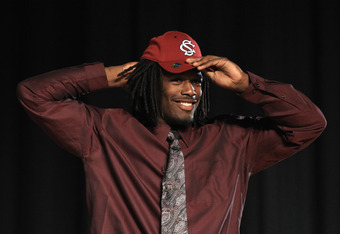 Streeter Lecka/Getty Images
OL Jason Peacock, Arkansas
CB Byron Moore, Tennessee
CB Izauea Lanier, Tennessee
WR Duron Carter, Alabama
DT Jesse Williams, Alabama
QB Zach Mettenberger, LSU
TE Jamal Mosley, Mississippi
Predicted Order of Finish
SEC East
Team/SEC Record/Overall Record
South Carolina 6-2, 10-2
Florida 6-2, 9-3
Georgia 5-3, 9-3
Kentucky 4-4, 8-4
Tennessee 2-6, 6-6
Vanderbilt 1-7, 5-7
SEC West
Team/SEC Record/Overall Record
Arkansas 7-1, 11-1
Alabama 6-2, 10-2
LSU 6-2, 10-2
MSU 5-3, 9-3
Auburn 1-7, 4-8
Ole Miss 0-8, 2-10
SEC Championship Game
Arkansas Razorbacks vs. South Carolina Gamecocks
Final Score
31-17
SEC Champion
Arkansas Razorbacks
The SEC Championship Game will be held December 3, at the Georgia Dome in Atlanta, Georgia. CBS will televise the game starting at 4:00 p.m. EST.