2011 NFL Season Preview: Buffalo Bills Lineman Ed Wang Discusses Training Camp
August 5, 2011
Handout/Getty Images
In the 2009 NFL draft, Buffalo Bills fans were surprised to say the least with their No. 9 overall pick, when the franchise selected running back C.J. Spiller over their obvious need for an offensive lineman. They finally selected Ed Wang in the fifth round, a tight end converted to left tackle out of Virginia Tech.
Wang had just 35 starts under his belt as a Hokie, but the Bills front office believed he had the potential to develop into a starting-caliber tackle. Coming from athletic bloodlines, Wang's parents Rob and Nancy were members of the Chinese Olympic track team in the 1970s, and instilled a passion for sports early in Ed's childhood.
Wang stands 6'5" weighing roughly 315 pounds, and has an intriguing combination of size, quickness, and athletic ability. Last season, he appeared in six games for the Buffalo Bills, seeing time at guard and tackle. Personally, I see him as more of a guard, due to his quickness to pull and his strong hands that allows him to drive defenders to the next level.
He's solid in his pass protection, he stays patient, but is susceptible to defenders' spin moves due to getting too far outside. Wang was kind enough to give me the time to answer a few questions via Twitter regarding the upcoming 2011 NFL season.
Be sure to follow him at @EdWang77
1. How has training camp been so far, and do you feel that the lockout had an affect on your growth and production?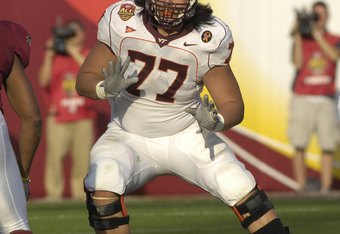 Al Messerschmidt/Getty Images
Training camp has been good so far, and no, I don't think so the lockout has affected my growth, the coaches have been very good bringing us along. 
2. Do you see yourself as ready to be a full time starter yet, and if so what position do you believe you're best suited for?
I believe so, but I know I still have many things to work on to get better.
3. Who is the funniest guy on the team and why?
Um, not too sure. We got a few funny ones, but I'm not sure who exactly is the funniest. Haha.
4. What are your biggest strengths as an offensive lineman, and what do you see your biggest weakness as?
I think my biggest strength is my athletic ability. As for weakness, I need to perfect my techniques.
Overall, I really think that Wang has the potential to become the starter at right tackle. His main competition is Erik Pears, Mansfield Wrotto and G/T Cordero Howard, and from the reports I'm hearing from training camp, Wang has been impressive. Don't get me wrong, he still is a project as of now, but his skill set and unique athletic ability should help him get over the hump in his second year as a pro.
Follow me on Twitter! @RQuinn619