Pittsburgh Pirates' 2011 Season Still Positive Regardless of Record
August 5, 2011
Jared Wickerham/Getty Images
As a Pittsburgh Pirates fan in my early twenties, I haven't seen a winning season in my lifetime.
As the 2011 Pirates pulled ahead in the National League Central just a couple of weeks ago, I wondered if it would last. I kept telling myself the Pirates would fall apart throughout the early season, and the team kept winning series after series.
Currently, the Pirates are mired in an ugly seven-game losing streak after being swept by the Philadelphia Phillies and the lowly Chicago Cubs.
I have been so disgusted with this team the last week I nearly wrote a letter to the front office last night. I know they wouldn't read it and it would be thrown in the trash, so I went to bed.
As I thought about the Pirates season this morning, I realized a couple of things.
One, I had never been this angry at the Pirates for losing.
I realized this is because the team hasn't been in contention this late in the season in my lifetime, or at least since I was in diapers! I have been completely apathetic towards the team all of my life because I expected failure anyway.
This 2011 team had me expecting victories every night they played, which in itself makes this season a success.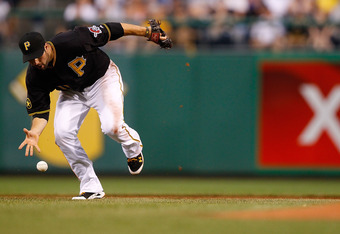 Jared Wickerham/Getty Images
Sure, myself and Pirates fans all around the country wanted a playoff team.
Looking at the season objectively, this team shouldn't be anywhere near first place. Nobody on the team is batting over .300, with Neil Walker leading the way for the Pirates at .277. The team simply doesn't hit the ball or score enough runs consistently to win many games.
The reason they have been winning is that the pitching staff had been overachieving. Now that the pitchers have come back to earth, we as fans shouldn't expect many wins. Nobody expected them to win anyway, and Pirates fans have been spoiled this season.
While the future is bright for the Pirates with many young players finally getting a chance in the majors, some of us got ahead of ourselves this season.
Don't give up on this team, the years of losing are almost over.