NFL: With the Giants' Amukamara Injured, It's Time for Aaron Ross to Step Up
August 8, 2011
Al Bello/Getty Images
For the second straight season, a Giants rookie draft pick suffered a serious injury before New York's preseason opener. 
Last year it was third-round pick Chad Jones; this year it was Prince Amukamara, the No. 19 pick in the 2011 NFL draft. 
In what was just his second practice as a member of the New York Giants, Amukamara fractured his left foot, and is now listed as being out indefinitely, according to the New York Post's Paul Schwartz. 
His injury, which requires surgery, may prevent Amukamara from playing in a large portion of the 2011 season and will undoubtedly cost him the valuable experience of practicing in training camp.
The loss of Amukamara—who was expected to compete for the nickel cornerback job right away—means two things for the Giants: 1). New York's depth at cornerback is now an issue (Bruce Johnson was waived last week after rupturing his Achilles tendon); and 2). Aaron Ross must step up.   
Ross, who was drafted by the Giants with the No. 20 pick in the 2007 NFL draft, has shown flashes of brilliance in his four-year career; however, he has been slowed by a slew of injuries and has yet to develop into the player the Giants hoped he would become. 
It's not that Ross isn't talented; he has all the tools to develop into a solid No. 2 cornerback—in each of his first two seasons Ross recorded three interceptions and at least eight pass deflections.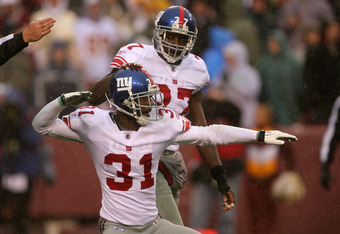 Streeter Lecka/Getty Images
The problem is his durability or lack thereof. 
Ross has played in just 19 games (starting two) in the past two seasons, combined, largely due to the hamstring injury he suffered in the 2009. 
And even when he has been on the field, Ross has been a shell of his former self.
In 2010, Ross finished with a grade of -6.5—82nd among cornerbacks who played at least 25 percent of their teams snaps—and quarterbacks had a 104.9 rate when throwing in his direction, according to Pro Football Focus. 
By comparison, when throwing at former Eagle Dimitri Patterson, who was basically run out of Philadelphia for his poor play down the stretch, quarterbacks had a rating of 93—11.9 points lower than their rating against Ross. 
Yes, that's how bad Ross played last season.
But there is reason for hope.
Not only is Ross in a contract year—which is always a nice incentive for a player to have a breakout season (see: Michael Huff), but also he is completely healthy for the first time since his rookie year. 
And as I said before, when healthy, Ross has the tools to be a solid cornerback in this league.
Now it's up to Ross to prove that.