5 Reasons to Watch UFC 133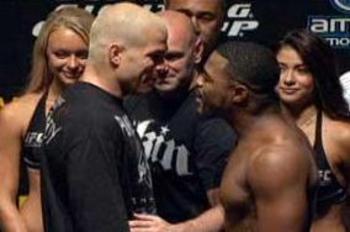 Tito vs. Rashad take 2
UFC 133 has been plagued with injuries and on paper may look like one of the worst cards in recent memory. No Phil Davis, Rich Franklin, Lil Nog, Alessio Sakara or Vladimir Matyushenko, no problem.
All right, maybe a little problem because all of these guys can put on a great fight, but the replacements seem suitable enough.
Try and stay with me for the original card.
Main event: Rashad Evans vs. Phil Davis for the No. 1 contender slot, Rich Franklin vs. Antonio Rogerio "Minotoro" Nogueira, Vitor Belfort vs. Yoshihiro Akiyama, Jorge Rivera vs. Alessio Sakara Rory MacDonald vs. Mike Pyle.
Jose Aldo, at one time, was also rumored to defend his featherweight title against Chad Mendes on the card.
The card looks much different now however with a new main and co-main event and the Rivera/Sakara fight being put on hold for the third time. Joe Silva was forced to scramble and now has made the card a respectable one.
UFC 133 has the possibility to be remembered as the card that could have been a classic or the card that no one should have paid for.
5. Spike TV Prelims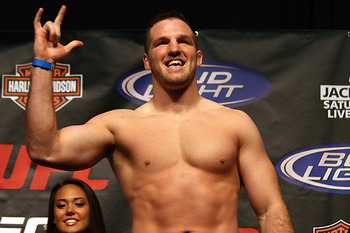 Hamill
UFC 133 may have one of the best Spike TV fights in a long time. Chad "Money" Mendes battles Rani Yahya in a crucial fight in the featherweight division. Mendes comes into the fight with a 10-0 record and simply took this fight because he said he didn't want to wait around for Jose Aldo.
It is a very dangerous fight however for Mendes because if he gets upset by Yahya, he will no longer be considered next in line for a shot at the strap.
Yahya holds victories over notable featherweights such as Mark Hominick, Eddie Wineland, and maybe the biggest win of his career came in his last fight when he outlasted former champ Mike Brown.
Don't expect Yahya to just let Mendes lay on him the entire fight as he has 14 of his 16 wins by way of submission.
The second fight on Spike TV includes Matt Hamill taking on the 24-year-old prospect Alexander Gustafsson. Hamill was a late replacement for Vladimir Matyushenko. The former TUF standout goes from fighting in the main event of UFC 130 to starring on the undercard of UFC 133.
That makes a lot of sense. Hamill also handed out Tito Ortiz's most recent loss.
Gustafsson comes into this fight with an 11-1 record with his only loss coming at the hands of Phil Davis. The Mauler is almost guaranteed to put the fans on their feet as he has only seen the judge's score cards on one occasion.
Expect one of the greatest Spike cards of all time. Don't be surprised if a filler fight is needed.
4. MacDonald/Pyle Is an Extremely Underrated Fight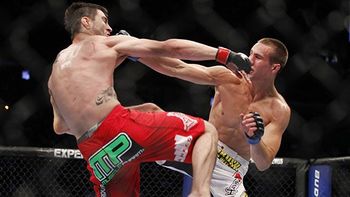 Rory Mac
Rory MacDonald is one of the youngest fighters in the UFC at just 22, and if he keeps improving, then the sky is the limit.
MacDonald most recently tossed Nate Diaz around like a rag doll for 15 minutes at UFC 129 and is looking to make a name for himself in the welterweight division.
MacDonald was a mere seven seconds away from most likely handing Carlos Condit a loss back at UFC 115, and that would have sky rocketed him into the conversation of who deserves a shot at GSP.
When most fans think of wrestlers they think of guys like Jon Fitch or Phil Davis or other guys who just lay on their opponent for a win, but MacDonald makes wrestling a spectacle.
Mike Pyle however doesn't want to be a stepping stone for MacDonald. Mike Pyle has been around for a long time and is finally getting fans talking with his most recent string of wins over highly touted prospect John Hathaway and Ricardo Almeida.
Pyle will fight anyone anytime and has been like that since he broke into MMA. Pyle debuted against believe it or not Rampage Jackson in 1999 and got his first career victory over Jon Fitch.
Thirteen years separate the two contenders, but don't expect that to make a difference. This fight will most likely see all three rounds and after the final bell rings we could be looking at a serious contender at 170 lbs.
3. Philadelphia Fans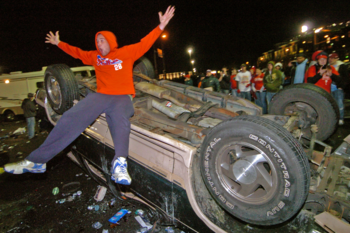 Philly fans
Philadelphia hasn't seen a UFC event since UFC 101, where Anderson Silva made Forrest Griffin look like an amateur. Philadelphia is known as a sports town that will boo and scream at anyone for no apparent reason (ask Donovan McNabb on draft night).
A famous Joe Rogan line from UFC 101 included something on the lines of, "I think more fans are watching the brawl in the crowd than they are the actual fight." Philadelphia fans are border line insane and that's why the UFC and Philadelphia is a match made in heaven.
Philadelphia fans have pelted former coach Jimmy Johnson and the Cowboys with snowballs, threw "D" batteries at J.D. Drew, and they also cheered when Cowboys great Michael Irvin's career was ended.
Ruthless is an understatement when describing the fans in Philadelphia, and that is just the way they like it.
Don't blink when Philly fans are in attendance because anything can happen at any time. If we are lucky we may just see a dumb fan try and jump inside the octagon.
2. Vitor Tries for One Last Run at Gold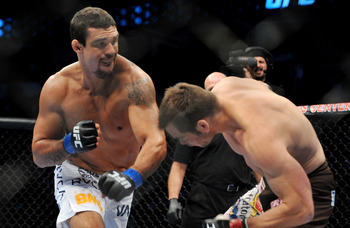 Vitor Belfort
Jon Kopaloff/Getty Images
Vitor Belfort is a man that was once known to have the quickest hands in the sport and one of the best standup fighters of all time.
Many were picking Belfort to dethrone long time champ Anderson Silva at UFC 126, but after a front kick to the face, all title dreams were ended. Vitor is still only 34 years old, and MMA fans are hoping that he has one more run in him before age catches up to him.
Yoshihiro Akiyama stands in Belfort's way of making that next run. Akiyama entered the UFC with only one blemish on his resume and that was a loss to kickboxing legend Jerome Le Banner. Akiyama however has not impressed many since his arrival with only one win coming in controversial fashion against Alan Belcher.
For some reason the UFC apparently hates Sexyama and is handing him another contender in the middleweight division. If he thought Leben had good standup, then he is in for a world of hurt because Vitor Belfort may end up making Sexyama his latest victim on his highlight reel.
Vitor Belfort has only lost to the best in their primes and Akiyama is neither one of the best or in his prime. Belfort plans on steamrolling Akiyama and handing him his walking papers after this fight.
Belfort is a fan favorite around the UFC, and he is very likely to be talking to Joe Rogan at the end of the fight. He knows that if he wants another shot at UFC gold, he had better step on the gas and don't look back.
1. Is Tito Worthy of Title Talk?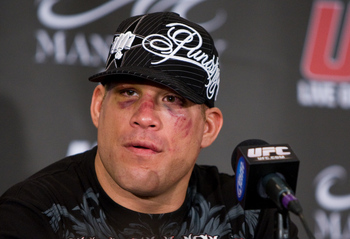 Tito Ortiz
Tito Ortiz has burst back into the UFC spotlight recently after submitting Ryan Bader just over a month ago. Tito will be fighting for the second time in a year for the first time since 2006. Ortiz was basically in a win or go home fight against Bader and miraculously got the tap in round one.
Before the Bader fight, everyone and their mother was writing off Ortiz as a has been. He now is in one of the weirdest predicaments in UFC history because if he wins, according to Dana White, he will be contending for a shot at the title.
So let me get this straight. He doesn't win a fight in nearly five years then he beats Ryan Bader, who has no notable wins besides Lil Nog and Keith Jardine, and now he is contending for a shot at the title?
How does that make any sense at all?
Hats off for Tito stepping in for injured Phil Davis and making this main event worthy, but is he really a contender at 205 lbs?
Rashad Evans has been waiting and waiting for his shot at the belt and now over a year later he has to fight a rejuvenated Tito Ortiz just so he can get his shot. Evans has been placed in a raw deal because if he loses to Ortiz, he will have a long time to wait if he wants another chance.
Tito Ortiz is a big draw for the casual fan and that is why he is in the main event. Does Dana White really think he is a contender, or does he just want to make money off of an injury riddled card?
Either way, the fans will see if Tito Ortiz is really worthy of title talk.
Conclusion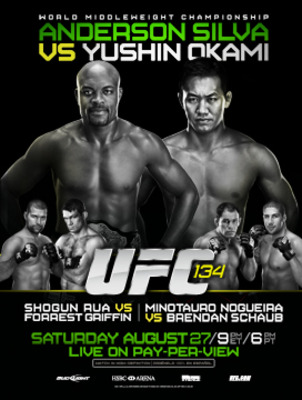 UFC 134
UFC 133 isn't a card that will create a lot of buzz or break any pay-per-view buy records. It is a card that looks like it could be on Spike TV minus the main event.
The hardcore fans will go ahead and buy the card and will probably have low expectations that are hopefully exceeded. The casual fans will be hesitant to buy and while most will stay away there will be some that will buy the card just to watch Tito Ortiz in the main event.
Would this card have been better with Rich Franklin, Lil Nog and Phil Davis? Of course it would have been, but the fact is fighters get injured and thank god that Joe Silva can work his little leprechaun magic and convince other fighters to fill in.
Maybe the best part about UFC 133 is that UFC 134 is just three weeks away. Now that is a great card. Imagine the fans in Philadelphia, except Brazilian and even crazier.
Keep Reading