The Adam Johnson Dilemma and the Changing English Premier League
August 4, 2011
Michael Regan/Getty Images
Manchester City midfielder Adam Johnson may soon find himself out of a starting  job.
Once touted as premier prospect on the rise in the English game, he will now be competing against City's recent signing Sergio Aguero.
The Argentinian has not even arrived yet but already has the upper hand, simply because it is difficult to justify £35 million sitting on the bench (see Chelsea and Fernando Torres).
So what is Johnson to do?
Option 1: Stay and fight for his spot
There is no reason to suggest that he cannot find some spot on the pitch where he could be used. Even if it means adapting his game to a more central role, he is young enough to do so.
Aguero has a more public reputation as he has been a star at Athletico Madrid since Torres' days there. This does not mean he is light years beyond Johnson's level.
Johnson just does not play as flashy a style and is more a play maker than goal scorer.
Option 2: Accept a backup role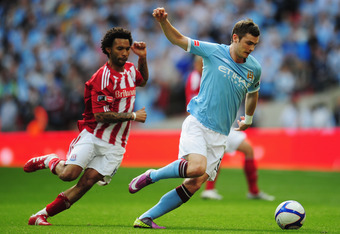 Shaun Botterill/Getty Images
If Johnson is willing to do so, he would most likely be the first or second player off the bench. The way the team is being built, they will compete for some big prizes over the next few seasons.
One the biggest things that separates the best of the best from the rest is team depth. Any manager would love to have a talent like Johnson ready to come on late in a game and steal a win.
Option 3: Move on to another club
If Johnson wants to continue to be a starter and build as a player his best option may be to move on. Competition within a squad is often a good thing, but for the player that loses out, it can be derail their career.
There are countless other teams in the league that would gladly have him on their side. Chelsea, Everton and Sunderland have all expressed interest.
These three options seem pretty obvious and straight forward, but for Johnson, they have financial and developmental implications that extend well beyond him and his career. Money is the real thing at issue.
I am not breaking any ground to suggest that sport has become monetarily dominated facet of culture. Major League Baseball has its foundation in salary negotiations and labor strikes.
But what is interesting in the case of Adam Johnson and the Premier League as a whole, is how the money is negatively affecting the product.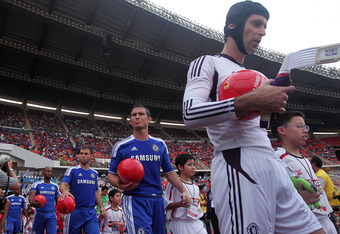 Chris McGrath/Getty Images
Let's assume for a moment that Adam Johnson and Manchester City choose the option  that would fit the status quo: selling the player to highest bidder. That team would more than likely be Chelsea, as Everton and Sunderland's budgets are no where near the West London club's.
So now Johnson is on a team where he will not be competing with a player roughly his age and skill set but instead with Frank Lampard, Salomon Klaou, Yossi Benayoun and Ramires. He may have just gone from second in the pecking order to third or fourth.
Not to mention he also now has a whole new group of youth to compete with. Daniel Sturridge, Gael Kakuta and Josh McEachran have all shown promise and will more than likely be the future at Stamford Bridge.
Johnson would have difficulty finding his place amongst an already established group.
Now Johnson not only finds himself not playing for Chelsea but also off the English national team.
His status as the savior of the Three Lions will probably go to his teammate McEachran or Sturridge. His club career stalls. His international career stalls. His soccer career stalls. All because he rightfully wanted to be financially rewarded for his talents.
Of the 20 clubs that will be participating in the English Premier League next season, only nine have full English ownership and none in last year's top four.
The incredible amount of wealth that has helped build this league into the richest and arguably most talented in the world, has also drained the nation of its own ability to field a competitive national side.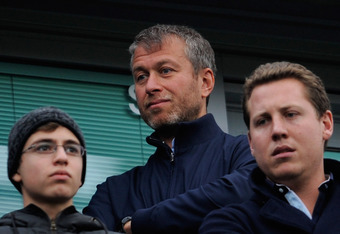 Michael Regan/Getty Images
English youth who are use to growing up in the ferried academies of Liverpool, Tottenham and Arsenal still continue to do so. But as their late teenage years approach them, they often find themselves being shipped off to the lower divisions rather than breaking through with their current side or sold within  the Premier League itself.
Owners such as Roman Abramovich (Chelsea), Malcolm Glazer (Man U) and Stan Kronke (Arsenal) do not look at youth as potential in six or seven years. These are dollar sign men.
It is much easier to see them as instant profit to help balance their own checkbooks after signing an overpriced and more captivating foreigner. These entities are in the mix for profit gains and appeals from shareholders to increase revenue.
Many have little knowledge of the game or the surrounding attitudes of fans and players. They are well aware that when they buy a team they are buying a brand with a built in market that will not spiral downward.
Take for example two years ago when Man U lost the crown to Chelsea. Fans laced the stadium with banners denouncing the Glazers and tried to force them out. But in fact they are actually buying into the Glazer plan by purchasing the seat to voice their opinions.
Glazer does not care if the signs are damning his name to through the seven rings of hell, just as long as they do it at face value.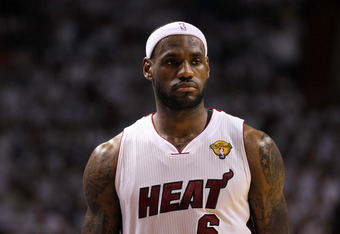 Mike Ehrmann/Getty Images
Perhaps the curious case of EPL ownership has never taken as odd of a twist as it did in April of last season. Liverpool's new owners, the American based Fenway Sports Group (FSG) who also own the Boston Red Sox, announced they had reached a deal for a minority share with NBA superstar LeBron James.
The exact amount of the team James owns remains undisclosed, but the notion of him having any stake in a Premier League side speaks volumes to the system that now finances English club soccer.
An initial look at why James would buy this team will have you scratching your head. To my knowledge, James interest in the sport is cavalier (no pun intended). He has never expressed interest publicly in buying a team or even being a fan of the game.
What is even more puzzling is the fact that there is no evidence that James has ever even been to a Liverpool game, let alone is a supporter of the club.
A simple Google search for "LeBron Liverpool" returns no results beyond this now five-month old news. Similarly there are no images of him at the stadium or even wearing a Liverpool jersey.
He has no loyalties to the city Liverpool or even to John W. Henry, FSG's founder and president. As a matter of fact, the Boston Celtics have become a primary rival for his Miami Heat.
This all boils down to the simple fact that this purchase was not made out necessity, fandom, or even smart investing. It was a purchase to heighten and spread the LeBron James brand.  It was a purchase for his own self-indulgence and to raise his own stock as opposed to helping the teams.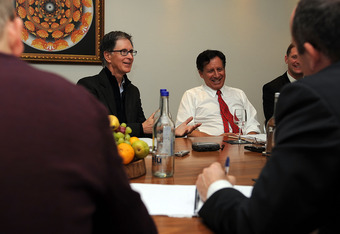 Christopher Lee/Getty Images
I feel safe in making this assumption because I am not the first to make it. What is my source for such a lofty claim? How about Liverpool management themselves.
Chairman Tom Werner said in regard to James' purchase, "There are very few athletes who can match his global reach, appeal and iconic status…We feel the business opportunities for both working and being identified together in emerging international markets will result in unforeseen opportunities that neither would have been able to realise alone."
FSG added to this by explaining how the partnership will "aggressively explore global business opportunities for LRMR (James' marketing firm) and LeBron James, future business, marketing, endorsement and philanthropic endeavors all over the globe."
An entire statement regarding ownership of the club and absolutely no mention of the club itself.
What may even be more alarming is the fact that James may not have been the one to seek Liverpool out. FSG may have approached James to use him as a marketing tool.
It would make sense given the methodology of ownership that is concerned with brand spreading first, fiscal outcome second, and on field success third.
Winning has become only one way to make money. It is also the most difficult, time consuming, and riskiest. It is much easier and safer to have Liverpool night at a Miami Heat game or section off a small corner of the Red Sox store at Fenway Park to sell Liverpool jersey's and apparel.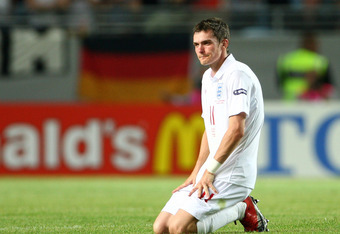 Phil Cole/Getty Images
So what does this all have to do with Adam Johnson?
Johnson is player on a team, managed by a coach, and supported by fans who all want nothing more than to win. However, the players, the manager and the fans are all subject to the will of the owner, whose goals are more geared toward financial gains.
It is like a a for profit university. The students and teachers are there for the educational purposes, but the CEO is only concerned with profit. If the schooling begins to outweigh the profit, changes will be made to balance the two.
Johnson's fate is not dependent on his level of footballing as it is his value as a commodity. This is why the English national team has suffered so much and nations like Spain, Germany and Portugal are on the rise.
The players that make up their squads are owned by men and women who have vested interest in them not only as financial prospects but as players representing their nation.
It is an interesting trade-off that the Premier League has made. It's rise to the top of the club league ladder has also destroyed its own national game.
If this were a mere 10 years ago, Adam Johnson would not have been at Manchester City, he would have never dreamed of going there. Instead he would have risen through the youth ranks of Middlesbrough and used all his skill and talent to help them back the the Premier League.
But this isn't 10 years ago. This is a time where the boy once expected to help grow England back into a powerhouse of international soccer, may be just a has been.
Or even worse…a never was.