Texas Rangers: Could Yu Darvish Be Coming to the Ballpark at Arlington?
August 4, 2011
Stephen Dunn/Getty Images
Could Yu Darvish be a Ranger next year?
Perhaps more importantly before we get ahead of ourselves, you may want to know who exactly is Yu Darvish.
Long story short, he is a rock star.  Both on and off the mound, the 24-year-old hurler has lived up to this billing.
Half Japanese, half Iranian, he has been in the spotlight since high school and has been mowing down batters ever since while picking up all the necessary awards along the way.  Currently he is helping the Nippon Ham Fighters chase the Softbank Hawks in the NPB's Pacific League with a record of 13-3, a 1.56 ERA and 151 Ks over 133 innings.
He's ready and has nothing left to prove...in Japan.  
That said, Darvish's arrival stateside will likely be met with as much skepticism as fanfare given the recent experiences of Japanese players coming to America.
Therefore, it will be in his and a lot of people's best interests to make sure he's a lock to succeed. 
As fans we've heard a lot of hype before about Japanese players, but what makes Darvish different and why should the Rangers consider signing him? 
Mass Appeal: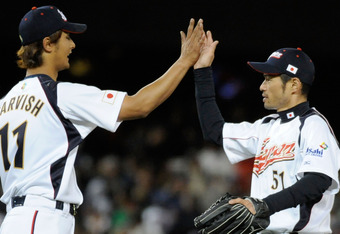 Kevork Djansezian/Getty Images
Everything is big in Texas and Darvish has the charisma and presence that others have lacked in the past.  Ladies love him, guys envy him and kids will want a picture, an autograph and a t-shirt. It's not hard to envision him in a photo shoot like Nolan Ryan, wearing an entire cowboy ensemble. 
Meanwhile, with Ichiro fading in Seattle and Dice-K on the shelf for Boston, the Rangers will become the hot team in Japan from Hokkaido to Fukuoka and all parts in between helping the team branch out to an entirely new fanbase. 
Age:
Unlike most Japanese prospects, the good news is that Darvish is still relatively young and would only be 25 by the time he put on a Rangers uniform.  While it's true he has already thrown nearly 1,200 innings, keep in mind that last year's Cy Young winner, Felix Hernandez, is the same age and has about the same mileage at 1,300 innings. 
Compared to other big-name pitchers imported from Japan, Darvish should have the time to put together a solid career in the United States, not just one or two seasons before his arm falls off.  
Lack of Competition:
The usual suspects here each have big question marks.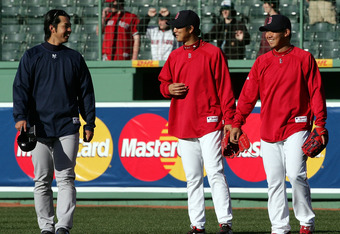 Elsa/Getty Images
The Red Sox and Yankees always have deep pockets and need pitching, but both have been burned by their respective signings of Daisuke Matsuzaka and Kei Igawa and could shy away. 
Meanwhile the Los Angeles Dodgers and New York Mets are both a mess financially, each with ownership situations that could end up seeing both teams getting gutted.
Finally the San Francisco Giants and Seattle Mariners have solid staffs and would need to make sure they keep their homegrown Cy Young winners Tim Lincecum and Felix Hernandez under lock and key.  If they were to spend any additional money, they would like focus on hitters.   
With all that said, why do I have serious doubts?
Dallas:
Not exactly a place often associated in these kinds of dealings...

Rangers GM Jon Daniels answered honestly when posed this question: "It's a smaller community relative to San Francisco, New York, Seattle or Los Angeles, but it's there, and it's active." Later he said: "We understand that we're not going to compete with those cities as far as what they bring from a traditional asian cultural standpoint, but what we've got to offer is unique, in that we think we're going to win."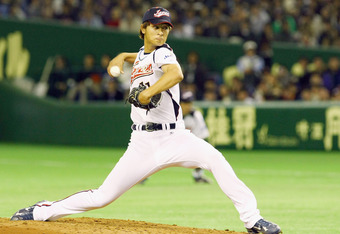 Junko Kimura/Getty Images
Japanese players have played in Texas before and do so currently, but it could be really hard to sell Darvish on winning alone.  Even more challenging will be keeping him happy and sane if the Rangers don't win.  
The Ballpark:
It's a launchpad.  While it's true, Rangers pitchers have done well in recent years in taming their ERAs, it's still far from being considered a pitchers' paradise.
Speaking of paradise, Darvish has pitched his entire career at the Sapporo Dome where it's forever 72 degrees without a cloud in the sky.  Summers in Dallas tend to be a bit warmer...by about 30 degrees.  
The Dark Horse:
You never can count the Sox and Yanks out, but the Philadelphia Phillies and Los Angeles Angels of Anaheim are also two teams that in recent years have been willing to spend big bucks on top-flight talent.  The Angels even considered signing Darvish back in high school, so who's to say their interest wouldn't be rekindled?
So how will things play out?
While it's hard to speculate at this point, one has to imagine that Darvish will find a suitor that will do everything in its power to help him on and off the field.  It's not enough this time to simply sign him, take a few promotional photos and then throw him to the wolves.  There is too much at stake for all parties in this case. 
The Verdict:
The Rangers certainly have talent to win this year and for several seasons to come.  Signing Darvish would be a luxury and an expensive one at that; nevertheless, you can never have enough pitching.   Still I have a hard time seeing him taking the risk of getting batted like a pinata pitching at The Ballpark, no matter how much run support the Rangers provide him.  At best I would give the Rangers a 25 percent chance of striking a deal, but still think the likes of the Yankees or Red Sox will be heard from before the matter is settled.  After all, they can afford to make mistakes...
Yet, if I had to pick one team to make a deal, I'd go with the Angels.  They're in LA, have stable ownership in Arte Moreno, a long-time manager with Mike Scioscia, winning tradition over the past decade, a good farm system, and a lineup with a rotation that continues to compete for the division year after year.