Colby Lewis: Is Something Wrong with the Rangers Pitcher?
August 4, 2011
Ronald Martinez/Getty Images
One of the best pitchers for the Rangers last season was Colby Lewis, a 32-year-old pitcher who spent two years in Japan after five failed season in the Majors. He made his MLB debut with the Rangers, but couldn't pitch well enough to stay in Arlington. He would later jump from Detroit to Oakland only to find opportunities across the globe.
It was in Japan where he flourished and made a complete 180 degree turn as a pitcher. Although his win-loss record was 12-13, he posted a wins above replacement (WAR) value of 4.4 and pitched 200 solid innings. He went 3-0 in the playoffs including the only World Series win in Rangers history.
But things have changed in 2011 and Lewis has hurt the team more than he has helped. His command has been off, his velocity has tanked and he has not been the kind of pitcher he was in 2010. Take a look at these stats and judge for yourself.
| | | | | | | |
| --- | --- | --- | --- | --- | --- | --- |
| Colby Lewis | K/9 | BB/9 | HR/9 | AVG | FIP ERA | WAR |
| 2010 | 8.78 | 2.61 | 0.94 | .225 | 3.55 | 4.4 |
| 2011 | 7.88 | 2.69 | 1.75 | .243 | 4.85 | 0.8 |
K/9 strikeouts per nine innings, BB/9 walks per nine innings, HR/9 home runs per nine innings, AVG opposing batting average, FIP ERA fielding independent earned run average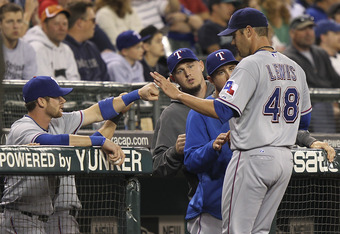 Otto Greule Jr/Getty Images
Clearly there is something going on. He's 10-8 right now and has pitched some gems but he's not as consistent as he was last season. Strikeouts are slightly down (he's pitched two double digit strike out games compared to five last season), walks have plateaued, but home runs have doubled in number.
The number of games where Colby gave up more than one home run in 2010 was four, which peaked with a three home run game against the White Sox. This season, he's pitched eight multi-home run games including a four home run game against the Tigers.
The high fielding independent ERA is attributed to the high home run totals and it could become a problem if/when the Rangers make the playoffs. They are third in baseball in home run totals behind the Yankees and Red Sox, two teams that they will likely play in the first and second rounds. This could mean bad news Colby in October.
When you take a closer look at his pitching, you can see that there are mechanical problems going on. Velocity is one of those problems.
Charting his pitches shows you a huge difference in speed as he has decreased it by quite a few MPH. In terms of velocity range, the 2010 Lewis went from 95 MPH down to 86 MPH. This year's Lewis is going 92 MPH down to 84 MPH and is consistently hitting the low 90s to upper 80s.
Let's take a quick look at how hitters are approaching Colby.
| | | | | |
| --- | --- | --- | --- | --- |
| Colby Lewis | SwingB% | SwingS% | ContactB% | ContactS% |
| 2010 | 30.1 | 63.3 | 62.5 | 87.5 |
| 2011 | 28.9 | 64.7 | 67.3 | 88.3 |
SwingB percentage of swings at pitches that would be called balls, SwingS percentage of swings at pitches that could be called strikes, ContactB percentage of balls hit that would have been called balls, ContactS percentage of balls hit that would have been called strikes
Hitters are not being fooled by Lewis, as you can tell. They are making contact with more of his pitches and are swinging less at pitches outside the strike zone than last year.
Does this mean Colby has reverted to his old ways? Absolutely not. He's still a good rotation pitcher that has just failed to keep the number of home runs down. But it does bring some concern when you think about the playoff rotation. Alexi Ogando and Matt Harrison have pitched solid games for Texas and Derek Holland has been pitching lights out as of late.
The decision won't be made until September, but I'm curious to see where Colby will fit into the rotation when October rolls around. Do you think the Rangers will go with a three or four man rotation in the playoffs? Will he be a third or fourth starter?