Barcelona and Pep Guardiola Are Killing Football: Exposing the Catalan Myth
August 3, 2011
Barcelona have universally become the new high-water mark in terms of positive, attacking soccer. Manager Pep Guardiola has undoubtedly revolutionized the sport with his tactical approach. But is Barcelona's dominance really an evolution of the game as spectacle, or merely the perfect exploitation of a singular gimmick? 
The Catalan club are not quite the free-flowing attacking side that they make themselves out to be. They certainly do possess players with a unique ability to retain possession in tight spaces and make pinpoint passes to the feet of their teammates with one or two touches. And in Lionel Messi they have the world's current top performer, a player capable or beating an entire defense on his own. 
But the reality of Barcelona is that they are probably the most rigidly disciplined team in the world. They have the ethos of always needing the ball, and the entire team advances into the opposition half when in possession. If the ball is lost, then every Barca player fights doggedly to win it back again without letting the ball out of their attacking half. 

The high line and pressure game that Barcelona deploy was frequently lauded over the past season. It is a very intelligent tactic, and when deployed with such excellence by Guardiola's players it is nearly unbeatable.
The key to the high line pressure game is catching the opposition in their most vulnerable state.  Once a team wins the ball back from Barca, they start gearing up for their own attack. Midfielders move to open spaces and forwards seek out channels behind the defense. But then the ball is lost again; Barcelona have it back and are going at a defense that was prepared to move the ball forward. It is a defense often on the back foot, begging to be exposed.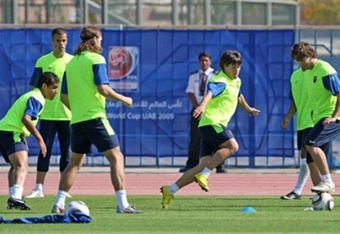 One of Guardiola's footballing mentors, fellow coach Juanma Lillo, gives some insight into Pep's philosophy by proclaiming offense and defense as one and the same. It makes perfect sense when witnessing Barcelona's approach: they defend when they attack and attack when they defend. 
When in possession, Barcelona's priority is keeping the ball. Their passing and possession percentage statistics are staggering due to how much they pass the ball back and forth, across the field and up the wings, searching for an opening in a defensive wall.

As a team, Barcelona protect the ball better than any contemporaries, and possibly any team in history. It is clear that a significant part of their training revolves around retaining the ball under intense pressure. Xavi is the perfect example of a player who simply will not lose the ball in any circumstance. 
Facing a packed defense, any breakthrough achieved through standard possession is usually the result of an incredible passing move or the brilliance of Messi, who can take multiple defenders out of the equation. For that, Barcelona rightly receive the plaudits. 
But frequently, they cannot break a team down when 10 opponents are sitting in front of them.  They pass the ball around with the harmlessness of a team in its own half, rarely threatening goal. If a risk seems worth taking then Xavi, Iniesta or Messi will take it. And if the ball is lost, then the attack really begins. 

Once they are a goal up, then Barcelona are in the perfect position. They can play keep-away for the rest of the game, with the opposition forced to become more reckless in its attempts to win the ball back, thus exposing itself further to incisive attack.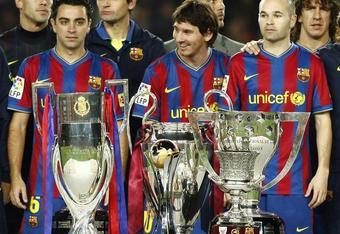 There is no doubt that Guardiola's system is effective. He won every available trophy in his first season, and won a double in his next two. His team dominates La Liga and is the most feared side in European competition. Whether or not Pep's tactics are a positive development for the sport is another matter.
Barcelona's style effectively eliminates one half of the game. They turn most of their matches into half-pitch contests. The only way to beat them is to soak up their possession with a perfectly composed defensive performance, and then hit them on a quick counter.

The one weakness of Guardiola's team is its high line; if attackers can get behind it, then they are through on goal. Getting caught out cost them a three-peat of the treble, with Jose Mourinho's teams exposing Barca on the counterattack in each of the last two seasons. 
Traditional attacking teams like Real Madrid, Arsenal and Manchester United have to resort to sitting back and countering against Barcelona. There is little hope of a classic, end-to-end affair when the Catalans are involved. There are also no sweeping attacks starting from the back and involving the whole field; Barcelona play strictly one or two touch, short passes in the opposition half. 
Will the trend last? Guardiola had doubts himself after his first season, prompting him to experiment with a "Plan B" involving Zlatan Ibrahimovic. But Ibra was in so many ways the antithesis of Pep's kind of player, and he was shipped out after falling behind Bojan and Pedro in the pecking order. Guardiola threw any alternative plan out the window and instead decided to make his one strategy even more deadly. 
He has succeeded. Barca's average possession has increased dramatically over the past three seasons and they have become a team singularly dedicated to their manager's philosophy. How much of the team's success is down to this current crop of players will be determined in the near future. 

The hub of the team, Xavi, is 31 and there is no clear successor for him yet. Iniesta and Thiago (and possibly Fabregas) could be capable of carrying the team forward, but the most important figure is Guardiola himself. 
The manager has given his life to the club for three years now, and has made no secret of the physical and mental toll that the job has taken on him. He refuses to commit for more than a season at a time, and each year there are questions about his quitting the club.

If and when Pep does go, it will be interesting to see if his system goes with him. Could another manager replicate his intensity and gain the undying loyalty of the players? And could Guardiola coax the same performance from a different group? Only time will tell.