Kobe Bryant Expresses Few Words Towards Mike Brown
August 3, 2011
Kevork Djansezian/Getty Images
From the time one attends elementary school to the time one graduates college, one gets to experience many different types of people in the classrooms: those who speak when not spoken to, those who are selective about when to answer questions, and those who decide not to talk unless necessary...the "quiet ones."
Well in this case, Kobe has been that quiet kid in the corner who has waited until the very last minute to participate in the classroom, reminding us that he was still part of the class.
This offseason has led to a number of unpredictable turns of events for the Lakers, including the hiring of Coach Mike Brown, the farewell to Coach Phil Jackson, the handing over of the Lakers organization to Jim Buss, and in all this, Kobe Bryant, the one Lakers player who had yet to speak up about the hiring of Coach Brown, finally had some words for the media to interpret, however little they may have been.
Bryant recently told ESPN's George Smith in SportsCenter's "Sunday Conversation" segment: "He just seems like the type of coach that buttons everything up, so I think as players, we'll all be happy," in regards to Coach Brown.  
It may not have seemed like much, but it was much more than previously texting Los Angeles Times' Broderick Turner, "no comment" when initially asked about the hire.
Bryant seems open to the idea of having Coach Brown on board, and it's a good first step towards progress, but until the two experience times of chaos and struggles (which are guaranteed during the regular season), no one really knows how much Bryant really trusts Coach Brown with his Lakers, who have been under the control of arguably the greatest coach in NBA history.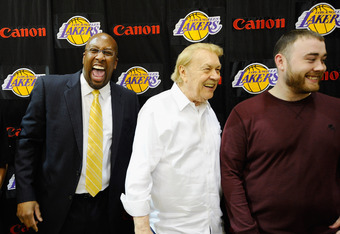 Kevork Djansezian/Getty Images
Now if you already haven't quite figured out why it took Bryant this long to respond to the hiring of Coach Brown, let me tell you that it wasn't because Mitch Kupchak jinxed Kobe, muting him to discuss anything concerning the hiring of Coach Brown.
Actually, it was because the Lakers' front office just happened to decide not to inform the most important player on their team (Kobe Bryant), that they had hired Coach Brown that day. Understandable to say the least. 
Bryant also told the media, "We've talked. We've met, we've talked several times, met several times. We have been in dialogue. There has been an open dialogue." 
It's obvious that the future relationship between the two will not only be vital in grabbing Bryant's sixth title (tying Michael Jordan), but what would be Coach Brown's first title as the Lakers' Head Coach, kicking off a new era of basketball on the right foot.
But only time will tell how these two unfold in this upcoming season (if there is one), and it will indeed be another interesting chapter in the Lakers' history books.