Diamondbacks Ink Trevor Bauer; Is a September Call-Up a Possibility?
August 2, 2011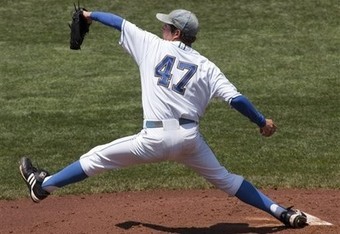 Bauer's bonus of $3.4 million is less than what many of the top-five prospects from the past few years have gotten, but the real coup for his camp is that he was able to squeeze a rare big-league contract out of Arizona. That means, essentially, that Bauer has to be in the big-leagues in four years or else they risk losing him.
Not that anyone thinks it's going to take that long for the 21-year-old flame-thrower to rise through the ranks. In fact, if you put any credence in the statements made by Jerry DiPoto, the D-Backs vice president of player development and scouting, during Bauer's introductory press conference, the pitcher could be in Arizona by the time the active rosters expand in September.
"September is not unrealistic. It's a definite possibility. It's not something we promised him but it's something we discussed. We believe it's possible. He believes it's possible," said DiPoto in an interview with Baseball America.
And heck, why wouldn't you want Bauer pitching for your club if you were DiPoto, especially if the Diamondbacks are still fighting for a spot in the playoffs. They're currently four games out of first place in the N.L. West and just 4.5 games behind Atlanta in the Wild Card race. Both distances are reachable with nearly two months remaining in the season.
Like most others, I have no doubt that Bauer could come in, a la Chris Sale from 2010, and pitch effectively out of the bullpen for Arizona down the stretch. He could probably take over closing duties as well, if needed. His mid 90s heat and stunning secondary offerings would be a welcomed addition to a bullpen that GM Kevin Towers has been looking to upgrade since June.
"We could kind of really monitor his workload," Towers told the Arizona Republic. "[The promotion would be] just to give him a taste of the big leagues. We fully envision this guy as someone who is going to compete for one of our rotation spots next year."
The one concern, echoed by DiPoto, is the fact that Bauer pitched a NCAA-best 137 innings this past spring. He tossed ten complete games, three of which ended in a shutout. He went the distance in his last nine starts, and thanks to his propensity to rack up strikeouts (a conference record 203 this past year) he also racked up very high pitch counts in each start.
"The value of Trevor is so much more than the value of what he could do in September. We're not going to take any chances," DiPoto said, echoing the sentiment that Bauer's health might be better served by letting him pitch a few innings, expected to be 30-35, in the minors before getting shut down.
Bauer began his path to the big-leagues this past weekend, with a two-inning stint against High-A Stockton. He looked very sharp, as if anything else was to be expected, striking out two of the three batters he faced in the first inning. He got into a little trouble in the second, allowing a one-out single and then issuing a walk, but managed to get out of the jam. He finished his abbreviated start with three strikeouts and one walk.