New York Yankees: Making the Right Choice at the Trade Deadline
August 2, 2011
Jim McIsaac/Getty Images
Somewhere in the afterlife, George Steinbrenner's looking down on this Yankee team wondering "What just happened?"
For the first time many season, the Yankees didn't do anything at the trade deadline. 
The Yankees front office, with GM Brian Cashman at the head, took a look at the team and decided, "Eh, we can make the playoffs with Bartolo Colon and Freddy Garcia as our number two pitching options." 
Then Yankee fans nodded to themselves thinking, yeah, we can make the playoffs with the Colon/Garcia combo. Then Yankee fans shook their head, coming out of a trance and realizing what they just said.
Don't get me wrong, Colon and Garcia have been good for the Yankees. It's just every time I see them pitch, I expect their bodies to fall apart. It's not just them I'm worried about. It's the whole 2000's throwback vibe from this current Yankee team.
Colon and Garcia who were considered aces last decade. Then there's Eric Chavez who was a solid Gold Glove third baseman for the Athletics. Let's not forget Andruw Jones who was arguably the best center fielder of the past decade.
While they haven't exactly experienced a fall from grace like Colon, Garcia, Chavez and Jones, it is worth mentioning that even Derek Jeter, Alex Rodriguez, Jorge Posada and A.J. Burnett were better in the 2000's. Only Mariano Rivera has continued to play at the same level.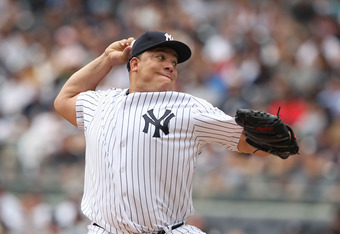 Al Bello/Getty Images
During spring training I remember thinking this team would absolutely won the World Series—if it were 2003.  
In 2003 Colon was still a legitimate ace, Burnett was coming off one of his best years, Jones had 36 HRs, A-Rod had that 57 HR season and no one dared criticize Jeter's bat or glove.
It was as if Cashman got into a DeLorean, hit 88 mph and went back to 2002/2003. He said to himself, "Man these guys are good" and came back to the present only to forget that it's a new decade. 
I was half expecting the Yankees to announce that Andy Pettite and Mike Mussina had come out of retirement.
I was surprised when Colon and Garcia actually pitched well, but I was even more surprised that the Yankees didn't make a single move this past deadline. 
While other writers and fans may be saying that people should be worried about the Yankees, I'm not one of them.
I'll buy the fact that Cashman said the prices were too high. I wouldn't give up Jesus Montero or one of the Killer B's in exchange for an average starter or reliever just to keep up with the Red Sox.
Steinbrenner had that "win now" mentality that I have always admired, but it wasn't the right fit for this trade deadline. It would have meant giving up some high-level prospects just to make it look like they did something.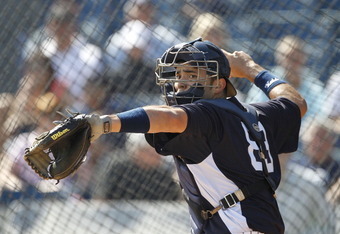 Leon Halip/Getty Images
The possible Ubaldo Jimenez deal had more question marks than the Riddler's suit. Apparently, the Rockies wouldn't let Jimenez take a physical and that's when the talks started falling apart.  I'd rather risk not making the World Series this season than lose Montero for a broken Jimenez.
For the Yankees, the only trade that would have made sense would need to have been a high profile trade for a guy to pitch behind CC Sabathia. 
Trades like those are always risky. You never know when you might give up the next Cliff Lee, Grady Sizemore or Brandon Phillips for a year's worth of Bartolo Colon.
While I would've liked a Kerry Wood type deal to help the bullpen, it wasn't an absolutely necessary trade.
Besides, people tend to forget that this Yankees team has been playing hurt. 
The bullpen's been in shambles with injuries to Pedro Feliciano, Rafael Soriano and Joba Chamberlain. The rotation's been a work in progress the entire year with Colon and Phil Hughes both making trips to the DL. Then there's the lineup which has been without Jeter and is now without A-Rod.
Despite all those injuries the Yankees have won 65 games, tied for second best in the majors and are one game back from first place.
That's pretty good considering many people were writing this team off during the offseason. They've had guys from their farm system step up such as David Robertson, Eduardo Nunez, Ivan Nova and even Hector Noesi.
Sure this year's Yankees might not be as flashy as their Red Sox rivals, but they're getting the job done. 
And if the San Francisco Giants showed us anything last year it was that you can win with a mish-mash group of guys. The majority of the country couldn't even name their lineup prior to their championship win.
I know it takes great pitching to win the World Series. The Yankees don't even come close to the Phillies' rotation of Halladay, Lee, Hamels and Oswalt or the Red Sox with Beckett, Lester, (healthy) Bedard or the Giants' Lincecum, Cain and Bumgarner trio.
Heck, I'm not even 100 percent confident that the Yankees could match Justin Verlander and Doug Fister straight up, but I'm optimistic that keeping our prospects will help the Yankees win.
If you're still doubting Cashman's decision just imagine if the Yankees had given away Jeter, Rivera, Posada or Pettite way back when. 
Besides, I'm sure Cashman has Pedro Martinez on speed dial in case the rotation goes all kamikaze on them.