Clint Stoerner's Fumble and the Worst Moments in Arkansas Razorbacks Sports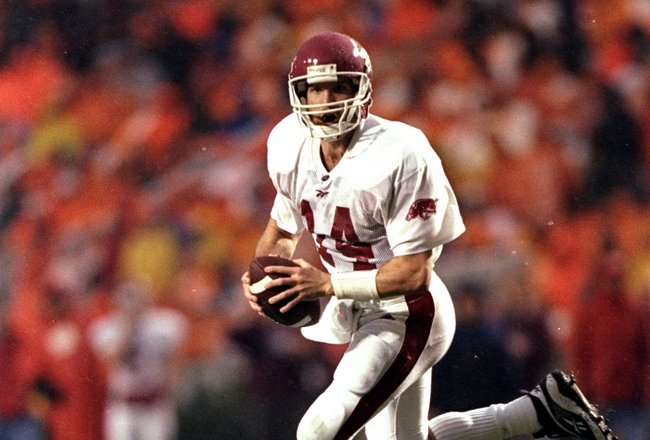 Tom Hauck/Getty Images
Arkansas Razorback fans are full of optimism for the upcoming football and basketball seasons.
The countdown to the September 3 kickoff is underway. With a team stocked full of playmakers, especially with star running back Knile Davis and a talented receiving corps returning, the Hogs' expectations are high. Many predict that the team will contend for the SEC championship, and with that, the national championship.
Brighter days also seem ahead for the basketball Razorbacks. With the return of Mike Anderson, and a stellar recruiting class, the Hogs most definitely will improve on last season's 7-9 SEC record.
Unfortunately, life hasn't always been so fantastic in northwest Arkansas. From blowout losses to coaching mishaps, Hogs fans have seen their share of embarrassments, suffering and sadness.
These are the worst of the worst in Arkansas Razorback sports in the past 20 years.
Courtney Fortson Tweets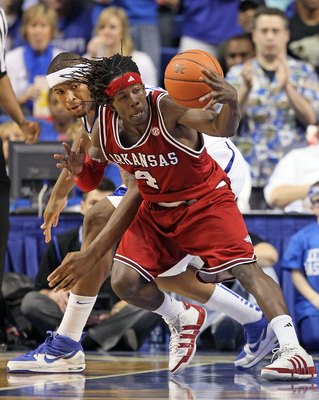 Andy Lyons/Getty Images
Courtney Fortson set high expectations for fans when he showed up on the Arkansas campus.
Known for his frantic play and wild dreadlocks, Fortson was the Razorbacks' starting point guard as a true freshman during the 2008-09 season. He was named to the SEC's All-Freshman team after contributing an average of 14.8 points and 5.5 rebounds.
Unfortunately, Fortson didn't seem to show the same smarts off the court as on it. He was suspended on two separate occasions in his freshman year, but really seemed to get under coach John Pelphrey's skin with a classless tweet in September of '09.
"I'm gettin it at workouts like a dude who doesnt understand the word no from a drunk girl lol".
While the tweet by itself was pretty tacky, the situation was made much more complicated by the atmosphere on campus at the time. Three Razorbacks players were being investigated for rape allegations at a university frat house. Charges were never brought against the players, but Fortson was still punished for his words. He was suspended 14 games for his tweet and undisclosed personal reasons.
Jack Crowe Loses to the Citadel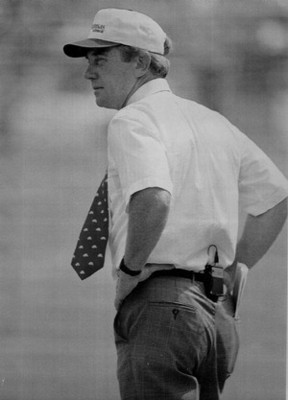 When you're a new member of the up-and-coming SEC football conference, you're expected to take care of business on the field, especially against a lowly Division-II school. Jack Crowe and his Razorbacks team failed to do just that on September 5, 1992.
While FCS over FBS wins are slightly more common now, with at least 25 occurring over the past five seasons, they were almost unheard of in that era. With the possible exceptions of Appalachian State, North Texas, and Northern Iowa, FCS schools were expected to be pushovers, games to pad a win total so a team could be bowl eligible.
Frank Broyles was certainly embarrassed by the loss. He had hired Crowe in the 1990 season and watched him compile a 9-14 record at the school in '90-'91. The summer before the game, there was talk of pro-style passing and a new, exciting offensive scheme. That offense apparently never got into the stadium as the team was beat 10-3. Crowe was immediately fired.
In a strange twist, Jack Crowe eventually got his redemption. He beat current Ole Miss and former Razorbacks coach Houston Nutt 49-48 in the Rebels 2010 season opener. Crowe's team? FCS Jacksonville State.
Dana Altman Is Hired: Just Kidding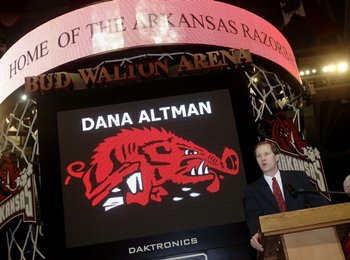 After firing Stan Heath following the '07 season, Frank Broyles and the Razorbacks were on the hunt for a new men's basketball coach. After reportedly being turned down by such notables as Billy Gillespie and John Calipari, the team ended up naming Dana Altman from Creighton as their head coach.
Altman was introduced to the fans and media on Monday, April 2 and stated "I'm 48 years old. And with your permission, I'd like to finish my career at the University of Arkansas."
Twenty-four hours later, he was gone.
Citing a change of heart, Altman apologized to Arkansas fans "with deep regret." He claimed that returning to Creighton was in the best interest of his family. However, rumors swirled that Altman was running away from a program that had swept player drug tests and academic ineligibility under the rug.
Dana Altman's loyalty to Creighton lasted only three more seasons. He was named the head coach of Oregon in 2010.
The Mitch Mustain Era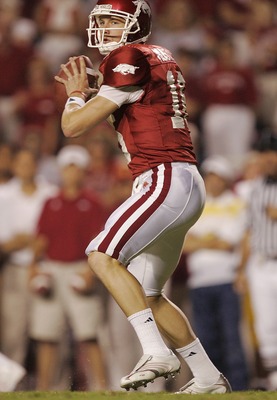 Brian Bahr/Getty Images
Nothing seemed to divide the Arkansas fan base in 2006 like the name of Mitch Mustain.
The good: Mustain was a highly-recruited prospect from Springdale, Ark. After winning numerous player-of-the-year awards, including the 2005 USA Today National Player of the Year, he was ranked the top high school recruit by Scout.com.
Head coach Houston Nutt was coming off a losing season and was facing quite a bit of pressure to right the Razorbacks ship. He responded by hiring a new offensive coordinator in December of 2005, Guz Malzahn. Malzahn was Mustain's high school coach. Many thought that this move would signify a change to a no-huddle spread offense. With Malzahn's hiring, Mustain and three more highly-prized Springdale recruits signed on to play with Arkansas.
Mustain took over starting quarterback duties in the fourth quarter of an opening day beat-down by USC. He was 8-0 as a true freshman quarterback before being benched in favor of Casey Dick in a win over South Carolina.
The bad: The Razorbacks ended the season with three straight losses, including a loss in the Capital One Bowl.
After the season ended, Mustain's parents and the parents of two other players met with AD Frank Broyles to discuss their concerns that Malzahn's offense had never materialized. They were bothered by the run-first style of Arkansas which featured two future NFL running backs in Darren McFadden and Felix Jones.
Had the players been lied to? Or were they unable to leave their huge egos and meddling parents in Springdale? Ask five Razorback fans and you will still receive five different opinions.
Mustain asked for and was granted his release from the university. He joined former Springdale teammate Damian Williams at USC. Mustain never started another college game.
Malzahn also left the university, and is now the offensive coordinator for the Auburn Tigers.
As for Houston Nutt...
Houston Nutt Texts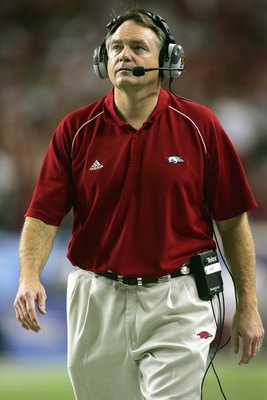 Ronald Martinez/Getty Images
The ugly: Arkansas fans filed a Freedom of Information request for Houston Nutt's text records. While no one was able to recover exactly what they said, they could discern who they were to.
One name showed up repeatedly, that of local television anchor Donna Bragg. How repeatedly? About 1,063 times, good for an average of about 25 a day. The fact that Nutt was constantly texting a woman who wasn't his wife set off enough of a firestorm, but the kicker was that the two had been exchanging texts less than 20 minutes before the start of the Capital One Bowl.
Both Bragg and Nutt denied any wrongdoing. Both claimed they had a friendly and professional relationship only. Nutt released an open letter to fans attempting to squash the speculation, but the damage had been done.
Nutt lasted one more season at Arkansas before resigning. He is now the head coach of the Ole Miss Rebels.
No Graduations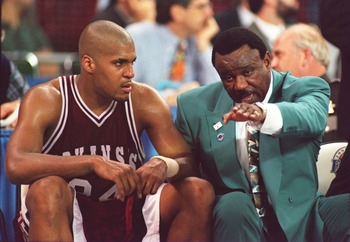 Getty Images/Getty Images
Nolan Richardson was the face of Arkansas athletics in the 1990s. With the football team suffering through a generally rough decade, his "40 Minutes of Hell" style of basketball was the hottest thing on campus.
After a mediocre '85-'86 season, his first with the program, Richardson put together a string of 15-straight winning seasons. He made NCAA appearances in 14 of the next 15 years, and is best remembered for winning the national championship in 1994. His core group of players for those glory days included Corliss Williamson, Scotty Thurman and Dwight Stewart.
Disturbingly, Richardson seemed to forget that he was supposed to be coaching student athletes. Graduating a whopping zero percent of his African American freshman from the '90 to '94 seasons, he ultimately failed to prepare his players for the future both on and off the court, as only Williamson had any real success in the NBA. He shrugged off the criticism, stating "that anyone that wants to graduate will graduate. That's the rate. It'll always be that rate."
Amidst the controversy surrounding his graduation rates in 2002, Richardson was also suffering though his worst season on the court since UA had joined the SEC. All of which led to...

The Firing of Nolan Richardson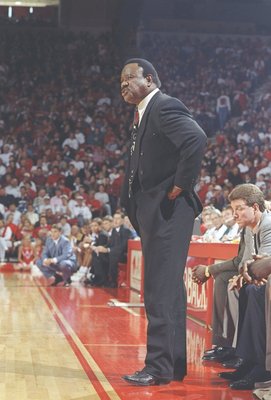 Tom Ewart/Getty Images
In February of 2002, in the midst of 13-14 season, Nolan Richardson spoke out harshly against the UA administration, the local media and the fans:
"I've earned the right to have the type of season I've had ... when I look at all your people in this room, I see no one who looks like me, talks like me, acts like me. Now why don't you recruit (more minorities). Why don't the editors recruit? ... My great-grandfather came over on that ship, not Nolan Richardson. ... I know for a fact that I do not play on the same level as the other coaches at this school. I know it, you know it, and people of my color know it. My practices are closed to the media...."
The controversy culminated when Richardson said: "If they ... pay me my money, they can take [my] job tomorrow."
And after 17 seasons, they did.
Nothing ended well in this scenario. Richardson promptly sued the university, citing a racially discriminatory environment. On the court, the Hogs lost their last game of the season, under interim coach Mike Anderson, in the opening round of the SEC tournament.
Richardson has never coached another game at the collegiate level. Arkansas has yet to make it back to the Sweet 16.
The Stoernover
There have been blowouts. There have been interceptions. There have been missed opportunities and missed tackles, bad player execution and bad coaching calls.
But no on-the-field moment in recent history causes as much heartache as the Clint Stoerner fumble.
With 1:43 left in a 24-22 game, the undefeated No. 10 Razorbacks needed only a first down to beat the Tennessee Volunteers. A win for the Hogs over the heavily favored Vols could have possibly propelled them into the national championship discussion.
Instead, on second down, quarterback Clint Stoerner tripped over his guard's foot. As he fell, he placed the ball on the ground for a fumble. It was recovered by the Vols Travis Henry who ran it in for a one-yard touchdown. Tennessee won 28-24.
Arkansas finished the season at 9-3, losing three of their last four games. The Volunteers won out and were named national champions.
Keep Reading

Arkansas Razorbacks Football: Like this team?