NHL Free Agents 2011: Could Marty Turco End Up with Columbus Blue Jackets?
August 8, 2011
Ronald Martinez/Getty Images
After the Columbus Blue Jackets signed goalies Mark Dekanich and Curtis Sanford at the beginning of free agency, the team felt they were set at the position for the upcoming season.
The plan is to have Dekanich back up current No. 1 goalie Steve Mason, while Sanford will play for the team's American Hockey League affiliate in Springfield.
Jackets general manager Scott Howson believes Dekanich is ready for the NHL after three solid seasons with the Milwaukee Admirals, the Nashville Predators' AHL affiliate.
In his final season with the Admirals, Dekanich went 23-12-5 with a 2.02 goals against average and a .931 save percentage.
As impressive as the numbers look, they were in the AHL. Dekanich has only one NHL game under his belt, where he allowed three goals on 25 shots against the Los Angeles Kings.
Adding Dekanich, 25, to the Blue Jackets is not doing any favors for Mason, who is actually two years younger than the British Columbia native.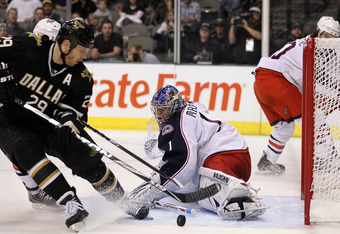 Ronald Martinez/Getty Images
Mason is still a youngster, and the Jackets do not have a veteran presence behind him to help mentor him as he continues improving.
Mason has struggled with consistency for the past two seasons, and this upcoming season may be the 2008-2009 Calder Trophy winner's last chance to show he is ready to become the team's franchise goaltender.
If Howson and the Blue Jackets' front office are truly sticking with Mason, they need to add someone who has plenty of experience as a No. 1. 
There are veteran goaltenders still available out in free agency who could improve the Jackets goaltending, and one of those is former Chicago Blackhawk Marty Turco.
Turco, who turns 36 later this month, was signed last year by Chicago to be the No. 1 goaltender as well as mentor young Corey Crawford as he continues to improve.
Crawford would end up surpassing Turco for the No. 1 spot. Turco struggled, finishing with an 11-11-3 record, .897 save percentage and a 3.02 goals against average.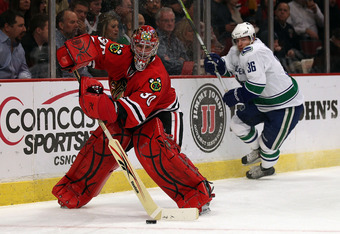 Jonathan Daniel/Getty Images
Although many believed Turco would retire after being released, his agent made it clear the 10-year NHL vet plans to play next season. But if nobody signs him, it may not be in the States, according to Yahoo! Sports blogger Sean Leahy:
"It's now August 6 and Turco is still without a job. His agent, Kurt Overhardt, told us last week that his client will play next season. Specifically missing from his response was whether or not it would be in the NHL."
There are not a lot of teams in the league that are looking to sign a one-year backup, but with the situation they are in, Columbus could be one of those teams. 
According to Leahy, with Mason's struggles and Dekanich's lack of experience, Turco could be a short-term solution.
Any decision on signing a free agent comes with it's pros and cons, and Turco is no exception.
One pro Turco brings to the table, which the Jackets' goaltending lacks, is experience.
Until his latest stint with Chicago, Turco spent his entire career with the Dallas Stars, where he set franchise records in many different categories including most wins, shutouts and consecutive games played by a goaltender.
Even though his career statistics may not be Hall of Fame-worthy (.911 save percentage, 2.33 goals allowed average), Turco's puck-handling skills are some of the best in the league. He was once called "the smartest goalie in the NHL" by longtime "Hockey Night in Canada" analyst Don Cherry. 
Turco's best days are clearly behind him, but his experience and skills could benefit Mason greatly.
However, his age may also be one of the main reasons Columbus would not want to sign him.
The Blue Jackets are clearly trying to make their team younger this offseason, after releasing their three former captains, Craig Rivet, Chris Clark and Ethan Moreau, and filling the empty roster spots with prospects (John Moore, Ryan Johansen and Tomas Kubalik) from Springfield.
Although the Blue Jackets traded away this year's draft pick for Jeff Carter, the team still plans on building their success through their farm system.
Turco's statistics from last season are also not in his favor. His .897 save percentage and 3.02 goals against average were the worst in his career, which could be a sign his age is catching up with him.
His skills may be beginning to deteriorate, but the University of Michigan alum can still compete at the highest level and at least has one more year left in him.
Yes, signing an aging veteran in Turco is a risk. But, it is not as big a risk as falling back on an inexperienced youngster in Dekanich if Mason struggles.
Even though his age and statistics from last season are against him, the Blue Jackets should at least consider giving Turco a call.