EPL Tottenham Hotspur: Questions Regarding Peter Crouch as the Season Nears
August 1, 2011
Jan Kruger/Getty Images
My introduction to the footballing world has been a long, drawn out process over the course of many years. Unlike many world football fans in the United States, I did not play the game while growing up.
There are two people who I give credit to in creating the love for football that I now carry in my adult life. The first is my younger brother, whose youth career was much more successful and extensive than my own, involving hours a day of intense practice and summers filled with training camps and ball-skill exercises.
The second is Peter Crouch.
Why? Well, it's a long story. Several years ago, my brother attended a week-long summer camp in the greater Seattle area, which was co-operated by a rather tall and goofy-looking British "guest coach," who was introduced to the trainees as "Chimpy." While I still have my doubts about Chimpy and my brother's claim that he was in fact Peter Crouch, to this day he still insists that the giant target man up front for Tottenham is his former trainer.
True or not, Chimpy (or the alleged Chimpy) has been a favorite in our Seattle home ever since. He's the reason that my brother and I support the clubs we support—his being Liverpool, and mine Tottenham. Though our affinities for those clubs have grown to far greater extents than just one towering striker who may or may not have travelled to Seattle once in his life, we both still grow giddy with excitement whenever Crouch takes the field. Even my brother, who loathes Tottenham for the simple fact that I revere them.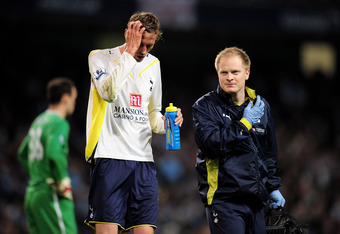 Shaun Botterill/Getty Images
Lately, however, that affinity has declined, and that excitement has turned to worry. Now, when Chimpy takes the field, my heart sinks, my anxiety builds and my outlook for my beloved Spurs' chances begins to fade.
Chimpy, what have you become?
Honestly, the 2010-11 was not the best Premier League season for old Chimpy. While his success in Champions League may have been a bit more apparent, there were still some troubling questions left regarding Crouch's decision making in the competition, as well. But, dear Crouchy-boy, that can all be forgiven, based solely on my continued affection for you as a player.
Provided, of course, that a few questions are answered.
With Crouch missing far more gifted opportunities last season than any season prior, my brother and I were treated on many occasions this year to one of the most laughable scenes you will ever see on television. Which leads me to my first question:
Has Peter Crouch addressed the apparent head lice problem that seems to only occur when a shot goes wide?
You see it nearly every time. A golden opportunity to put Tottenham in front will miss by miles, as the camera pans to Crouch smiling absurdly and giving his head the scratching of a lifetime (two-handed, no less). My hunch is lice. Some have suggested perhaps scalp psoriasis or just plain old common dandruff.
Still, I worry. Could the constant itching be affecting Crouch's performance and diverting his attention from putting shots on frame? Hopefully, this is an issue that Chimpy has had plenty of time to address in the off-season. If not, I would personally recommend that Crouch sit until the trainers find the time to get a closer look at his cranium, preferably away from his teammates, so as to not spread the little buggers around the locker room.
My love for Spurs has had a very positive influence on my life over the years. It's difficult to find other Tottenham supporters while residing 6,000 miles from White Hart Lane, though there are some, I assure you. This has forced me to network far outside my little corner of the United States.
This last season, I acquired one friend in particular from London who is as devoted to the club as I am myself. His proximity-oriented insight to the going-ons of Tottenham have been remarkable for me, as we discuss EPL results, Champions League performances, and individual player form on a near-weekly basis.
Following the heartbreaking Champions League quarter-final match in Madrid, during which Crouch was sent off for a reckless tackle early on, this particular friend provided me a remarkably insightful take on just what effect Crouch had on Spurs' Champions League hopes with his mistimed slide.
"We might have had a shot," he explained, "if Crouchy hadn't been such a tit." I couldn't have said it better myself. The assertion that Crouch had made himself into a tit (a term that I fully intend to adopt into my own lexicon in the very near future) was the perfect description of what I saw on the pitch that day.
And so brings the next question that I need answered:
Can Crouch stop being such a tit in the coming season?
Or, in what is perhaps a slightly better rewording, Has he addressed and amended his tittiful (tit-tacular?) ways in past several weeks? I, for one, certainly hope so.
Moving on...
Of course, the status of Crouch's hair-dwelling friends and his newfound tendency to tit it up are not the only concerns I have at the moment. The truth remains that Tottenham's strikers have been a sincere disappointment in league play, a problem that Crouch is not innocent of.
While he may have been a life saver at certain key moments in the Champions League, Crouch appeared in a total of 34 Premier League matches last season, scoring only four goals, half his total from the previous year in league play. Those are some pretty disappointing numbers for a player who is primarily paid to score goals.
If those figures had been higher, Spurs may have found themselves in a better position than the fifth place spot in which they finished. As the Spurs seek to reclaim top-four glory in 2011-12, one of the biggest questions they face is this:
Crouch, do you think maybe you can do that thing you're paid to do and find the back of the net a few more times this EPL season?
If not, that's cool. I'm only 6,000 miles away and tuning in to watch you play every weekend. No need to worry about me.
Of course, if Chimpy has decided that this is too much to ask and that he's OK with watching his England career flicker out of existence in the coming months, he still has options.
I'm not exactly authorized to speak for the whole of the U.S. on this, but if Crouch is done with the Premier League, we'd love to have him in MLS. He'll face the culture shock of every devoted fan referring to his beloved game as "soccer" for the remainder of his career. But Chimpy could be a star once again if he ever made the move across the Atlantic.
Actually, on second thought, maybe not. In order for Crouch to be effective, there'd have to be somebody in MLS that can lift the ball high enough to actually reach his head. That may, in truth, be too much to ask of my American brethren.
But that's a luxury that Crouch has right here and right now at Tottenham. There are plenty of skillful playmakers who can find him in the box He just needs to get his act together and convert some chances.
Be grateful for the talent you have around you, Peter Crouch. Because if you don't start proving yourself to be worthy of that starting spot soon, you may soon never again have such tantalizing balls in the air to nudge toward goal. Honestly, I would hate for the man so involved in my love for the game to go lost in the obscurity of American soccer.