Tiger Woods: With Williams Gone, Does It Even Matter Who Is Carrying His Bag?
August 1, 2011
Ross Kinnaird/Getty Images
The overhaul of Tiger Woods is now complete. 
First, Woods changed swing coaches. And now, a new face will be carrying his bag around the course.
After 12 years together, Woods decided 72 worldwide wins and 13 major championships were enough with famed caddy Steve Williams. That is a long time to have a working relationship, especially when you consider many caddies don't last more than a full season with one boss. 
But the time has come for both to move on to new partnerships. Williams already had a bag waiting for him in Adam Scott. This player-caddy relationship is promising as both are from the same area of the world and if Williams helps Scott harness his potential, he could easily go down as the greatest caddy in history. 
The caddy future for Woods, however, is less certain. We know that this week he will have long-time pal Byron Bell on the bag. Bell has caddied for Woods before, and they have actually won the Buick Invitational back in 1999 together. 
Currently, it is just assumed that Bell is a fill-in caddy until a more seasoned, permanent replacement is found. While I certainly agree with that assessment, I also believe Woods' caddy selection is not an entirely huge decision at this point in his career.
Woods is already the greatest golfer in history. His dominance of the sport is something that we have never seen before and will likely never see again. At this stage of the game, Woods knows everything there is to know about making his way around a golf course.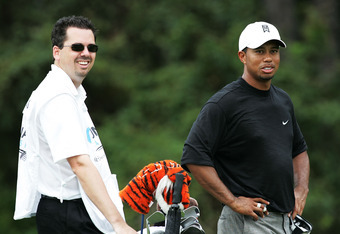 Doug Benc/Getty Images
Even when he was a younger, less-wise golfer, Woods' talent alone would have allowed him to win at least 60 tournaments and somewhere in the range of eight to nine majors. He was that good. 
That is not to say Woods' caddies, especially Williams, have not been important. Williams gets the credit for the 2008 U.S. Open victory, when knowing Woods was surging with adrenaline, instructed him to his a sand wedge into the 18th green when Woods preferred a pitching wedge. So to say his caddy is completely unimportant would be foolish. 
But it really is not that big of a deal. If Woods decides he likes Bell on his bag, I could see him keeping him there past this season. If another big name caddy like Joe LaCava becomes available, it wouldn't shock me if Woods went that route either. 
The point is the caddy is just the guy carrying the bag, advising him on club selection. He isn't the one hitting shots, or reading putts. That is up to the player.
So if Woods is going to return to his old form, it is on his shoulders and his shoulders only. The caddy doesn't make much of a difference. After all, Woods still needs to find a way to keep his drives in play.