Premier League: The Best Kits of All Time from the Current Clubs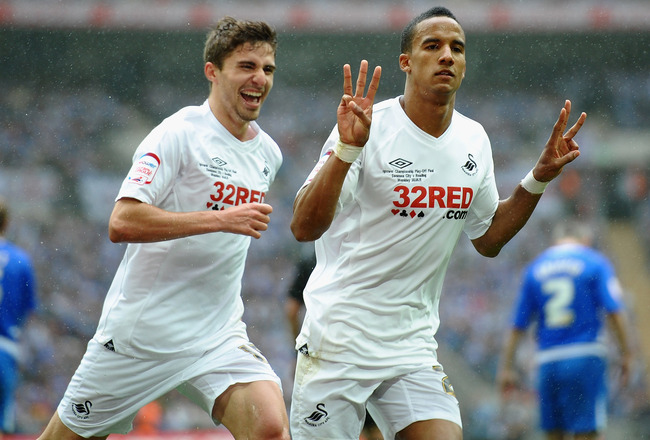 Laurence Griffiths/Getty Images
With less than two weeks before the start of the Premier League season, each club will be looking to finish their preseason strongly and raise already high supporter expectations.
For me, one of the more exciting things about the preseason, aside from wholesale changes at halftime and nail-biting matches against Aldershot Town, is seeing the clubs display their new kit ranges.
Having new kits nearly every campaign, though, can divide supporters' opinions. Some give no second thought to ponying up £70+ for a new shirt, while others find the seasonal changes both an excessive and expensive tactic by the clubs and kit makers.
Whatever your opinion, it is safe to say that the one-and-done kit changes of the Premier League era have introduced some stylish numbers from the clubs.
Now, take some time away from the transfer window chaos, or disappointing matches against Valerenga, and have a look at the best kit each current Premiership club has ever offered.
Arsenal: 1988-89 Away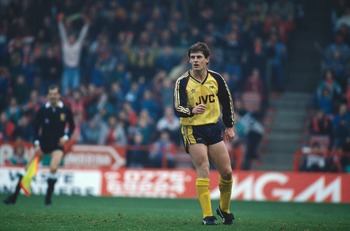 Russell Cheyne/Getty Images
A classic kit by Adidas from an absolutely incredible end of the First Division season, for Arsenal fans that is.
An away kit may not always be the first shirt in the bag for a supporter, but with one as simple and classy as this, there may be an exception.
I'm sure Liverpool fans won't enjoy seeing the yellow and navy again, but those colors will bring back pleasant memories for any Gunner.
Aston Villa: 1981-83 Home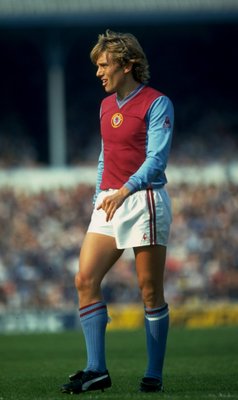 Getty Images/Getty Images
Keeping with the theme of classic kits from memorable seasons, the Aston Villa home shirt of the early 1980s will bring a smile to any Villa supporter.
After becoming European Cup champions with a win over Bayern Munich in 1982, Villa made only one change to their shirt for the next season, adding the words "Champions of Europe" under the crest. Placing that phrase onto the already classy look of their claret and blue can only be described as brilliant.
After revealing their new, soft-checkered shirt for the new season, I feel the club should turn back to their roots and believe in the "less is more" mantra.
Blackburn Rovers: 1960-66 Home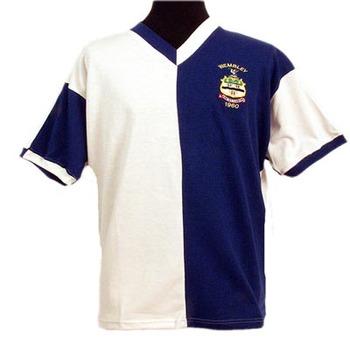 Though Blackburn came out as runners-up in the 1960 FA Cup Final, the home shirt was good enough to wear for another six seasons.
Showing the classic, half blue, half-white style made famous by Blackburn, this shirt combined a flashy halved v-neck and sleeves to boot.
Until their relegation from the old First Division in the spring of 1966, the club donned this kit proudly through seasons of mediocrity.
Bolton Wanderers: 1993-95 Home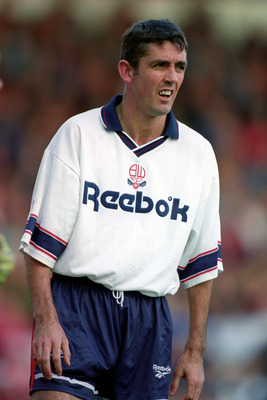 Oh how I wish Bolton would wear something simple like they did in the early 1990s.
Their new kit for the upcoming Premier League season is indescribable. It has so much going on that it will probably attract more attention from the geometry geeks in the world than anyone else.
Venting aside, Bolton player-turned-manager Owen Coyle looked stylish along with the rest of the squad in these home kits. I'm a sucker for the v-neck and collar combination, so to combine that with the smartly patterned sleeves makes this shirt a winner.
Chelsea: 2003-05 Home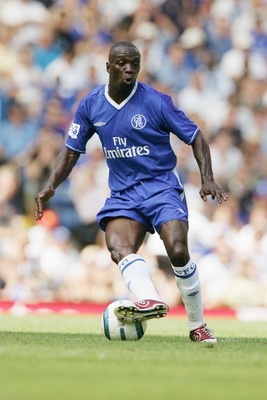 Phil Cole/Getty Images
No flash, lots of class. Those are pretty much my requirements when rating a team's kit the best of all time.
This effort by Umbro coincided with a changing of the guard for Chelsea as oligarch Roman Abramovich purchased the club. It was worn when Jose Mourinho's squad lifted the Premier League trophy for the first time in 50 years in May 2005.
While featuring the distinctive Chelsea blue and a brilliant white v-neck collar, the kit was also the last one to feature the old "CFC" lion crest, one of the classier crests I've seen.
Everton: 1983-85 Home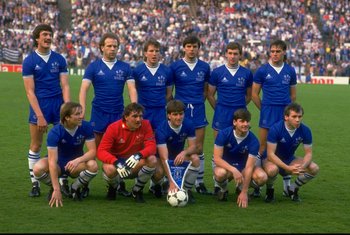 David Cannon/Getty Images
Worn through some of the most successful years in Everton history was a blue kit fashioned with a sleek, white deep v-neck collar thingy.
It may sound weird described through words, but it looks classic and endearing in every photo.
The kit was worn for two seasons as Everton won a First Division title, FA Cup, League Cup, and European Cup Winners' Cup en route to being named World Soccer Magazine Team of the Year in 1985.
Everton went retro by donning a similar kit for their '09-10 season, but sadly their playing form was not retro as the club finished eighth.
Fulham: 2003-05 Home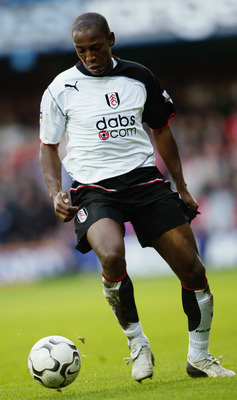 Tom Shaw/Getty Images
This one was a bit difficult to choose. For me, Fulham's kits are generally boring or are ruined by a problematic sponsor (see Pizza Hut in '01-02), so feel free to let your opinions be known below.
I chose their dabs.com sponsored kit from '03-05 purely based on its originality and scheme. The black color that turns into a left sleeve was different, but in a sleek, classically Puma way.
Honorable mention goes to the '09-10 home kit purely based on their unforgettable run to the Europa League final.
Liverpool: 1989-91 Home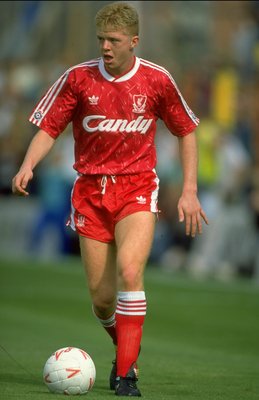 David Cannon/Getty Images
I'm sure I'll get a bit, well, maybe more than a bit of stick for this choice, but this is the first shirt I see when I think of Liverpool.
Sure, the Carlsberg-sponsored kits of the 1990s and 2000s were smart and fresh, but they lacked the bite of the shirt worn between '89-91.
The sponsor, "Candy," really brings me in without even knowing what the company produces. Coupled with the classic Adidas stripes and old school logo, the home kit combines the Liverpool red with blurry flashes that almost glistened off the shirt in the sun.
Candy should come back as the sponsor. It would be a step above the vapid Standard Chartered.
Manchester City: 1968-70 Away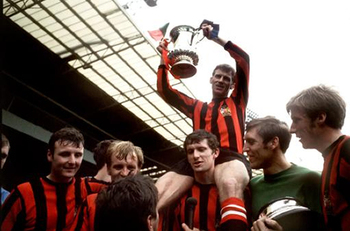 Aside from the classic sky blue of Manchester City, most supporters would recognize the club in their famous black and red barred away kit of the late 1960s.
In 1969 and 1970, City won three pieces of silverware, including the FA Cup in '69 and a double through the Football League and European Cup Winners' Cups. The Citizens wore the same away kit for each cup final, bringing a sort of charm along with them.
This year, after winning their first silverware in 40 years, City will wear an away kit very similar to their former strip.
The main difference between the two can be seen on the sleeves, but supporters will hope former successes can be replicated both domestically and in Europe.
Manchester United: 1992-94 Home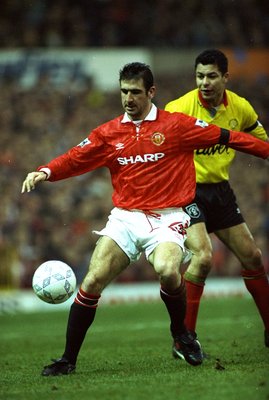 Anton Want/Getty Images
Umbro's first kit for a Premier League Manchester United was special for many reasons.
For the two years it was worn by United, the club won the inaugural Premiership season and achieved the league and FA Cup double in 1993-94.
The laced-up white collar with red and black trim, combined with the famous red shirt and faded vertical bars, make for one of my favorite kits of all time.
Sure, I may be a Spurs fan, but I find it hard not to appreciate the Red Devils for donning this classic shirt.
Newcastle United: 1995-97 Home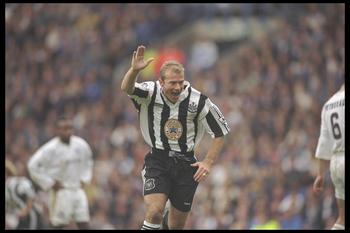 Shaun Botterill/Getty Images
So which kit would I choose for Newcastle's best all time? Well I went out on a limb and chose one with black and white bars. Surprise, surprise.
But what made this kit different than the other black and white barred shirts? It was the first to be worn by Premier League and Newcastle legend, Alan Shearer.
It also helps that the Newcastle Brown Lager sponsor includes a dandy star and type font that match perfectly with the iconic barred shirt. The shirt just epitomizes Newcastle and the Geordie culture in every way.
Norwich City: 1979-81 Home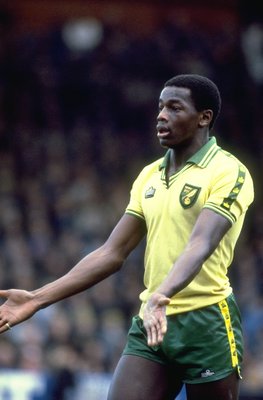 Tony Duffy/Getty Images
Norwich may have been relegated at the end of the 1981 First Division season, but at least they went down in style.
I have to admit that I hoped Norwich were promoted just because I wanted to see the neon yellow and green colors in the Premiership. Much better than having two clubs with white and blue hoops getting promoted (sorry, Reading).
Norwich's home kit used between 1979-81 did not feature a sponsor, but did include a spiffy green and neon yellow collar. The designs on the shoulders were also clean and original, making this a stylish and classic 1980s kit.
Queens Park Rangers: 1983-85 Home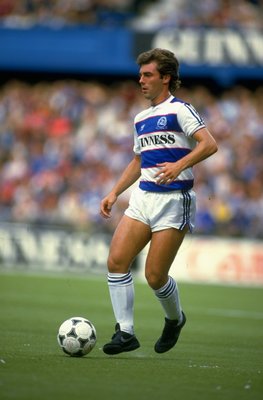 David Cannon/Getty Images
Choosing a best kit of all time for QPR was neither an easy, nor a fun task. First of all, I despise hoops. To me, hoops just look silly and are meant for a rugby team.
That being said, any shirt that features Guinness as a sponsor is an odd combination of both fashionable and mouth-watering.
The sponsor style just works with the still-ugly blue and white hoops, equaling out the brilliance and ugliness of the respective components.
Too bad none of the kits since 1985 have come close to being as smart.
Stoke City: 2011-2012 Home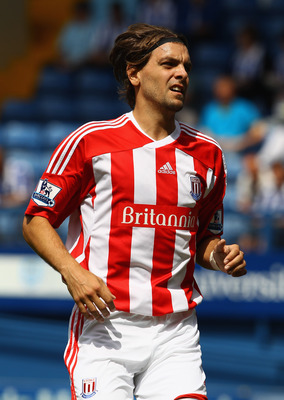 Clive Brunskill/Getty Images
It may have only featured in preseason friendlies and one Europa League qualifier so far, but I already know that Adidas' effort for Stoke's new season is the best of its red and white barred history.
I can't get enough of the white collar that blends into the white bars, as well as the sponsor logo blending into the red bars on its sides. This kit just exudes style and I think its one of Adidas' best.
Stoke will hope to feature the kit on a tour around Europe this year after qualifying for the latter Europa League playoff stages via their FA Cup final loss to Man City last May.
Sunderland: 1972-73 Home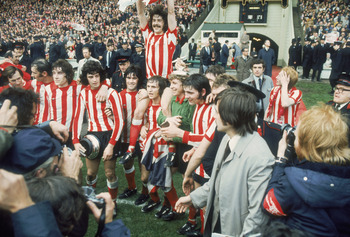 Getty Images/Getty Images
I so wanted to choose either of Sunderland's kits for this upcoming Premier League season, but had to resist their temptations. They both feature a fantastic sponsor logo, with the home including a stylish black v-neck and the away an original teal-blue that dares you not to stare.
Nevertheless, I've gone with Sunderland's final crestless home shirt from the 1972-73 season. The entire kit was also the first in 11 years to feature black shorts after the club had worn white the prior decade.
The lack of a crest gave the shirt a clean feeling when reunited with the black shorts. Seeing as the club won their second ever FA Cup that season, a red and white barred shirt paired with black shorts became the everlasting standard for Sunderland kits.
Swansea City: 2010-11 Home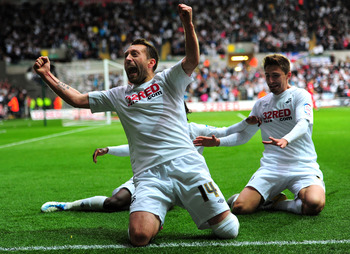 Stu Forster/Getty Images
Coinciding with one of the most celebrated years in Swansea's history was a classy, all white home kit from Umbro.
Swansea City became the first Welsh club to be promoted to the Premier League, and they did it in style, navigating wins against the less fashionable Nottingham Forest and Reading to achieve the feat.
There were no frills about their playing or kit styles en route to their promotion playoff win at Wembley. An all white shirt, combined with their elegant badge and sleek sponsor logo, made for a kit destined to be remembered for ages.
Tottenham Hotspur: 1959-62 Home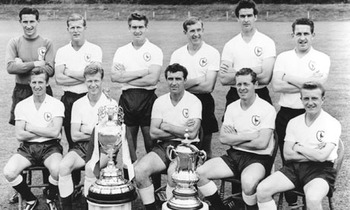 The shirt worn for the first modern League and FA Cup double in 1961 was a beauty for both history and style.
Tottenham supporters look back on this team as club legends, including the likes of Danny Blanchflower, Cliff Jones, and Dave Mackay, all managed by the irreplaceable, Bill Nicholson.
The kit was simple and classic. White shirt with a deep v-neck and the famous cockerel badge, paired with dark navy shorts.
Aside from a current kit or an older, "Holsten-era" favorite, the home kit from the most historic season in Tottenham's history can be spotted all over White Hart Lane.
West Bromwich Albion: 1984-86 Home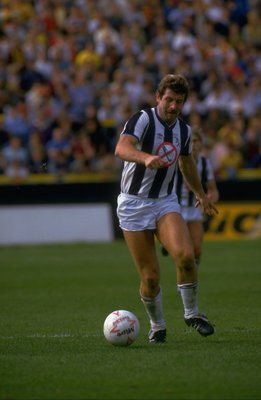 Getty Images/Getty Images
Finally, I've decided with the 18th club in the Premier League to choose a best kit of all time purely based on the sponsor's logo, or in this case, surgeon's general warning.
The base shirt from kit makers, Umbro, is nice in itself, but nothing really special. What I absolutely love about the shirt is the "no-smoking" logo in place of a sponsor.
This was a major statement for the Midlands club, as smoking cigarettes in England at the time was about as casual and popular as walking and EastEnders. But West Brom took a stand on their own, warning supporters and onlookers about the problems of smoking by proudly displaying it on their shirt forefront.
The kit is a cult classic for Baggies' supporters and I wouldn't be opposed to another club giving this logo another chance.
Wigan Athletic: 1989-91 Home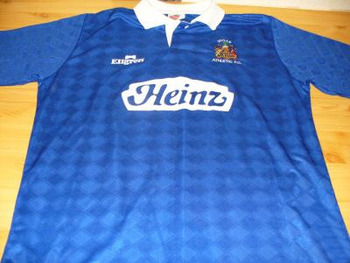 Okay, I lied.
This has to be the best shirt sponsor on a kit, ever. Wigan's Heinz home number is right up there with QPR's Guinness and West Brom's smoking ban kits.
The white collar matches well with the Heinz logo and I adore the soft diamond-checkers that appear all over the shirt.
It's just too bad this classic kit had to be worn in the doldrums of Division Three.
Wolverhampton Wanderers: 1956-62 Home
The kit worn during Wolves' most successful seasons, when they repeated as First Division champions, will always be loved by supporters.
Wolves won the League in the 1957-58 and 1958-59 seasons with their classic gold shirt anointed with a deep, black v-neck, black shorts, and hooped socks. A triumphant kit for a historically successful club.
Their successes may have dimmed in recent years, but supporters can look back fondly on past achievements.
One thing is for certain; we won't be seeing anything but gold on a Wolves home kit for the foreseeable future.
Keep Reading