MLB Playoffs: A Second Wild Card Team Becoming a Neccesity Based on Standings
March 20, 2017
J. Meric/Getty Images
The MLB trade deadline rolled on Sunday and a fury of big name trades gave contenders an added boost while teams just outside the picture feared for their chances in the near future. 
While the Yankees and Red Sox remained mostly silent with Boston acquiring Erik Bedard, a modest addition at best. The Phillies, Braves and Rangers added pieces that will not only help them this season but in seasons to come.
The Phillies, who have used July 31st as their pit stop to reload on talent, acquired Astros outfielder Hunter Pence. Last year they traded for Pence's then Astros teammate Roy Oswalt and Indians pitcher Cliff Lee in 2009. Pence figures to be in Philadelphia's long term plans after they mortgaged part of their future in trading one of their top hitting prospects. 
The Braves and Rangers both dealt pitching prospects who weren't necessarily under the "untouchable" label and therefore got extensively better by adding Michael Bourn and Mike Adams (Koji Uehara aside) respectively.
Separation Anxiety 
A great divide now stands between the powerhouse Red Sox and Yankees versus everyone else in the AL East. The Braves and Phillies are now the top teams in the NL East and the Rangers have moved into top position in the AL West.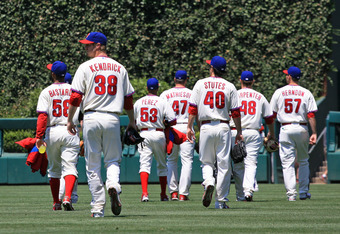 Hunter Martin/Getty Images
In the AL East, the talented Rays who have managed to stay in the hunt despite losing Carlos Pena, Carl Crawford and Matt Garza are 56-51 entering play on Monday but are 8.5 games behind the Yankees for the AL wild card.
If there was a second wild card team, the Los Angeles Angels would be leading it by a mere two games over the Rays, and teams starving for a playoff berth such as Toronto and Cleveland would seem to have a chance rather than being essentially out of the race with two grueling months left.
In the National League, the Braves, the wild card leaders, are currently up 3.5 games over the Arizona Diamondbacks who would be in play for the second wild card spot if it existed.
Having a second wild card team expands the attention of many fans who might shift their attention to football the second the calendar shifts to August. The Cincinnati Reds and Florida Marlins, two talented teams who are 9.5 games back would be 6 games back behind Arizona and maybe would have made trades rather than stay quiet at the deadline.
Outlook
 During the All-Star break, Commissioner Bud Selig made a point about having an extra wild card in 2012 and according to the Denver Post said, "I like the chances."
Certainly the biggest question would remain is what format would the pair of wild card teams in each league play, a lone sudden death playoff game or a best of three series.
There are pros and cons to both ideas. Having a single game would increase ratings and intensify drama. However, many would argue that to expand to an extra wild card and have one team just take a sip of coffee and be eliminated a couple of days later is hardly worth the trouble.
With a three game series, you have critics that say it drags the postseason on longer and perhaps into November. Yet, the series can easily be played three straight days like any normal in-season series at the field of top wild card team. It would be beneficial to the divisional winners because would give them much needed rest.
Regardless of the outcome, in an era where the top dogs are separating themselves from the pack, it has become clear Major League Baseball has to expand to a second wild card team. This can start as soon as next season so that new faces and teams can breathe in October baseball and have a chance to become World Series champions.