Cleveland Indians: Ubaldo Jimenez Trade Makes Signing Draft Picks Top Priority
August 1, 2011
With the dust settling after the July 31 trade deadline, the Cleveland Indians seemed to have improved themselves enough for a run at a division title in 2011 mostly thanks to the acquisition of Colorado Rockies ace Ubaldo Jimenez.
While this is a welcome change to trading off veterans for prospects that were supposed to be the "future" General Manager Chris Antonetti has sent out the message that the future is now.
But the question that is ringing in my head, is what about the actual future?
Antonetti has improved the team enough to make them a viable playoff squad, but it might not be enough to attain a World Series ring. Most Indian fans still believe that there is a large window to build the team up enough for that kind of run, except they are wrong.
Almost all the big name players for Cleveland will be free agents after the 2013 season. This includes Jimenez, Shin-Soo Choo, Travis Hafner and Asdrubal Cabrera.
Now that top prospects Drew Pomeranz and Alex White have been shipped off to Colorado and Lonnie Chisenhall and Jason Kipnis now hold everyday positions in Cleveland, there is no impact prospect on the horizon in the farm system.
That is why the locking up all the top picks of the 2011 Draft is crucial for Scouting Director Brad Grant.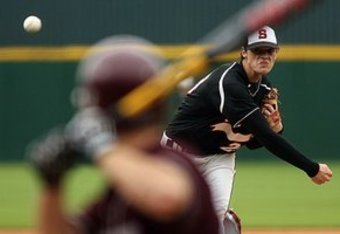 Entering the year, the Cleveland Indians farm system was ranked as the seventh best in the game. This was when Pomeranz was also ranked as the 61st best prospect in baseball, by their midseason re-rankings he was ranked 14th. The Indians had easily a top five system before the Jimenez deal.
Now, six of the Indians top 10 farmhands according to Baseball America entering the 2011 season, can no longer be considered top prospects for the Indians. Pomeranz, White and Gardner were traded. Chisenhall and Kipnis will have lost rookie eligibility by the end of the year. Pitcher Jason Knapp has suffered yet another season ending injury and his chances of being an ace may have come and gone. Nick Weglarz is also having issues staying healthy and has been very underwhelming in his limited time at Double-A Akron, despite being 23-years-old.
Outfielder LeVon Washington, the Indians 2010 second round pick, may be the only prospect with any significant upside that the Indians have left, and he still has "raw" written all over his scouting report.
Luckilly for Cleveland fans, the 2011 draft provides hope.
Shortstop Francisco Lindor is only 17, but was still made the eighth overall pick by the Tribe this past June. He has the potential to be a true five-tool player for the Indians at a premium position.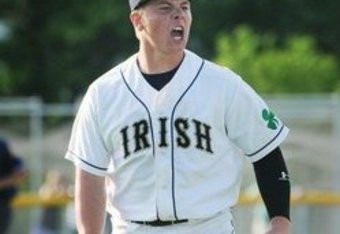 But two players that have not generated as much post-draft hype may be the most important potential Indian farmhands.
Pitchers Dillon Howard and Dillon Peters are two high school arms that could make Indian fans forget about Pomeranz very quickly.
Both would take some time to make it to the mound at Progressive Field, but if they reach even a speck of their potential they could still be something special.
Howard was the second round pick of the Indians out of Searcy High School in Arkansas. He is committed to the Razorbacks, but most assume he wants to begin his pro career right now. Howard has a fastball that sits in the mid-90s and many scouts believe his curveball and changeup can develop into plus offerings. The Indians were surprised he fell out of the first round, but it was mostly because of his sign-ability as a Scott Boras client.
Peters is a lefty from Cathedral High School in Indiana. Despite being labeled as the best prospect to ever come out of Indiana, he fell into the Indians laps in the 20th round. Peters might be the toughest sign of all the Indian's picks since his commitment to Texas is supposedly very strong.
Despite this, reports say he may be warming up to signing with Cleveland. He has been seen in the training facility lately, though it was just for physicals before the August 15 signing deadline.
The 5'9 southpaw blew his way through the lineups of Indiana's best high schools as he accumulated an astounding 447 K in only 258 innings. While his size is not that of a typical starter, Peters has been a strong durable varsity starter for all four of his high school years. Scouts have issues finding a problem with him and he should find some nice success at the Major League level if he continues to improve.
With Antonetti's willingness to go against his word and "mortgage the future," I can only assume it is because he has faith in Grant to sign both Howard and Peters along with Lindor. While the Indians are now set for the foreseeable future as a contender, signing both Dillons and Lindor will make them set for the next decade as well.
Like the article? Follow Geordy on Twitter and listen to him ramble nonsensically about the Tribe. @GeordyisJordy