NHL: The Montreal Canadiens Would Be Wise to Blow Team Up and Start over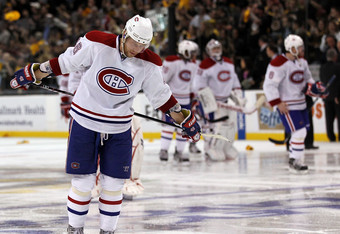 Jim Rogash/Getty Images
The Montreal Canadiens did not improve this off-season. The big signing for them was inking Erik Cole to a 4 year deal with a cap hit of $4.5 million. This was not a wise decision for the Canadiens in my opinion. The Canadiens should blow up this team and start over, and start the (should I say the "R" word?) rebuilding phase of the franchise.
The Eastern Conference got stronger this off-season. The Sabres have a solid defensive corps with the signings of Christian Ehroff and the trade for Robyn Regher. The Rangers signed Brad Richards, kept their core, and have the 7th best prospect system according to Hockey's Future. The Maple Leafs and Islanders have nice cores in place and may well compete for a playoff spot this year. Remember how well the Devils played in the second half, I would think they will be back in the picture.
Then to the real big boys. Washington is Washington again, maybe the most complete team in the East (remember, success is measured in Cups, not Presidents Trophies). Boston just won the Stanley Cup. The Lightning are still there. Philadelphia is still there despite becoming weaker this year but will be stronger in the future. Oh, I almost forgot, Pittsburgh had over 100 points last year and are getting Crosby and Malkin back.
Where are the Canadiens? The Canadiens finished in 6th place last year in the East before being eliminated by Boston in the first round in a great 7 game series. The Canadiens, after making it to the Eastern Conference Finals in 2010, failed to repeat the magic.
Paul Bereswill/Getty Images
Let's be honest, the Canadiens are not a contender for the Stanley Cup and everyone knows that. They are in the awkward "trying to build the youth while signing veterans so we can be competitive" mode. Erik Cole is 32, has had no success outside of Carolina in his career, and yet was still signed to a hefty cap hit. Erik Cole is not magically making the Habs a Stanley Cup contender.
So this is why I, an NHL fan who thinks that hockey is at it's best when Montreal and Toronto are playing good hockey, am calling for the Canadiens to blow it up. Start the youth movement right now. You know it has to be more tricky than that though.
The Habs have the 20th best system according to Hockey's Future. They have zero prospects ranked in the top 50 prospects ranked by the website. The future as it is does not look good for Montreal if you look within the organization.
The NHL team has a couple of youngsters to build around, most notably Carey Price. Carey Price carried the Habs for portions of the season last year, finally becoming the goalie the Habs thought he could be. He masked a lot of problems that the Habs had.
PK Subban and Yannick Weber are both players to build around on the blue line. Both are 22 years old and look to have a bright future in Montreal. Up front, Lars Eller, Max Pacioretty, David Desharnais and Ryan White are all young. The rest are all above 26.
Should the Canadiens blow it up?
The problem is the Canadiens don't have a lot of players with value. Scott Gomez is not going anywhere with his $7.357 million cap hit (I still don't understand that trade). A lot of players have long term deals with this team that won't make them free agents for another 3 or 4 years.
Brian Gionta is 32 with a $5 million cap hit for 3 more years. He could bring back something valuable but the problem is finding a suitor who will take his cap hit for 3 more years for a guy who had 46 points last year.
Andrei Markov is injured all of the time, yet was just signed for 3 more years at a cap hit of $5,75 million. Everyone knows how valuable he is on the power play when he is healthy, but it's a big gamble for an oft-injured player.
Andrei Kostitsyn is a free agent after this season. Personally, I am expecting a big year for him. With a cap hit of only $3.25 million, why not try and deal him at the trade deadline? He could bring back a valuable return for the future.
What about Jaroslav Spacek, who is 37 and has a cap hit of $3.83 million. He will also be a free agent at the end of the year. Why not shop him around and see what teams are willing to give back? Same goes with Hal Gill and Josh Gorges, who are both free agents after this season.
The Canadiens are not going to be bad this year, but they will not be good. For the past two years they have battled for a playoff spot, one year they made a playoff run, one year they didn't. I expect them to finish around the same area again this season, maybe a little lower.
If I'm a Habs fan I have to ask myself whether I would rather be making the playoffs as a low seed every year and taking your chances in the playoffs, or rebuilding, trying to make a true Stanley Cup contender. This team is not going to become a great team overnight, especially not with the contracts on the books right now.
In my opinion, the Habs should get what they can for their impending free agents at the deadline if they are hanging around the playoff cut-line. It would be a sacrifice and the fans will undoubtedly be upset, but for the long-term this is something that has to happen at some point. For Habs fans, the sooner the better.
This article is
What is the duplicate article?
Why is this article offensive?
Where is this article plagiarized from?
Why is this article poorly edited?

Montreal Canadiens: Like this team?